Colleagues and friends pay tribute to radio programmer Paul Easton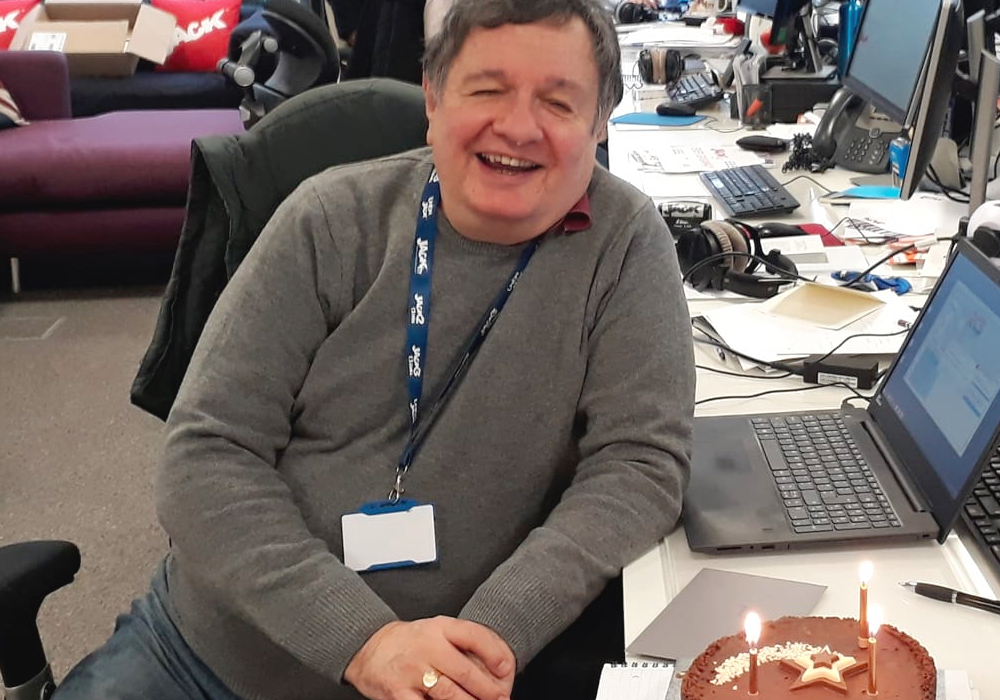 Radio professionals are sharing the sad news that long-serving radio programmer Paul Easton has died at the age of 69.
It has been reported that Paul passed away in his sleep last week.
Paul was at the very beginning of commercial radio in the UK, starting his career at LBC in London in the mid-1970s after many years of hospital radio volunteering.
At LBC he was a studio operator, working across the news and phone-in programmes, along with outside broadcasts.
Paul went on to be LBC's Head of Production, looking after Station Sound.
During his long and varied radio career, he worked at Melody Radio, Capital, BRMB, Ocean Sound, Music Choice Europe.
He was Programme Director at Flix Radio, one of the first DAB stations, and has been working as a freelance programming consultant for the last 20 years, with regular work at JACK in Oxford from its launch day until leaving last year.
Paul has also been an Associate Lecturer on various radio production and journalism courses at the London College of Communication, and appeared on as a guest on the Fifteen to One television show.
He was a contributor to the Radio Magazine with a regular Programming Points column, and was a friend and contributor to RadioToday since its launch. He shared his knowledge on many online radio message boards from Media UK to the Hospital Radio mailing list, along with his own blog on topics such as RAJAR and radio programming.
Paul wasn't known to radio listeners – but in the industry he was well-known and respected. A true radio guy who will be missed by everyone who had the pleasure of working with him or learning from him.
RIP.
Really sad to read this. Paul Easton was the epitome of a radio professional. He was passionate, knowledgeable, optimistic and also a "fan" of radio. All that, and he was lovely too. https://t.co/6o9eaSJ6u8

— Paul Sylvester (@paulsylvester75) February 20, 2023
Very shocked and sad to hear about the death of radio guru @PaulEaston who passed away peacefully in his sleep on Thursday aged 69. What a lovely, kind, generous man always willing to help and share his vast knowledge particularly of music programming. pic.twitter.com/lsIWe9QyHy

— Paul Chantler (@PaulChantler) February 20, 2023
Rest in peace @PaulEaston. Ever knowledgeable, and always gave time to chat honestly about radio. pic.twitter.com/3yuachxdJz

— Robin Blamires (@RobinBlamires) February 20, 2023
I've just heard the news about the passing of @PaulEaston He was always so encouraging to me & was kind enough to guest on @FingersBuzzers about his appearance on Fifteen to One.
Rest in peace Paul, it was a pleasure to know you. pic.twitter.com/Qg69vo2DhU

— Amanda Redman (@amandakredman) February 20, 2023
Really sad to hear @PaulEaston has died. I never had the pleasure of meeting Paul but he was always so supportive of my career and we shared a passion for radio's past, radio's present and radio's future. So experienced, so knowledgable and so kind. RIP.

— Harrison RB (@HarrisonRBRadio) February 20, 2023
I was feeling fairly jolly at lunchtime. Had a great lunch at the Salt Cellar. Now I've come back to messages that Paul Easton has died. Now I am far from jolly. RIP Paul. Thanks for the chats.

— Keri jones (@Kerijonesradio) February 20, 2023
The team at FOB are very sad to hear of the passing of @PaulEaston who listeners may remember came on the show to tell us about his appearance on 15-1. He was recently also a contestant on Countdown. Please join us in sending our love to Paul's family & friends. pic.twitter.com/IXkemGLb8g

— Fingers on Buzzers (@FingersBuzzers) February 20, 2023