AI will not take our jobs says RadioGPT owner Futuri Media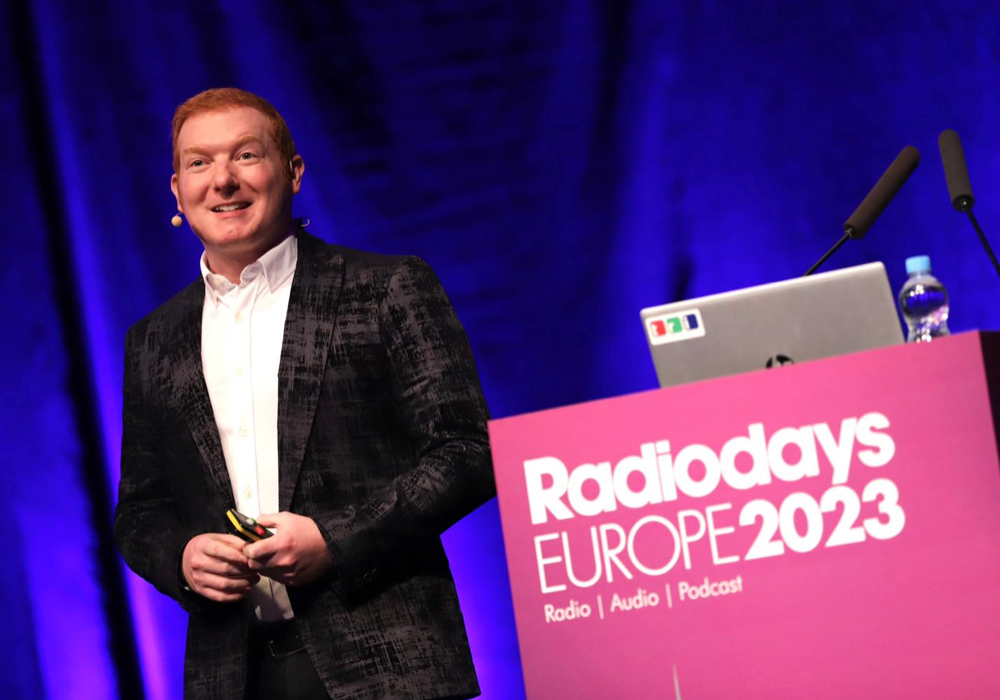 The CEO of the company behind the new AI-driven RadioGPT is confident radio jobs will not be lost with the introduction of synthetic voices.
Futuri Media has sold the technology to hundreds of radio stations already with the first one due to start using it within weeks.
The new tech can automatically create and voice real-time presenter links and even run an entire radio station 24/7.
It can find local news, weather, traffic, sport results and find what's trending on social media then turn them into human-type links.
RadioGPT works by a human adding break notes to an existing playout system with instructions on what kind of content to talk about. AI will read those, create the audio link, and insert it back into the log as an audio file. It can also do unlimited split links.
Daniel Anstandig, CEO and Co-Founder of Futuri Media told delegates at Radiodays Europe on Monday: "I think we will look back at 2022 and there will be a before and after ChatGPT line."
There is an obvious trend towards the use of AI, as more than 100 million users of the just recently introduced ChatGPT AI programme prove. The audio industry is keeping up with these changes, such as the creation of RadioGPT or the implementation of an AI DJ on Spotify shows.
This is the logical conclusion of audiences wanting more content but on their own terms. This is exactly what radio using the potentials of AI can provide, as Daniel Anstandig added: "People won't be replaced by AI, but by people using AI".
Daniel is convinced AI is radio's ally. "We have to adapt and adopt it. By 2049 AI will be a billion times more intelligent than humans.
"RadioGPT is here to expand the super power of radio, not replace jobs," he said.
It's @anstandig talking about AI and how it can help us competitively in the radio industry. It's the topic which is generating the most talk-about at @RadiodaysEurope.

Vitally important for radio. #RDE23 pic.twitter.com/l56mnnKGZP

— Nik Goodman (@nikgoodman) March 27, 2023
RadioGPT works by a human adding break notes to your existing playout system with instructions on what kind of content to talk about. AI will read those, create the audio link, and insert it back into the log as an audio file. It can also do unlimited split links! #rde2023 pic.twitter.com/QUwqNNMUUi

— RadioToday Live (@RadioTodayLive) March 27, 2023
@FUTURIinc is not creating RadioGPT to replace radio jobs, @anstandig insists. "There's no way to stop AI. We have to adopt and adapt" hundreds of stations have already signed up #rde2023 pic.twitter.com/Kzte61VRR0

— RadioToday Live (@RadioTodayLive) March 27, 2023
A scary session on AI voicing your entire radio station by Futuri – although "We're here to expand our superpower as radio, not replace jobs" says @anstandig @listenerdriven #rde2023 pic.twitter.com/OR1bVkjtvl

— RadioToday Live (@RadioTodayLive) March 27, 2023