Global's The News Agents podcast hits 24 million downloads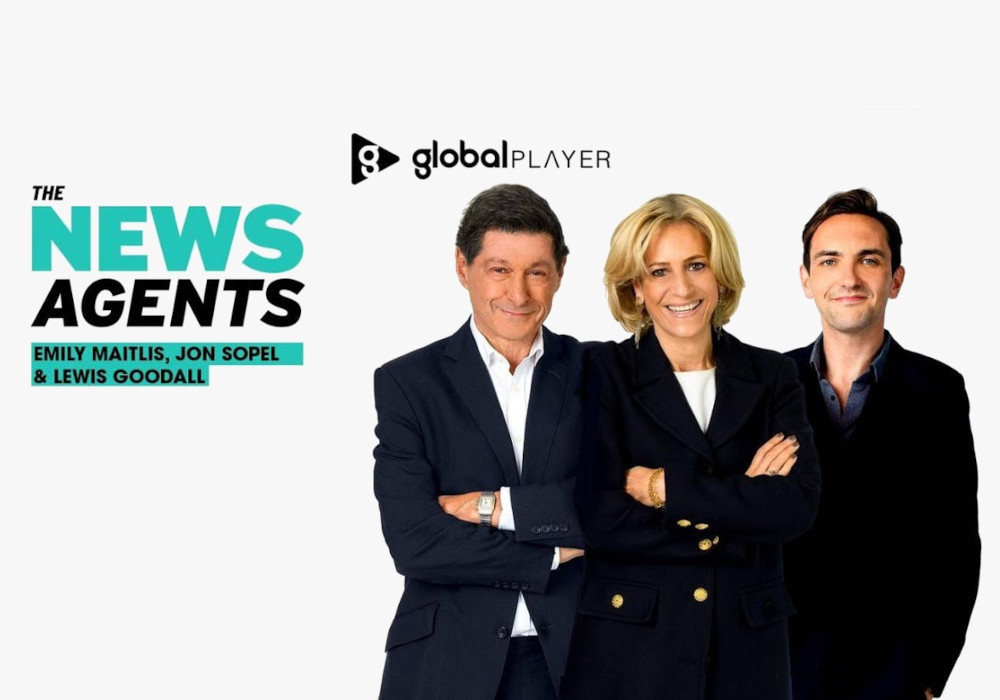 The News Agents has become the UK's leading daily podcast with 24 million downloads since launching seven months ago.
The daily weekday podcast, available every afternoon, is a Persephonica production for Global, available on Global Player.
Hosted by Emily Maitlis, Jon Sopel and Lewis Goodall, The News Agents has consistently topped the podcast charts. It's clips and bespoke explainer videos reach over 25 million users every month across TikTok, Twitter and Instagram.
The podcast features key players in news and current affairs and big names from the world of entertainment.
Topics covered include the state of British policing, the cost of rental housing and the ongoing public sector pay disputes. It has also kept listeners up to date with the latest developments in the world of international affairs reporting on location from the World Economic Forum in Davos, and last week from the escalating protests in Paris.
Speaking at Radiodays Europe in Prague, Vicky Etchells, Head of News and Factual Podcasts for Global Player, said: "I am delighted to share that The News Agents has surpassed 24 million downloads since launching last year.
"I am incredibly proud of the world-class journalism the podcast provides listeners on a daily basis, and these phenomenal download figures are a testament to the exceptional hard work of the whole News Agents team!"
Dino Sofos, Founder CEO, Persephonica and Executive Producer of The News Agents, said: "In just seven months, The News Agents has established itself as the UK's biggest daily podcast.
"We're over the moon that so many people are coming to Emily, Jon and Lewis every day for their news fix – not only via the podcast, but through our video content on social channels and Global Player.
"It's clear that listeners want their news delivered with sharp and punchy analysis, and to hear what our expert hosts really think about the day's events."