Presenters can't be replaced by robots says Global's James Rea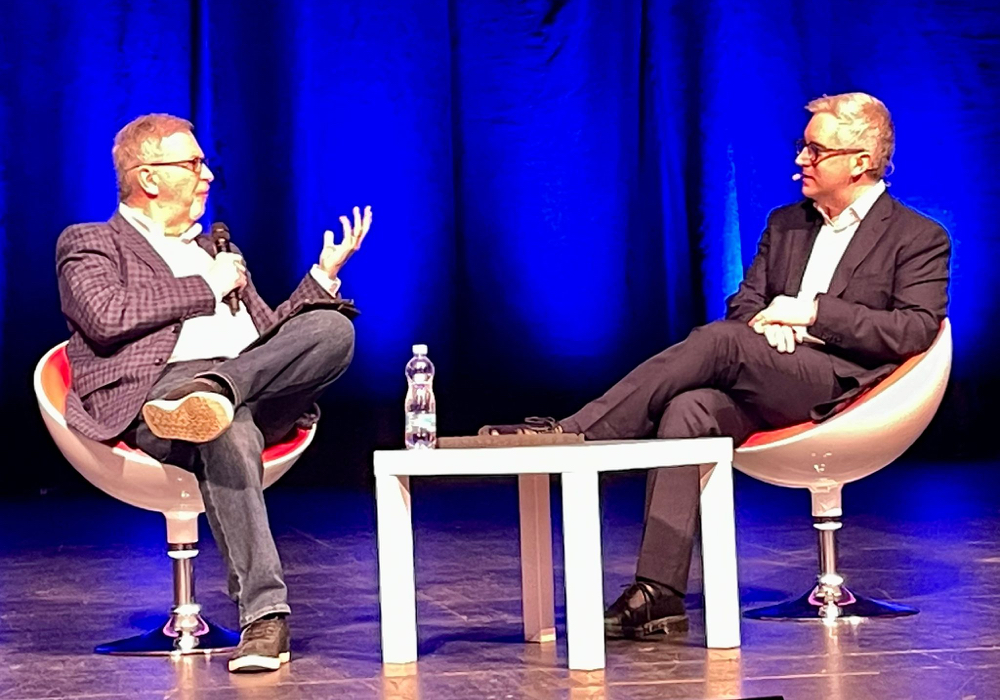 Global's Director of Broadcasting and Content James Rea says the power of radio lies in its strength to be personal, and presenters won't be replaced by robots anytime soon.
In a session at Radiodays Europe, James was in conversation with radio consultant John Simons, his former boss at GMG Radio.
When asked about AI, James mentioned Global already uses some AI for its commercial and sales teams, and whilst the AI voices are getting better, they won't be replacing personality presenters.
James talked about his getting his break in radio, being employed by John Simons at Century Radio in the North East when he was 16. "I used to get the bus to report on stories because I couldn't drive" he said.
He worked his way through GMG Radio, albeit with a spell at the BBC, before being snapped up by Richard Park at Global to run LBC 12 years ago.
"I got a message from the office of Richard Park. He instructed a meeting with me after being at Radiodays in Copenhagen, we met, we got on brilliantly, and his offered me the job."
"It was an honour to replace Richard Park, and it was always going to be hard to follow one of the greatest radio programmers in the world," James added.
When asked how he keeps across all the brands at Global, James said they have an amazing team at Global, the people make everything sparkle, and Ashley Tabor King is a real force behind it all. He loves radio.
On the future of audio, James said podcasting is massive, and Global has millions of active users on Global Player, but live radio is still the driving force.
Radiodays Europe is taking place today and tomorrow in Prague, with photos and coverage on @RadioTodayLive on Twitter.
Global's @JamesRea talks about starting in radio. "As a trainee journalist I used to pay my own money at 16 to get to stories on the bus or a taxi". He even interviewed Tony Blair. He's now Director of Broadcasting and Content at Global #RDE23 pic.twitter.com/nU8QQc4OV7

— RadioToday Live (@RadioTodayLive) March 27, 2023
On being summoned by Richard Park: "We got on brilliantly, and he offered me the job to run LBC" @jamesrea #RDE23 pic.twitter.com/sWsHb2vbhR

— RadioToday Live (@RadioTodayLive) March 27, 2023