Roman Kemp and The News Agents lined up for The Podcast Show 2023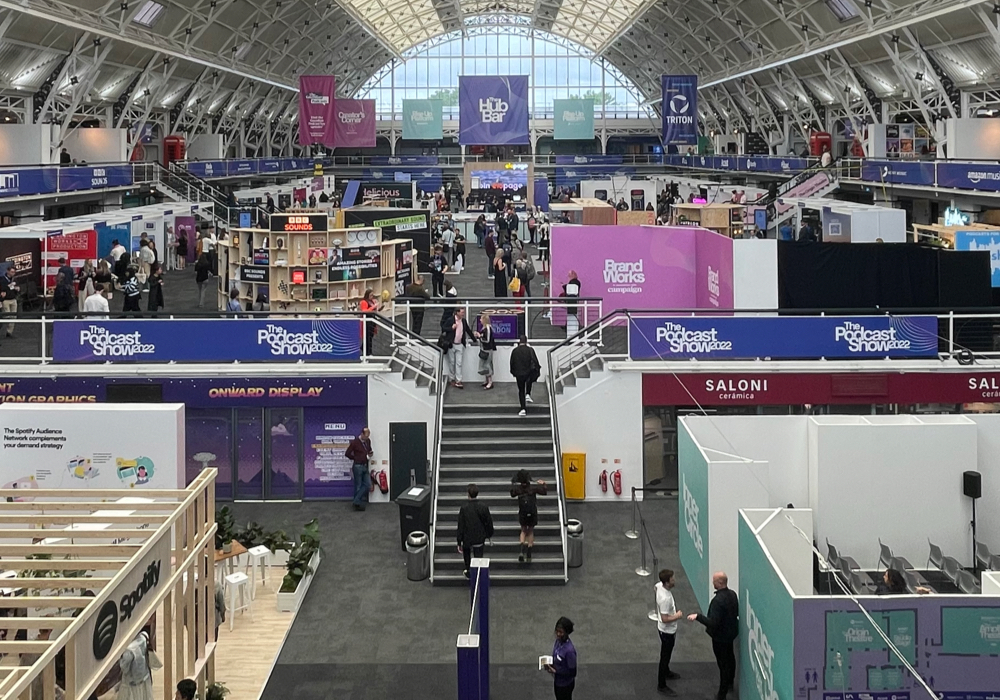 The News Agents – Emily Maitlis, Jon Sopel & Lewis Goodall, plus Capital's Roman Kemp are lined up to appear at The Podcast Show 2023.
They join a large line-up of radio and audio content creators in London for a two-day event in May including Alice Levine, Fearne Cotton, Kermode & Mayo and Nick Grimshaw.
The first live shows to be announced included Kermode & Mayo's Take, Tape Notes Live with Adam Buxton!, Tea With Me – Shane Todd, The Socially Distant Sports Bar, AFTV: The Invincible Podcast and The Useless Hotline
Nish Kumar, Jon Snow, Patricia Bright, Gabby Logan, Giovanna Fletcher, Brown Girls Do It Too (Poppy Jay & Rubina Pabani), Raphael Rowe, Sam Thompson & more are also announced, along with Ashley Flowers, Dan Snow, Hala Taha, Jordan Harbinger, Spencer Matthews, Vogue Williams, Sam & Billie Faiers and William Hanson.
Sponsors include Acast, Amazon Music and Wondery, Audioboom, BBC Sounds, Global, Spotify, Veritone, YMU Entertainment, Dolby, Tortoise Media, Simplecast, Adswizz, Sennheiser, Neumann, Bumper, Frequency, Musixmatch, Evergreen Podcasts and AudioPlus.
Acast will offer podcasters and advertisers a "choose your own adventure"-style experience, to learn how the creator economy in podcasting can work for them. Amazon Music and Wondery will be hosting their own exclusive sessions across the two days as well as delivering, for the second year, an Amazon Music and Wondery branded activation on the main show floor.
This year the show has partnered with YMU Entertainment (a division of global talent group YMU), who will be taking part in the Preview Night, as well as taking over The Origin Theatre between 9.30am and 12.30pm on both show days. The division will be showcasing – and in conversation with – their clients including Fearne Cotton, Gabby Logan, Giovanna Fletcher, Cel Spellman, Raphael Rowe and Jack Harries and key members of the YMU Entertainment leadership team.
On Day One, The Rise Up Stage will be presented in partnership with Listen and Arcade Media. Their talks will focus on what the podcast industry can learn from the creator economy. In line with this, they'll be showcasing talent including Jordan Schwarzenberger (Host of Unboxed, Co-Founder of Arcade Media and manager of The Sidemen), Patricia Bright (Author, YouTuber and Founder of The Break) and top commissioners and reporters including Marta Biino (Creator Economy Reporter at Business Insider), Jonny Mounsor (Creator Partnerships Manager at Spotify), Tom Pauc (Sky's Senior Podcast Manager and host of Plot Twist podcast), Rae Votta (Global Podcast Content Lead at Netflix) and Pia Brady (Head of Creator Ventures at LinkedIn Editorial).
On Day Two, The Rise Up Stage will be presented in partnership with Insanity, marking the global talent management agency's return to The Show for the second year running. They will be placing their clients on this stage, as well as in other key sessions across the festival, including Alice Levine, Roman Kemp, Sam Thompson, Made By Mammas (Zoe Hardman & Georgia Dayton), Zara McDermott and Jordan North. Expect a schedule packed with back to back advice and inspiration from their roster.
International speakers confirmed thus far include Emma Vaughn (Spotify Global Head of Advertising Business Development & Partnerships), Lory Martinez (Founder of Studio Ochenta), Julien Neuville (Co-Founder of Nouvelles Écoutes), Tom Höglund (Co-Founder at Epidemic Sound), Fatima Zaidi (CEO and Founder of Quill Inc) and Jeff Vidler (President and Founder of Signal Hill Insights).
This year, The Show will also launch its inaugural International Podcast Trailblazer Award, recognising an individual who has made a global impact on the podcast industry. This will be announced at the Preview Night in the Business Design Centre on 23rd May, 7.30pm. Soon to be announced is the Industry Advisory Panel, a group of key influential players from across the industry, which will ensure the festival caters to the international podcast community. The panel will select the award winner.
The Podcast Show LIVE will host a week-long live podcast festival promoted by TEG Live Europe. The evening shows will take place around London from 22 – 28 May, celebrating talent and bringing some favourite voices to the stage. The Show includes live shows from Kermode & Mayo's Take, Tape Notes Live with Adam Buxton!, Tea With Me – Shane Todd, The Socially Distant Sports Bar, AFTV: The Invincible Podcast and The Useless Hotline.
These are taking place across Islington at Union Chapel, Islington Assembly Hall and The Business Design Centre, with more to be announced.
The event is taking place at The Business Design Centre in Islington, London, on 24th & 25th May 2023.