Champions of local media event held at 10 Downing Street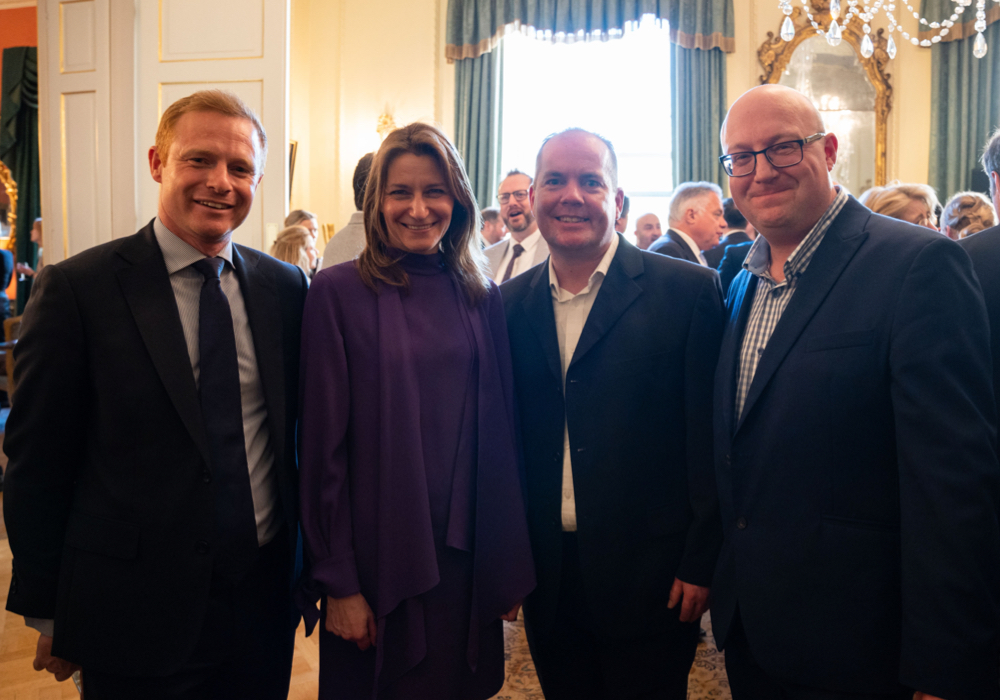 Local radio people from around the UK have attended a "champions of local media" reception at 10 Downing Street.
Representatives from stations including Vibe 106.7 in Watford, Cando FM in Barrow-in-Furness, Radio Mansfield, Radio Hartlepool, BBC Radio Lincolnshire and Rombalds Radio in North Yorkshire attended the event on Wednesday 19th April 2023.
The private gathering was organised by the Secretary of State for Culture, Media and Sport Lucy Frazer at Downing Street to promote the role and importance of local media within communities.
Andrea and Jonny Williams from the management team at Cando FM community radio, were recognised as local media champions and said: "This is a monumental achievement for the entire CANDOFM team, a testament to the unwavering hard work and dedication everyone has poured into the station."
Vibe's Ryan Thrussell said: "I had an amazing opportunity to attend Downing Street to speak about the work Vibe 107.6 does to train and develop talent in radio & media.
"The station has helped me and so many other volunteers learn and get a starting block in a competitive industry. An evening to remember!"
Rombalds Radio presenters and founders Nick Babb and Stuart Clarkson attended and spoke to Lucy Frazer about the station and its plans to expand to broadcast on DAB in the future.
Nick Babb said: "It was quite surreal to walk through the famous door of Number 10, but a real honour to be invited to make the trip to London in recognition of our work to create a professional radio station for our area that connects audiences with everything going on locally."
Stuart added: "What an experience to attend an actual party in Downing Street! We were pleased to get a few minutes to speak directly with the minister in charge of radio, to discuss some of the themes of the upcoming Media Bill and how the government can support projects like ours to grow and thrive in a changing landscape for the industry."
Secretary of State for Culture, Media and Sport Lucy Frazer commented: "Local journalism helps local areas stay connected, generates local pride and keeps communities engaged in local issues. Local journalists capture the heart of our communities and make sure politicians are doing their jobs better by holding them to account.
"It was wonderful to be joined by local journalists from across the country in Downing Street last week – from community news sites, radio shows and free sheets – to thank them for their work to keep communities connected."
Congratulations to @JasonAndersonUK and Louise Anderson, co-owners of Radio Hartlepool who were invited to a reception at 10 Downing Street where they were given an award as 'Hartlepool media champions' pic.twitter.com/F6RUfc9POM

— Radio Hartlepool (@radiohartlepool) April 20, 2023
I had an amazing opportunity to attend Downing Street to speak about the work @VIBE1076 does to train and develop talent in radio & media. The station has helped me and so many other volunteers learn and get a starting block in a competitive industry. An evening to remember! https://t.co/e2OfL9Q51a pic.twitter.com/eIUPROcjIJ

— Ryan Thrussell (@RyanThruss) April 24, 2023
Yesterday it was my pleasure to host Jonny and Andrea Williams from @CandoFM in Parliament before heading over to Number 10 to hear from @lucyfrazermp.

In No 10, we spoke to the Secretary of State about championing community broadcasters. pic.twitter.com/7pChtZ8fhP

— Simon Fell MP (@simonfell) April 20, 2023
@RyanThruss from @VIBE1076 radio joined me at @10DowningStreet for the Local Media Champions reception

Ryan has helped many others develop their careers in radio and it was a pleasure to introduce him to @lucyfrazermp & to celebrate the role of local media outlets@DCMS #media pic.twitter.com/b8tuGKswbH

— Dean Russell MP (@dean4watford) April 20, 2023
Here's my night, literally, in 10!!! pic.twitter.com/fxHbuKT1Qr

— Sean Dunderdale (@seandunderdale) April 19, 2023
Top photo: Rombalds Radio team at Downing Street (L-R): Robbie Moore MP for Keighley & Ilkley, Culture Secretary Lucy Frazer MP, Nick Babb and Stuart Clarkson