Global wins big at 2023 Commercial Radio News Awards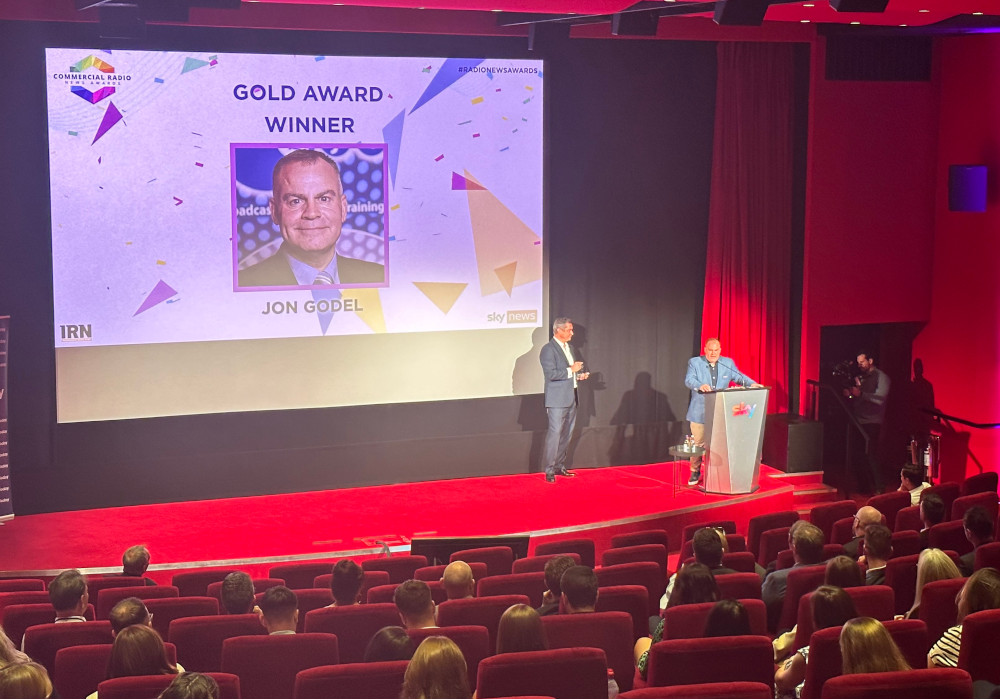 Global has taken home six out of 13 Golds at the Commercial Radio News Awards, Bauer has three, while News UK and Manx take one each.
The Gold Award for an outstanding contribution to commercial radio news went to Jon Godel.
Global's Newsroom North West won the 'Best News Story or Coverage' award for its reporting of the off-pitch events in the French capital with judges praising its meticulous planning, excellent newsgathering and a dogged pursuit of the key angles.
talkSPORT's ability to pivot from the match build up to the breaking news of events outside the Stade de France was praised by the judges as it was given the Best Sports Coverage award.
The event, hosted by Sky News Daily podcast presenter Niall Paterson, marked 50 years of commercial radio with a special montage covering five decades of news in five minutes which was played ahead of the awards being handed out.
It was a good night for Global's Newsroom North West as it won 'News Team of the Year' in the 'over 1.5m TSA' category for 'expertly handling several high-profile national news stories on their patch.' The team's Tom Dunn was named 'National Reporter of the Year' with judges describing him as 'a brilliant all-rounder who is comfortable reporting on major breaking stories or recorded reports of his original journalism.'
The 'News Team of the Year' in the 'under 1.5m TSA' category was Hallam FM which judges said offered a 'first-class news service' and praised it for going 'above and beyond to bring context and understanding' to its listeners.
Siobhan Fletcher from Manx Radio on the Isle of Man won the 'Best Interview' award. Her entry focused on a family's healing process following the suicide of young musician, Cody Atzori. His family released an album of his original work called 'Whispicity' and judges said the interview with his relatives left listeners 'with a sense of warmth, affection and positivity in how his memory was being honoured.'
The Regional Reporter of the Year prize was awarded to Kathy Green from Greatest Hits Radio York and North Yorkshire. In an extremely competitive field, judges said she 'stood out with her ability to deliver a broad range of original journalism in a highly engaging fashion.'
In the Newsreader of the Year categories, Alice Young from Global's Newsroom London won the 'National' version as result of the 'added value she provides while covering a range of historic events on location.' The 'Regional' prize went to George Painter from Global's Newsroom West. Judges praised his 'creative use of audio, clever writing and engaging delivery' as attributes which made him relatable to listeners.
A paddleboard safety campaign by Andrew Kay of Greatest Hits Radio South West impressed the judges in the 'Best News Special or Campaign' category. They said the campaign, triggered by the death of paddleboarder Simon Flynn, 'delivered national change and almost certainly saved lives.'
The 'Newcomer of the Year' was Global's Newsroom South's Rebecca Brady who judges said had 'a brilliant range of stories and a commanding delivery and presence.
And the 'Student Journalist of the Year' award, which is supported by the Broadcast Journalism Training Council, was won by Tom Nunan from City, University of London. His 'Elder and Better' report focused on mental illness through the experiences of his 91 year-old grandfather.
The judges said, 'Tom demonstrates journalistic integrity and maturity through well sourced statistics and enlightening interviews.'
The final award of the night, the prestigious Gold Award for an outstanding contribution to commercial radio news, was presented to Jon Godel.
Jon is currently inspiring the next generation of broadcast journalists in his role as the chief executive of the BJTC.
He started his journalism career in the 1980s as a newspaper reporter for the Bedfordshire Times and Biggleswade Chronicle before moving into commercial radio. He worked at Chiltern Radio and Northants FM and in 1996 was appointed Group News Controller for the Kiss Network.
Jon Godel spent 12 years at ITN, nine of which as the Editor of IRN, and during this time was one of the architects of the Awards celebrating commercial radio news and sport. He has spent the past decade at the BJTC which supports courses that are shaping the next generation of broadcast journalists.
And finally a special Gold Award to Jon Godel to a standing ovation. Much deserved.

Quick tally – six Gold awards for Global – three for Bauer – others for Manx Radio and News UK #RadioNewsAwards pic.twitter.com/QgIKqyfCzA

— RadioToday Live (@RadioTodayLive) June 22, 2023
IRN Editor and Head of Radio at Sky News, Dave Terris said: "2022 was a year of significant national and international news and commercial radio teams stepped up to deliver brilliant, ambitious coverage in a competitive field.
"Despite the major events of last year, news teams continued to devote their efforts to original, distinctive journalism all for the benefit of the huge audiences that tune in. It is fitting that 50 years on from the first commercial radio bulletin, the quality of coverage continues to push boundaries."
IRN Managing Director, Tim Molloy said: "A massive thank you to everyone who took the time to enter this year's awards and congratulations especially to the winners for their outstanding radio journalism during a significant year for news both at home and abroad.
"Thank you to our judges for giving us their time and expertise. They would agree with me that the standard of entries was particularly high this year proving beyond any doubt that commercial radio news is stronger than ever after 50 years of producing 24/7 bulletins without pause."
The winners list in full:
IRN Gold Award
Jon Godel
News Team of the Year (Over 1.5m TSA)
Global's Newsroom North West
News Team of the Year (Under 1.5m TSA)
Hallam FM News Team
Best News Story or Coverage
The Champions League Final – Global's Newsroom North West
Reporter of the Year (National)
Tom Dunn – Global's Newsroom North West
Reporter of the Year (Regional)
Kathy Green – Greatest Hits Radio York & North Yorkshire
Best Sports Coverage
The 2022 UEFA Champions League Final – talkSPORT
Best News Special or Campaign
Simon's Legacy: Paddleboard Safety Campaign – Andrew Kay, Greatest Hits Radio South West
Best Interview
Whispicity – Siobhan Fletcher, Manx Radio
Newsreader of the Year (National)
Alice Young – Global's Newsroom London
Newsreader of the Year (Regional)
George Painter – Global's Newsroom West
Newcomer of the Year
Rebecca Brady – Global's Newsroom South
Student Journalist of the Year – Supported by the BJTC
Tom Nunan – City, University of London