Radio Maldwyn's 30 year anniversary celebrated in Mid Wales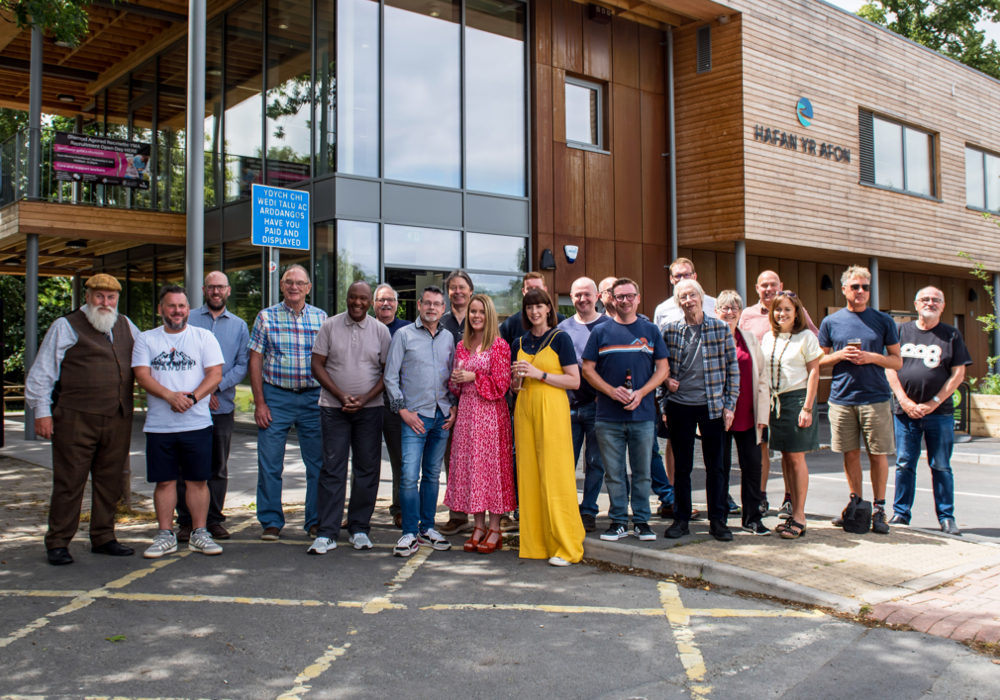 Former volunteers and staff at Radio Maldwyn have gathered in Newtown to celebrate 30 years since the station started broadcasting to Mid Wales.
Radio Maldwyn – the Magic 756 launched on July 1st 1993 from studios by the River Severn in the Powys town.
The event took place at Hafan Yr Afon, a community centre which was built on the site of the former radio station.
Radio Maldwyn was originally formed as a community co-operative before becoming a Limited Company some years later. It. closed in 2010, with Radio Hafren taking over its 756 AM frequency a year later.
Among those attending was John Barnes who was the first manager of the station. He went on to work for Rock FM in Preston, the Chiltern Radio Network, BBC Hereford and Worcester, BBC Radio Berkshire, BBC Radio Lancashire, and BBC Radio Manchester.
He says Maldwyn was a truly extraordinary experience "It was a very special radio station; we had some incredibly talented staff and volunteers and many of them went on to do big things in the broadcasting industry.
"We were taken to the hearts of people in the area and became a vital part of their daily lives. I have recently heard Maldwyn described as a station which contained a lot of pirate radio DNA but in truth I was mostly influenced by the early days of Beacon Radio in Wolverhampton and seeing what would happen if you transposed that amazing big sound into a rural area."
It was my great honour 30 years ago to be the launch manager of Radio Maldwyn, the first commercial radio station in Mid-Wales.
Today I got to meet up with some of the original team at Hafan Yr Afon, the building which replaced the studios, next to the River Severn in Newtown. pic.twitter.com/ICrgKkqoKe

— John Angus Spencer-Barnes (@JohnBarnesUK) July 1, 2023
The event was attended by a large number of former staff who went on to achieve successful careers in the broadcasting industry.
Sue Charles started her career at Maldwyn before going on to be a music reporter for Radio 1 and Radio 2 and then becoming a journalist and TV weather presenter at BBC Wales. She says the day brought back many happy memories, "Meeting up with the old Maldwyn alumni was a reminder of the halcyon days, broadcasting across mid Wales and the borders.
"Radio Maldwyn was a warm, friendly station, yet had that palpable taste of the pirates – a strong community presence, presenters with a genuine love and knowledge of music, and huge variety which is often lacking in radio today.
"It was also a great training ground for young people across mid Wales who were interested in music, radio and journalism.
"We were afforded opportunities in local radio, which sadly no longer exist for many younger people today."
It was here in the Royal Oak Hotel in Welshpool that I was appointed as the launch manager of Radio Maldwyn, the first commercial radio station for Mid-Wales.
We launched 30 years ago on July 1st 1993.
The huge success of the Magic 756 was a real highlight of my radio career. pic.twitter.com/zQfzQUqEjN

— John Angus Spencer-Barnes (@JohnBarnesUK) June 30, 2023
The event was organized by Ashley Owen who was a 16-year-old volunteer presenter when the station went on air. He later went on to work for Heart in North Wales and as a stand-up comedian. He says "Radio Maldwyn – The Magic 756, was just fun, it never felt like a job.
"When it came to broadcasting and starting live broadcasts in July 1993 I had just finished high school and my GCSE's. My first show was called 'Hits not Homework' on a Thursday evening and eventually worked my way up to hosting Drive.
"It was all a total joy and never felt like work. It would be amazing if it was still around today."
Thirty years ago today…

HAPPY BIRTHDAY, RADIO MALDWYN!

I think there may be some sort of reunion tonight in mid Wales, but I'll raise a toast from afar instead.

Oh, and enjoy this local newspaper clipping that had me dressed in an iffy pyjama top for the launch photo. pic.twitter.com/dW3t4PxgDH

— Lee Thompson (@leethommo) July 1, 2023