West Midlands radio broadcaster Tony Butler dies aged 88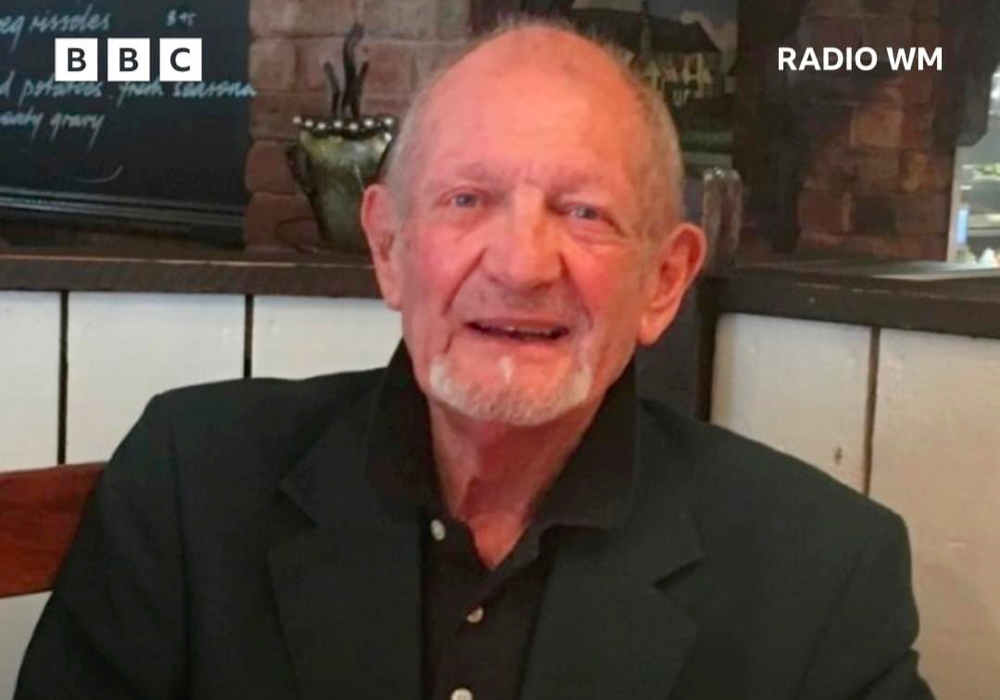 West Midlands broadcaster Tony Butler has died at the age of 88.
Tributes are being made on social media by his friends and former colleagues, who are sad to learn of his passing peacefully in his sleep yesterday.
Tony is credited with starting the original football phone-in on BRMB in 1974 and was Head of Sport for the station.
He left BRMB 10 years later after a row with a fellow disabled broadcaster. The dismissal of such a high profile personality was front page news in Birmingham, and programmes on BRMB were severely affected as some of Butler's former colleagues walked out on strike.
He joined the BBC shortly afterwards, and was appointed Manager of BBC WM in 1987 then went on to host a rival Football Phone-in and breakfast show.
After various other stints on radio stations around the Midlands, Tony worked on Gold where he teamed up with Tom Ross to continue the Football Phone-In.
Tony retired in 2012 at the age of 77 after 40 years on the air. You can hear him talking about his retirement here.
Daz Hale, who currently hosts the Football Phone In on BBC WM, said: "So sad to hear about the passing of Tony Butler . This is the man who , back in the 1970's , INVENTED the Football Phone In . A great broadcaster who became a great friend . Rest in Peace Tone . Okay? Okay !"
Tom Ross said: "Am devastated to hear that my old boss Tony Butler has passed away. Tony gave me my job at BRMB for which i will always be grateful. I am so glad many years later I got the chance to repay him by inviting him to host the phone in with me.
"He revolutionised the way sport was covered on radio and was the phone in master. He managed the BRMB charity football team and helped to raise thousands for needy causes. I learned so much from him and we became great friends- always spoke his mind.
"I had so much respect and love for him and owe him so much- without him I would not have had a radio career. RIEP legend."
Very sad to hear that Butler's kicked the bucket. RIP Tony; inventor of the football phone in. Tone… has fucked off.https://t.co/HJK1fPj5Wv pic.twitter.com/5ZgU7JQ50m

— Paradise Circus @ParadiseCircus@mastodonapp.uk (@paradisecircus) July 14, 2023
RIP radio legend Tony Butler. Known as the man who invented the football phone-in at BRMB in Birmingham, Tony was very generous with his time & advice when I became the first Sports Editor at Radio Hallam in Sheffield in 1974. A true legend. pic.twitter.com/Vie3EgUZBe

— Stuart Linnell MBE (@Stuart_Linnell) July 14, 2023
Jasper Carrott –
A fitting tribute to Tony Butler and the special coverage of football on local commercial radio pic.twitter.com/zEyESUxBHu

— Dave Victor (@DulcetDave) July 15, 2023
We are saddened by the news of the passing of Tony Butler – A West Midlands broadcasting legend. Tony was a fantastic orator who lived and breathed his patch, plus his football phone-ins were legendary. May we extend our condolences to Tony's family and friends. Rest in Peace. pic.twitter.com/WjU2IYd4DB

— Skylab Radio (@SkylabRadio) July 15, 2023
If you didn't live in the midlands or work in radio, you may not have known the name Tony Butler. You lost out.
He was an utter joy to work with every morning.
Kinda fitting we lost him on #BlackCountryDay #riptonybutler pic.twitter.com/Y7lPyuE6SU

— Neil Sackley (@djneilsackley) July 15, 2023
Sad day in this 50th anniversary year of the launch of independent radio. Tony Butler brought the combative football phone-in to the UK having heard it in Canada prior to BRMB opening in 1974. The rest copied, but never matched. "On yer bike", "Get out your prayer mat". RIP Tone. https://t.co/auy348cdWd

— Paul Rowley (@PaulRowleyRadio) July 15, 2023
So sad to share the news that radio legend Tony Butler has passed away. He died peacefully in his sleep on Friday afternoon at the age of 88.

I first worked with Tony in 1982 at BRMB, twiddling the knobs for his Saturday Sports Show and then later @bbcwm
A true radio legend pic.twitter.com/H1vtyK5lDj

— Jenny Wilkes (@BillyQuiet) July 14, 2023
We are very sorry to hear the loss of Tony Butler #RIP https://t.co/57Jk2Bxwro pic.twitter.com/CiS9GhzTCM

— RadioMugsUK (@RadioMugs) July 15, 2023
Tony Butler RIP

A radio original.

That football phone in you love? He started all that

That 7-second delay radio stations have to get rid of swearing? I'm pretty sure it's him that led to that invention

"On Yer Bike" "Extra Bubbling"?
They're HIS.

A legend gone #tonybutler

— Ian Danter (@talkdants) July 14, 2023
1/3 Am devastated to hear that my old boss Tony Butler has passed away. Tony gave me my job at BRMB for which i will always be grateful. I am so glad many years later I got the chance to repay him by inviting him to host the phone in with me.

— Tom Ross (@thegoalzone) July 14, 2023
Sad to hear the news that Tony Butler has died, aged 88. For many in the midlands he was the voice of sport @thegoalzone #brmb

— Phil Riley (@radioriley) July 15, 2023
As we say a sad farewell to Tony Butler – a real 'phone-in pioneer and Birmingham legend – here he is, talking to Tom @thegoalzone Ross on his retirement https://t.co/3tc51ZQutN #radiomoments

— David Lloyd (@DavidLloydRADIO) July 15, 2023