Winners of Young Audio Awards 2023 have been announced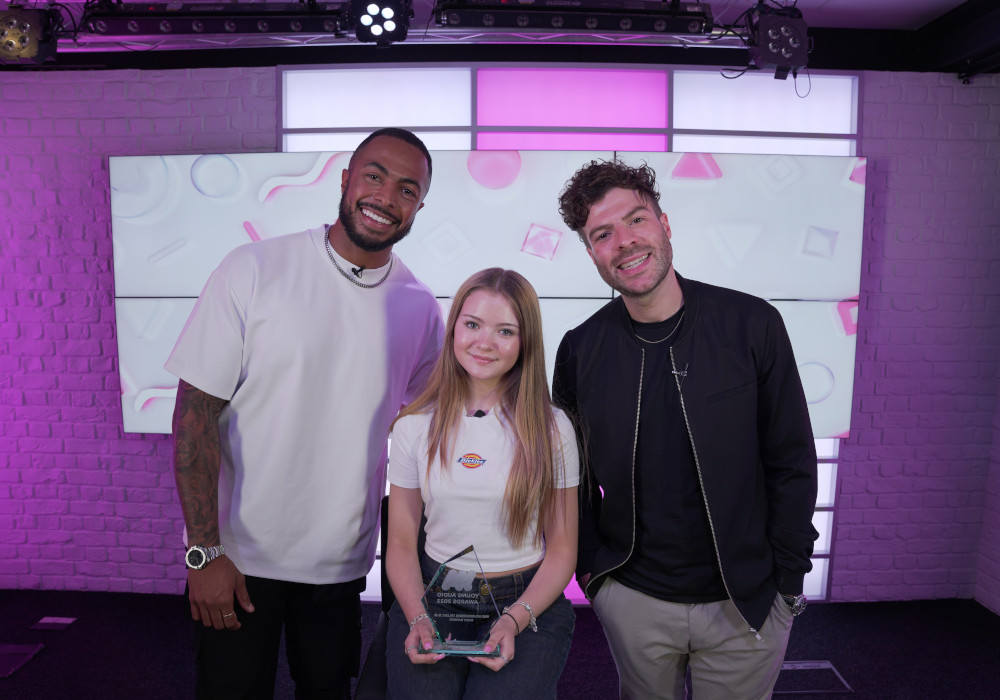 The next generation of audio stars have been announced at the 2023 Young Audio Awards.
Jordan North and Tyler West presented the ceremony, with guest appearances from Vernon Kay, Ken Bruce, Stephanie Hirst, Jordan & Perri, Tatum McGreal, Darren Bent and more.
Winners will receive their own radio show on a national station, mentorship opportunities and audio industry experiences.
Sam Bailey, Managing Director of The Radio Academy said: "These awards are a fantastic opportunity for young people across the UK to be recognised for the hugely creative work they do with audio – one of the most accessible forms of media you can imagine.
"At The Radio Academy, we love to recognise kids starting up their own school radio shows or bedroom podcasts – and the talent this year has been incredible."
George Butler, Chair of the Young Audio Awards added: "The Young Audio Awards Class of 2023 has proved that the future of audio is in safe hands.
"From 8-year-olds using audio in school to grow and develop social skills, through to the 18 year olds who sound ready for the national airwaves. All of this year's nominees and winners have proved that the human heart at the centre of radio will live on for years to come."
The Winners in full:
Achievement in the Community
GOLD – Ocean Youth Radio, Torbay
SILVER – Together Radio – Mayflower Community Academy, Plymouth
BRONZE – The 4Ps Radio Training School – Vectis Radio, Isle of Wight
BBC Sounds Rising Talent Award (Age 8-11)
GOLD – Isabelle Harper – BCB Bradford
SILVER – Maisie Chittenden and Lila-Rose Campell-Wilkinson – Newington Triple A Radio, Kent
BRONZE – Jessica Snowden – Harbour Radio, Great Yarmouth
BBC Sounds Rising Talent Award (Age 12-15)
GOLD – Daisy Barker – Chelmsford Community Radio
SILVER – MovieTime with Lex podcast
BRONZE – Alexander Gallacher – Workington Academy, Cumbria
BBC Sounds Rising Talent Award (Age 16-18)
GOLD – Anousha Gledhill – Youths Choice Radio, Global Academy
SILVER – T.S Michaels – Youths Choice Radio, Global Academy
BRONZE – Emma Stigter – Siren Radio
Best in Music, with Hits Radio
GOLD – Global Hits with Prisha & Advika – Folkestone School for Girls, Kent
SILVER – MixTapes and 808's Best Bits with T.S Michaels – Youths Choice Radio, Global Academy
BRONZE – 80s, 90s and 2000s with Granger Smith – Spark Radio, Sunderland
Best in Speech, with talkSPORT
GOLD – Youths Choice Voice – Global Academy
SILVER – Jack To The Future podcast
BRONZE – Newington Triple 'A' Radio – Newington Community Primary School, Ramsgate
Best Podcast, with Times Radio
GOLD – Jack To The Future podcast
SILVER – MyBNK Money Podcast – Global Academy
BRONZE – Rule of Law Podcast – Tibberton and Hindlip First Schools, Worcestershire
Primary School Radio Station of the Year, with FunKids
GOLD – East Peckham Primary School
SILVER – Newington Triple 'A' Radio – Newington Community Primary School, Ramsgate
BRONZE – TH Radio – Tibberton and Hindlip First Schools, Worcestershire
Secondary School Radio Station of the Year, with KISS
GOLD – Vibe Radio – Barnsley College
SILVER – Youths Choice – Global Academy
BRONZE – Workington Academy Radio – Cumbria