BBC Radio 2 loses 1m listeners as Ken Bruce helps Greatest Hits Radio grow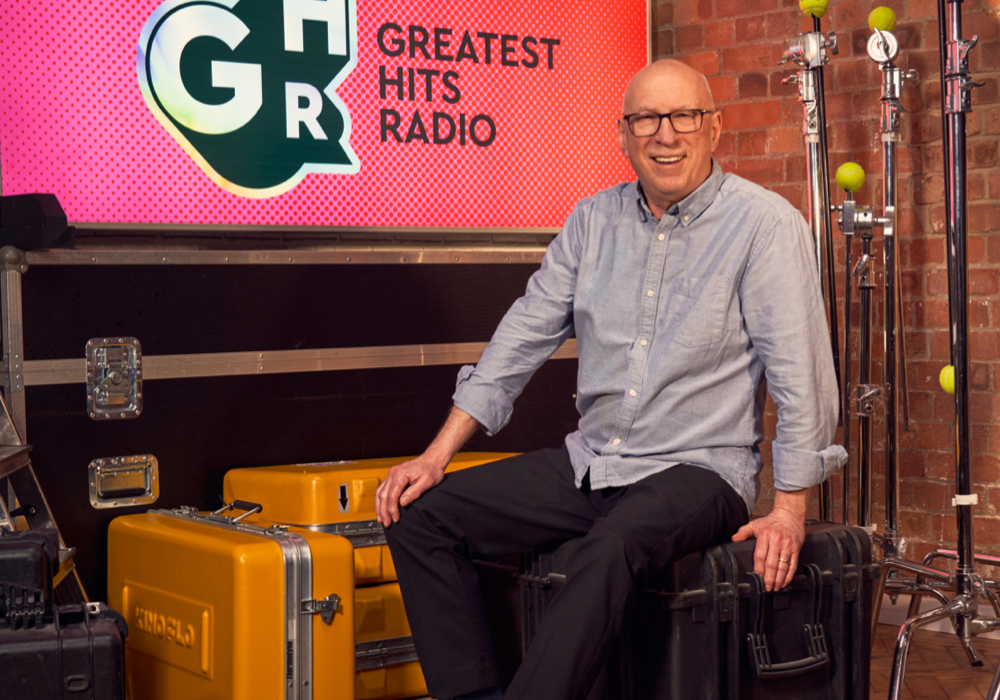 BBC Radio 2 is down one million listeners in the latest radio listening figures provided by RAJAR for quarter 2, 2023, as Ken Bruce helps commercial radio increase.
The national BBC network dropped from 14.45m weekly reach last quarter (and 14.5m from Q2, 2022) to 13.45m this quarter.
Total hours and market share are also down, and average hours drops below 10 for the first time in recent history at 9.8.
In the commercial sector, growing rival Greatest Hits Radio has added 672,000 listeners since Ken Bruce joined in April 2023, jumping from 5.1m to 5.8m, or 5.9m across the GHR Network.
The addition of multiple new frequencies in places like Scotland and Lincolnshire will also be a factor in the increase.
A rise in listeners across a large number of local stations recently purchased by Bauer has given Greatest Hits Radio a big boost. Of the GHR stations, 54 have reported an increase in weekly reach, with six down and six staying the same.
Areas with a significant percentage increase include East Dorset (using a frequency given up by Wave 105), Lancashire, Suffolk and Beds, Bucks and Herts.
In his time slot, Ken Bruce debuts with 3m listeners, double the amount the station had 12 months ago during mid-mornings.
Simon Mayo has a record 2.3m listeners (+62% year on year) and Rossie has the 3rd biggest national commercial Breakfast show with a record 2.3m reach (+54% year on year).
In London, Greatest Hits Radio on 105.8 increased 12% from 1.02m to 1.45m. In Lincolnshire, Lincs FM has lost just 9% of its audience after giving up its FM frequencies, whilst GHR Lincolnshire has doubled its audience (from 48,000 listeners to 98,000).
At BBC Local Radio, currently subject to many changes taking place, the network has seen an overall increase in audience of a quarter of a million listeners. However, a deeper look at the individual stations show most areas have lost weekly reach this quarter.
Twenty four stations are down, including Bristol (-29%), WM (-22%), Kent (-20%) and Merseyside (-15%). There are 13 stations increasing this quarter including Cambridgeshire (28%), Oxford (15%) and Tees (15%).
BBC Radio London increased its weekly reach 8%, and is back at a pre-covid average hours of 5.1 whilst total hours are up 48%.
Commercial radio sets a new record with its highest ever reach with 39.2 million listeners, 7.5 million more listeners than BBC Radio which has 31.7 million each week.
For all radio combined, digital listening is 69%. Of this, DAB is 40.3% (down from 40.8% in Q2 2022), while overall online listening is 24.9% (up from 22.3% in Q2 2022).
Away from Radio 2, Greatest Hits Radio, and BBC local, here are some other observations for Q2, 2023: (all comparisons are based on quarterly weekly reach unless stated – and this list is not comprehensive, just stats we think are worth mentioning)
Capital: The network remains strong with over 6m weekly reach, although 13 stations are down and Five are up. Notable changes include North West & Wales up 22%, Mid Counties South down –27%, East Mids Leicester is down -25% and there'a a loss in Brighton of -25%. Capital Dance has record-breaking results, surpassing 1 million weekly listeners for the first time. Capital Chill launches with 178,000 listeners.
Heart: The network has 8.5m listeners compared with 8.8m last quarter. Around the stations, 27 are up, 20 are down and two remain static. Notable changes include Thames Valley Berkshire & N Hants up 22%, Thames Valley up 20%, and Four Counties Northants down -23%.
Smooth: London is back up 11% taking 102.2 to 931,000 weekly reach. Across the country, eight others are up, including Sussex (30%), West Country (23%) and Thames Valley (19%), seven are down and one is no change. Smooth Country celebrates its biggest ever audience, with 376,000 people listening every week.
LBC: The LBC Brand is down overall by 10% quarter on quarter, from 3.4m to 3.1 listeners nationally. In London, Nick Ferrari is the number one commercial breakfast show for all three measures – reach, hours and share, and LBC is the number one commercial station for hours and share in London.
Absolute Radio: The network has increased its audience again this quarter, now reaching a record 5.4m listeners (+7.5% year on year). Dave Berry is celebrating record reach at Breakfast with 2.3m listeners and at Hometime, Bush and Richie now have more listeners than ever before, with an audience of 2.1m.
Magic: The main Magic Radio station is up to 3m weekly reach, whilst the network as 3.9m
KISS: Network has 4.2m reach, and the main station has 2.5m listeners every week. KISSTORY is the UK's biggest commercial digital station also reaching 2.5m listeners, up 20% since this time last year.
X: Chris Moyles retains over a million listeners at breakfast on Radio X whilst the station itself has over 2.1m. Brand new station Radio X Classic Rock launches with 275,000 weekly listeners.
News UK: Times Radio is down 6% quarter on quarter, Talk Radio is down 13% and the talkSPORT network is down 4%. Virgin Radio Network is down 6% going down to under 2m weekly reach, whilst the main Virgin Radio UK is also down to 1.3m.
BBC Radio 1: The station has 7.6m adult listeners, up 2% since last quarter – and 8.6m listeners aged 10+. The Radio 1 Breakfast Show with Greg James (Mon-Fri) has 4.3m 10+ listeners.
BBC Radio 2: As mentioned above, the station has 13.5m listeners with 6.7m tuning in for The Zoe Ball Breakfast Show.
BBC Radio 3: The classical music service has 1.7m listeners – down 12%
BBC Radio 4: Down 5% this quarter with 9.0m listeners – 5.6m tuning in for The Today programme (Mon-Sat).
BBC Radio 5 Live: Posted a reach of 5.0m listeners – roughly the same as last quarter.
BBC Radio 6 Music: Down 2% with 2.7m listeners but remains the biggest digital-only network in the UK. The 6 Music Breakfast Show with Lauren Laverne had 1.4m listeners.
BBC Radio 1Xtra: 762k (-4%), BBC Radio 4 Extra 1.6m (-6%), BBC 5 Sports Extra 1.4m (+26%), and BBC Asian Network 505k (+14%).
The BBC World Service: Continues to have 1.1m people listening each week.
Other stations of interest include Boom Radio – up 1% this quarter with 641,000 listeners, Pure Radio Scotland is up 6% to 47,000 listeners, XS Manchester is up 28% with 144,000 listeners, and Hits Radio (Bristol) is up 49% to 48,000 listeners.
U105 in Northern Ireland delivered its highest-ever weekly reach, up 21% year-on-year to 261k, whilst Q Radio is up 32% to 68,000 listeners.
JACKfm, which is being purchased by Bauer, will go out with a 21% increase this quarter at 56,000 listeners. At its peak, it had 89,000 listeners in 2016. JACK 2 Hits however sees a drop of 41% with 5,000 listeners and JACK 3 Chill takes a 20% drop to 8,000.
QUOTES
Aled Haydn Jones (Head of BBC Radio 1) said: "Radio 1 adding well over half a million listeners in a year to the station is a fantastic moment, as we are laser focused on young audiences across radio, mobile and socials. Along with the success of Radio 1's Big Weekend in Dundee this year, Greg and the Breakfast Team continue to be the Number 1 youth show in the UK."
Charlotte Moore, BBC Chief Content Officer, says: "The BBC has always been the home of big live events and bringing the UK together to share in those special moments. This quarter BBC Radio has delivered fantastic coverage of live music and sport with listeners tuning in for Radio 1's Big Weekend, the Coronation Concert, Eurovision Song Contest, Glastonbury, and a nail-biting first Ashes Test. Our digital listening is up significantly and I'm delighted to see another recording breaking quarter for BBC Sounds which has grown the amount of plays year on year by nearly 50%."
Radiocentre's Client Director Lucy Barrett said: "These numbers show that commercial radio is giving audiences exactly what they want to hear. The surge in commercial
radio listening is also really good news for advertisers. The growth in online listening once again reminds us just how important the support for radio in the Media Bill is for the future of our sector."
Simon Myciunka, CEO for Bauer Media Audio UK said "What a time to join the Bauer UK team. It's incredible to see such strong performances across the board, not only for Bauer and each of its networks but commercial radio overall. Radio is thriving, delivering excellent value and return on investment, while growth in digital listening presents even more opportunities for the future… there's never been a better time to partner with us."
Ben Cooper, Chief Content & Music Officer, Bauer Media Audio UK: "The arrival of Ken Bruce and PopMaster means Greatest Hits Radio now has nearly 6 million listeners – with success shared across the station as Simon Mayo now has the UK's biggest commercial drivetime show with 2.3million listeners. Along with big gains for Absolute Radio's Dave Berry at Breakfast, who has increased his audience to a record 2.3 million, Bauer Media Audio has achieved amazing success this RAJAR, posting its fourth increase of record-breaking audiences in a row."
James Rea, Global's Director of Broadcasting & Content, said: "I'm delighted that we have delivered another very strong set of results for Global – it's fantastic to see huge increases for Heart and Capital across the year, which is testament to our talented teams. The massive growth in listening hours shows that we have a highly-engaged, loyal audience who love our brands. I'd like to thank every single listener and everyone involved for their hard work and dedication."
Ashley Tabor-King OBE, Global's Founder & Executive President, said:  "We're enormously grateful to the millions of people who chose our radio brands every day, for entertainment, information and companionship. Commercial radio is celebrating its 50th anniversary this year and it's therefore fitting that commercial radio has its highest ever listening figures today, underlining the strength and resilience of the sector, and the medium. It's a phenomenal achievement and brilliant news for listeners, advertisers and the thousands of extraordinarily talented people working in the magnificent UK radio industry today."
News UK EVP, President of Broadcasting, Scott Taunton, said: "Another record for News Broadcasting – with the highest-ever listening hours in our history. Our world-class broadcasting talent is delivering across our national roster of stations, including talkSPORT, Virgin Radio, TalkRadio and Times Radio, as well as U105 in Northern Ireland.
"News Broadcasting remains the UK's most digital broadcasting group, with 84% of listening hours from digital and 35% from streaming, positioning us brilliantly for continued digital audience and revenue growth."
See all the latest RAJAR results here.