Phil Munns and Lisa Marrey to host BBC Radio Merseyside Breakfast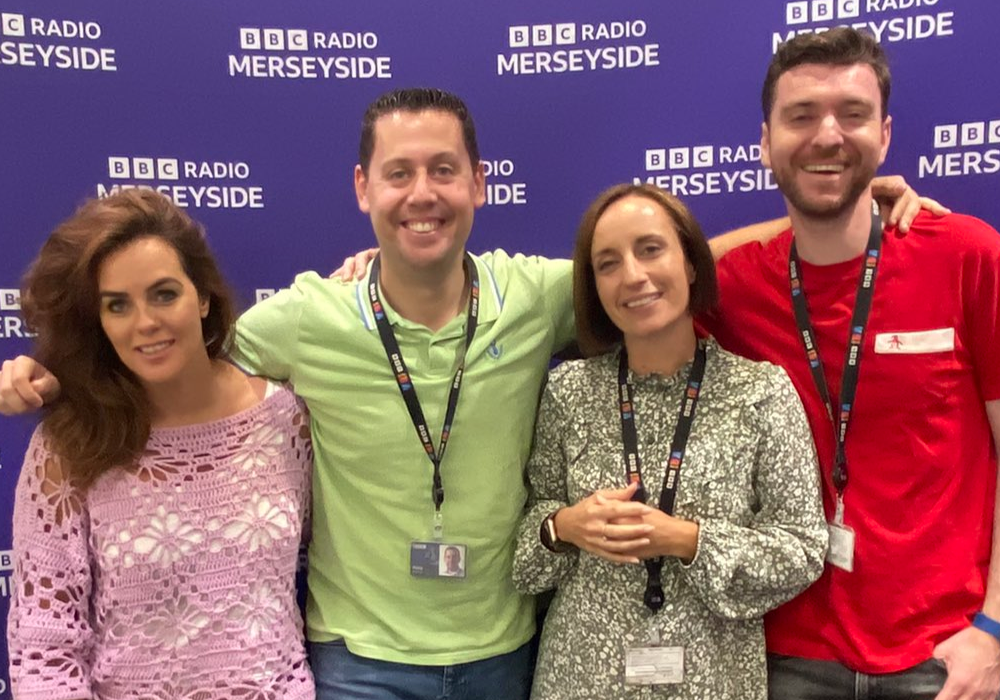 BBC Radio Merseyside Breakfast will be hosted by Phil Munns for four days a week, and Lisa Marrey for one day a week, following the departure of Paul Salt from the show.
From September 4th, former Dee 106.3 journalist Phil Munns will present Monday to Thursday, whilst evening show presenter Lisa Marrey will do Fridays.
Phil joined Radio Merseyside as a journalist in 2018. He said: "I grew up listening to Radio Merseyside – especially the footy coverage before and after the games I went to at Goodison. I never thought that one day I'd be presenting and producing for the station! It really is a dream for me to be waking Merseyside up throughout the week."
Joining Phil and Lisa on the breakfast show is Jen Summers, Jess Robbins and David North. Jen has worked on almost every show across the schedule since joining BBC Radio Merseyside in 2005. Jess, who joined the station in 2008, has previously produced the breakfast show and worked as a journalist for the station too. Dave currently hosts the weekend breakfast show.
Paul Salt moves from the breakfast show to present the all-new Total Sport Merseyside (TSM) four nights a week and Giulia Bould will front the show every Wednesday.
Paul said: "TSM is a great new show that will cover all sports – and will be much more than just the football. It will reflect everything that's happening on Merseyside. Our patch is home to world champion boxers, athletics champions, darts champions, Rugby League and the world's most famous steeplechase – to name but a few – all of which will be talked about and celebrated."
Giulia added: "It is my dream come true to be Radio Merseyside's first full-time female dedicated sports journalist – presenting and producing the programme. To cover this patch is hugely exciting – in my opinion it's the capital of sport, with so many positive stories to reflect and so many brilliant local stars to champion."
Mid-mornings will continue to be presented by Tony 'Snelly' Snell, Monday to Friday, joined on air by long-time mid-morning producer, Harriet Gulliver.
Tony said: "I've been privileged enough to broadcast across Merseyside for so many years and I can honestly say I've enjoyed every minute of it. To be able to continue on the mid-morning show, now five days a week, into an exciting future makes me feel very honoured and proud. The audience has, and always will, remain my priority."
Drivetime will also continue to be hosted by Helen Jones, extending to five days a week.
Helen said: "I'm thrilled to be able to spend each weekday afternoon with our lovely listeners. I was a BBC Radio Merseyside listener long before I joined the station 22 years ago. Being part of the local community – a friend on the airwaves, if you like – is what makes my job the best job in the world."
In other changes, Sean Styles is moving to a new slot at the Weekend. He said: "I've been at Radio Merseyside for a lot of years, doing the job I love. Merseyside lives for the weekends and I'm thrilled to be a part of Radio Merseyside's exciting future, spending every Saturday and Sunday from 1000 until 1400, having a great time, with the best listeners in the world."
Radio Merseyside Executive Editor, Ben Anderson, said: "I'm so excited about the new schedule – our priority, without doubt, is to produce the highest quality local radio from the heart of Merseyside, for the people of Merseyside.
"I've lived in the region for nearly a decade and I want our listeners to know that everyone at the station is working incredibly hard to ensure that Merseyside audiences get the BBC Local radio station they deserve."
It's out there Can't wait to get started as the Breakfast Presenter on @bbcmerseyside on Monday 4th September with the new team! pic.twitter.com/r5xnSrIsYQ

— Phil Munns (@philmunnsradio) August 25, 2023