Presenter changes at talkSPORT as Jeff Stelling joins for Breakfast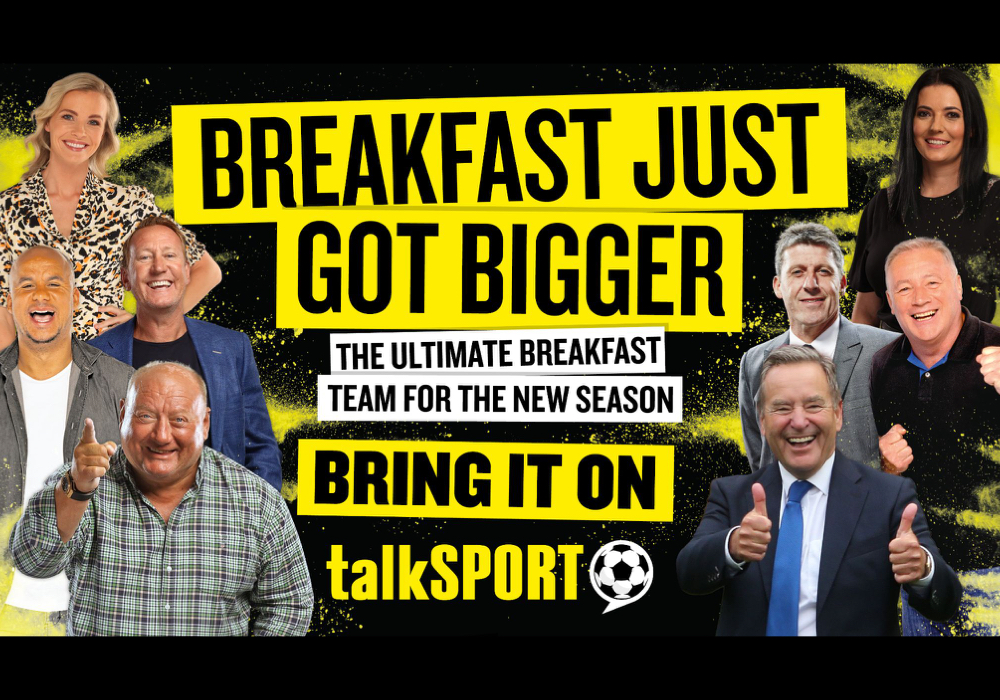 There are now five main weekday breakfast presenters on talkSPORT as Jeff Stelling joins the rota for two days a week.
Jeff will host the show with Ally McCoist, whilst Ally and Alan Brazil host Wednesday together, followed by Alan and Gabby Agbonlahor on Thursdays and Alan and Ray Parlour on Fridays.
But before Jeff joins in December, Mondays and Tuesdays will be hosted by Ally with Natalie Sawyer and Andy Townsend.
Presenter and reporter Shebahn Aherne takes over the Early Breakfast show, every morning 5am-6am, and will contribute to Breakfast.
Former Leicester and Celtic Manager Martin O'Neill lines up for talkSPORT with regular appearances on the White and Jordan show, weekdays 10am-1pm. Martin will also guest as part of talkSPORT live football team, alongside new signings ex-England striker, Lianne Sanderson, Leeds legend Lucy Ward, former Chelsea defender and sports broadcaster Scott Minto and former Spurs and England full back, Danny Rose.
Reshmin Chowdhury continues to host 12:30pm Premier League game kicking off with Arsenal v Nottingham Forest this coming Saturday. While Hugh Woozencroft becomes talkSPORT's EFL presenter, hosting Friday and Monday EFL games as well as presenting the EFL All Access show every Monday on talkSPORT 2. He will also present Premier League games on Friday nights on talkSPORT and continue his Thursday night Kick Off show alongside Lianne Sanderson.
Meanwhile, England Correspondent and Women's Football Show presenter, Faye Carruthers takes over as host of talkSPORT's Premier League exclusive 3pm match every Saturday on talkSPORT 2 beginning with Bournemouth against West Ham, while Alex Crook becomes talkSPORT's Chief Football Correspondent.
And at weekends – there are two new Sunday shows: Sunday Edition with Head of Sport at The Sun, Shaun Custis, and Chief Football Writer for The Times, Henry Winter.
And Final Word with Maj and Pards phone in show will let listeners have their say on the weekend's action at 6.30pm-9pm every Sunday, alongside DJ and Spurs fan Majestic and former Crystal Palace and Newcastle manager Alan Pardew.
Other changes see sports journalist, Darren Lewis, join the Monday night team of Adrian Durham, Danny Kelly and former Liverpool and England midfielder Danny Murphy.
Jeff Stelling shared: "I'm so pleased to be joining the team at talkSPORT. As a long time listener to the show it's a dream of mine to sit in the legendary chair and wake people up every Monday and Tuesday. I might not be looking forward to the 4:30 alarm call, but I am looking forward to getting stuck in with great guests, chat and fun every morning alongside the legendary Ally McCoist."
Head of talkSPORT, Liam Fisher said: "I'm blown away by the fantastic roster of talent that we're bringing to the airwaves. Listeners can expect a fresh sound and feel from some brilliant new faces, as well as hearing from fan favourites from across the talkSPORT network. Our new shows will bring fans closer to the action with deep dives into the week of sport on Sunday Edition. We're also keen for fans to have their say with our new Sunday phone-in show, Final Word. This season on talkSPORT is not to be missed."