40th Anniversary Community Media Festival line-up announced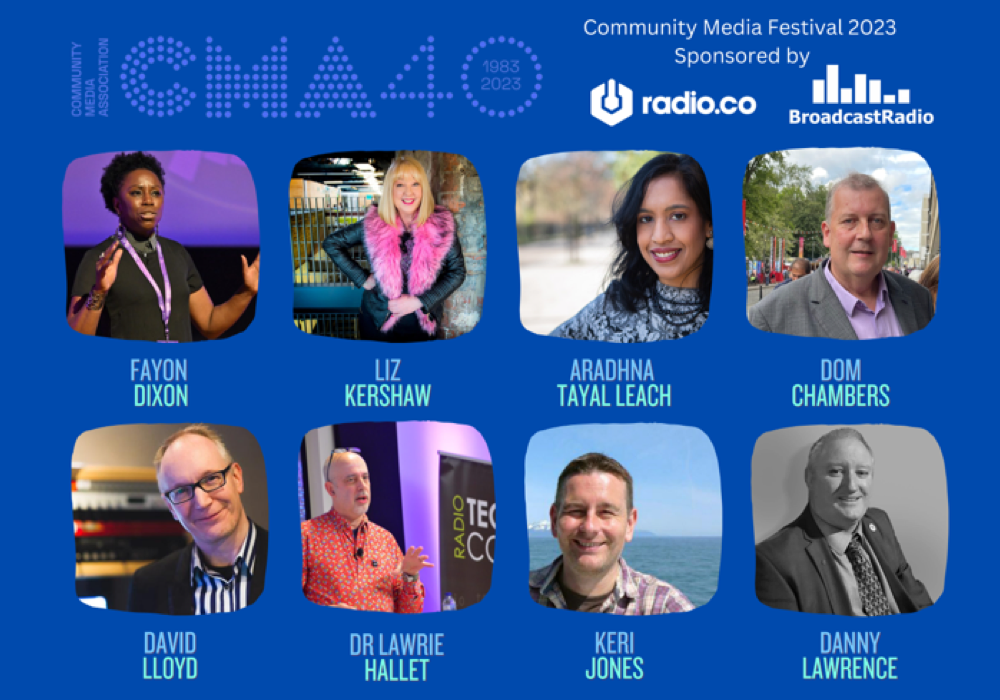 The Community Media Association has announced the line up for its Community Media Festival 2023 which will celebrate 40 years of the body.
The theme of the festival is 'Legacy and Tomorrow' and takes place on Saturday 28th October at the St Martin's Conference Centre in Leicester – the birthplace of local radio after BBC Radio Leicester launched in November 1967.
Twelve community radio stations from across the country will take centre stage with managers and volunteers presenting success stories from their community media projects..
Former CMA chair Danny Lawrence will lead a presentation and panel discussion with tips on gaining grants for radio projects..
A team from PPL will take to the stage to answer questions from the audience; as will the radio historian and Boom Radio co-founder David Lloyd..
Dom Chambers will host a panel discussion on 'The Future of Local Radio' with a representative from BBC Local Radio attending as well as Keri Jones who runs Alfred in Dorset..
The new managing director of the Radio Academy, Aradhna Tayal Leach will speak and former BBC 6 Music presenter Liz Kershaw will reveal some of her best stories during her career..
Kevin Field will celebrate the 20th anniversary of Radio Wanno the first prison radio project in the UK which was launched in January 2004 at HMP Wandsworth..
Riverside Radio director and presenter Fayon Dixon will be hosting alongside local Leicester-based musicians and artists who'll be performing their music throughout the day..
Other sessions will discuss where we are with small-scale DAB from Dr Lawrie Hallet, station sound, technology and education and training the next generation of broadcasters.
CMA Chair Terry Lee, says: "David Lloyd speaking at the festival is set to be an interesting affair. In November 2018 he wrote a report for Radiocentre: 'Small-scale radio in the UK: How local commercial and community radio can co-exist'.
"Amongst other things, the report scrutinised Ofcom's decision to award more community radio licences in areas served by small commercial stations.
"Many things have changed in the last 5 years. Perhaps David's views have changed too! But it is clear he knows a lot about the UK radio landscape, and the role of community radio within it.
"A huge part of what the CMA does is about promoting the positives of our sector to influential figures – let's make sure he leaves the event with a refreshed perspective. I am excited to see what comes up in the conversation."
In the evening the CMA's 40th Birthday Party will be held at the 2Funky Nightclub which is owned by the same team that run one of Leicester's many licensed community radio stations Radio2Funky. Festival goers will be urged to go back to the 1980s and celebrate with drinks, dancing and snacks.
CMA Festival organiser Jason Rosam, adds: "Having successfully lobbied for the creation of community radio licensing in the UK the CMA's focus has always been to support and represent the best interests of not for profit broadcasters in an ever changing landscape. We hope to bring some history and a bit of nostalgia to the day as well as discussing and exploring the exciting future ahead for local, community broadcasters."
The festival is being sponsored by Radio.co and Broadcast Radio – with more details available here.