British Podcast Awards winners announced in London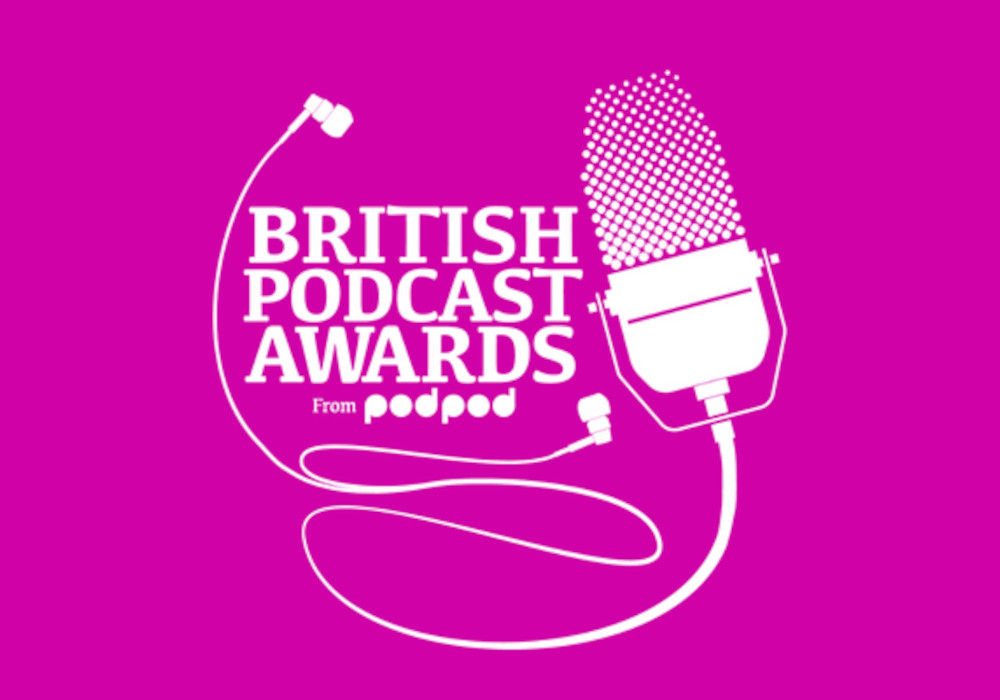 The winners of the 2023 British Podcast Awards have been announced at an event in London hosted by comedians Zoe Lyons and Stephen Bailey.
Podcast of the Year was awarded to A Positive Life: HIV from Terrence Higgins to Today, hosted by singer-songwriter Sam Smith.
The Award was presented to the production team by Martyn Butler OBE and Richard Angell, Co-Founder and Chief Executive, respectively, of The Terrence Higgins Trust. The podcast also won Best Factual Podcast.
One of the biggest awards of the night, Podcast Champion – which honours a podcast that has changed the landscape of the medium and made a real impact – went to Vogue Williams and Joanne McNally for their hit podcast My Therapist Ghosted Me. Previous winners include You, Me and the Big C, Happy Place and My Dad Wrote a Porno. They were presented the Award by Elizabeth Day, who was the Chair of Judges.
Global's The News Agents with Emily Maitlis, Jon Sopel & Lewis Goodall picked up Best Daily Podcast, and 28ish Days Later won Best New Podcast.
Congratulations to this year's winners in the #BritishPodcastAwards Daily category

Gold : The News Agents / @TheNewsAgents

Category sponsor: @BBCSounds pic.twitter.com/dnkEYF9Qmo

— British Podcast Awards (@britpodawards) September 28, 2023
The full list of winners is below.
FULL LIST OF WINNERS:
PODCAST OF THE YEAR
WINNER: A Positive Life: HIV from Terrence Higgins to Today, Overcoat Media for BBC Wales and BBC Sounds
PODCAST CHAMPION
WINNER: My Therapist Ghosted Me, Vogue Williams and Joanne McNally
HALL OF FAME
WINNER: My Dad Wrote a Porno
LISTENERS' CHOICE
WINNER: RedHanded
SPOTLIGHT AWARD
WINNER: PARTYGATE: The Inside Story, ITV News
BEST SPECIALIST PODCAST
WINNER: PERSEVERING: GRIEF AS TOLD BY YOUNG PEOPLE, LET'S TALK ABOUT LOSS
RISING STAR
GOLD: Chanté Joseph, The Guardian
SILVER: Hannah Ajala, BBC World Service
BRONZE: Talia Augustidis, Broccoli
BEST ARTS & CULTURE PODCAST
GOLD: Time & Again, Beautiful Strangers for Switchback
SILVER: Firecrotch & Normcore: a Succession Podcast, Sara Barron and Geoff Lloyd
BRONZE: Inside the World of Ralph & Katie, Audio Always for BBC Sounds
BEST BUSINESS PODCAST
GOLD: The Third Angle, 18Sixty for PTC
SILVER: Behind the Money, Michela Tindera, Saffeya Ahmed and Topher Forhecz
BRONZE: Carolina Herrera Presents: Walk Tall
BEST CLIMATE PODCAST
GOLD: Buried, Smoke Trail Productions for BBC Radio 4 and BBC Sounds
SILVER: Blossom Trees and Burnt Out Cars, BBC Sounds Audio Lab
BRONZE: Burn Wild, BBC Audio for BBC Radio 5 Live and BBC Sounds
BEST COMEDY PODCAST
GOLD: The Skewer, Unusual for BBC Radio 4
SILVER: From the Oasthouse: The Alan Partridge Podcast (Series 2), Baby Cow for Audible
BRONZE: Bang On It, BBC Studios for BBC Radio 4
BEST DAILY PODCAST
GOLD: The News Agents, Global and Persephonica
SILVER: Today in Focus, The Guardian
BRONZE: Stories of Our Times, The Times and The Sunday Times
BEST DOCUMENTARY PODCAST
GOLD: Pig Iron, Tortoise Media
SILVER: I'm Not a Monster S2: The Shamima Begum Story, BBC News Long Form Audio for BBC Radio 5 Live and BBC Sounds
BRONZE: A Very British Cult, BBC News for BBC Radio
BEST ENTERTAINMENT PODCAST
GOLD: Elis James and John Robins, BBC Radio 5 Live and BBC Sounds
SILVER: Help I Sexted My Boss, William Hanson and Jordan North
BRONZE: British Scandal, Wondery
BEST FACTUAL PODCAST
GOLD: A Positive Life: HIV from Terrence Higgins to Today, Overcoat Media for BBC Wales and BBC Sounds
SILVER: You, Me and the Big C, BBC Radio 5 Live and BBC Sounds
BRONZE: Partygate: The Inside Story, ITV News
BEST FICTION PODCAST
GOLD: Wooden Overcoats
SILVER: The Electricity of Every Living Things, Whistledown Productions for Audible UK
BRONZE: One Five Seven Years, Afonica for BBC Sounds and BBC Radio 4
BEST HISTORY PODCAST
GOLD: Sounds of Black Britain, Unedited and The Black Curriculum for Spotify UK
SILVER: National Trust Podcast
BRONZE: British Scandal, Wondery
BEST INTERVIEW PODCAST
GOLD: Different with Nicky Campbell – Jenny Pearson (Despite), BBC Radio 5 Live and BBC Sounds
SILVER: Where's Home Really?, Podimo and Listen
BRONZE: Masala Podcast, Anouszka Tate
BEST KIDS PODCAST
GOLD: Super Great Kids' Stories, Kim Normanton and David Smith
SILVER: Audiomoves at the Zoo, Peut-Être Theatre
BRONZE: The Rez, Rezilience Limited and Gen Z Media
BEST NETWORK / PUBLISHER
GOLD: Economist Podcasts
SILVER: History Hit
BRONZE: Noiser Network
BEST NEW PODCAST
GOLD: 28ish Days Later, Listen
SILVER: Black Earth Podcast, Marion Atieno Osieyo and Anesu Matanda-Mambingo
BRONZE: Where Are You Going?, Loftus Media
BEST NEWS & CURRENT AFFAIRS PODCAST
GOLD: Today in Focus, The Guardian
SILVER: I'm Not a Monster S2: The Shamima Begum Story, BBC News Long Form Audio for BBC Radio 5 Live and BBC Sounds
BRONZE: The News Agents, Global and Persephonica
BEST PARENTING PODCAST
GOLD: Dad Still Standing, Factory Originals
SILVER: Truth Be Told: Adoption Stories, Bingo Media and Cowshed for the National Adoption service
BRONZE: Dirty Mother Pukka, Global
BEST SEX & RELATIONSHIPS PODCAST
GOLD: Later Dater, Aurra Studios
SILVER: Brown Girls Do It Too, BBC Radio 5 Live and BBC Sounds
BRONZE: Rainbow Dads Series 2, Nicholas McInerny, Richard Shannon and David Leaden
BEST SPORT PODCAST
GOLD: The Tennis Podcast with Catherine Whitaker, David Law and Matt Roberts
SILVER: Kammy and Ben's Proper Football Podcast, Folding Pocket for BBC Sounds
BRONZE: Footballer's Football Podcast, BBC Radio 5 Live and BBC Sounds
BEST TRUE CRIME PODCAST
GOLD: Who Killed Daphne?, Wondery
SILVER: I'm Not a Monster S2: The Shamima Begum Story, BBC News Long Form Audio for BBC Radio 5 Live and BBC Sounds
BRONZE: Please Protect Abraham, Sam Holder and Aninshka Sharma
BEST WELLBEING PODCAST
GOLD: Go Love Yourself, Crowd Network
SILVER: Time & Again, Beautiful Strangers for Switchback
BRONZE: Stopping to Notice, Fresh Air
BEST WELSH LANGUAGE PODCAST
GOLD: Cwîns Ego Mari A Meilir, Mari Beard and Meilir Rhys Williams
SILVER: Yr Hen Iaith, Richard Martin, Jerry Hunter and Richard Wyn Jones
BRONZE: Sgwrsio, Nick Yeo