Community Radio Awards 2023 shortlist revealed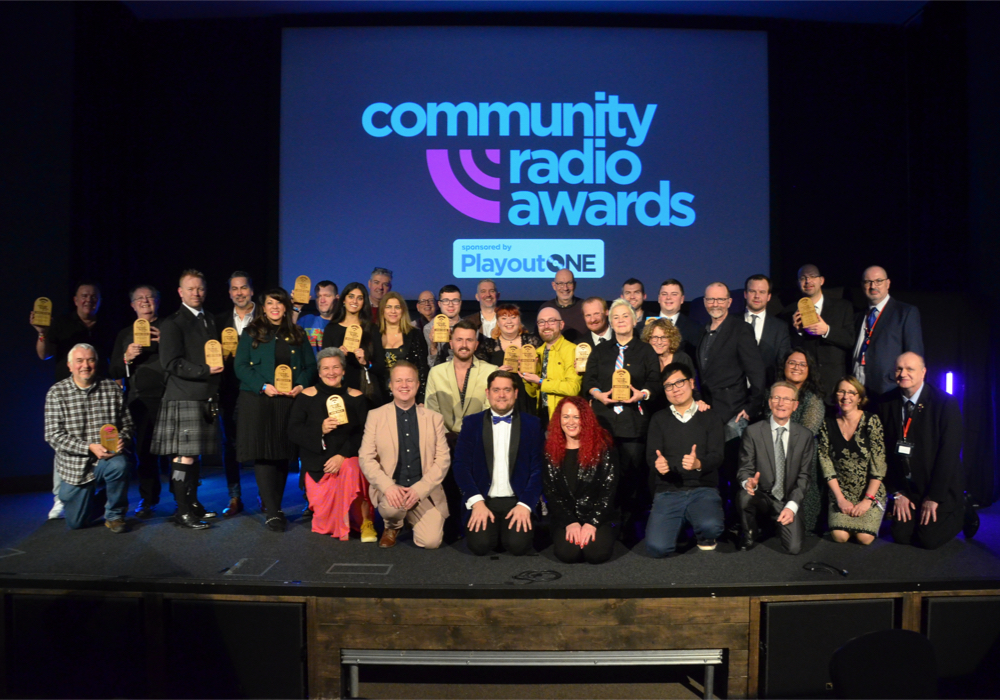 The shortlist for the 2023 Community Radio Awards has been revealed.
The winners will be announced an evening ceremony in Newcastle-upon-Tyne on November 4, hosted alongside the annual UK Community Radio Network conference, taking place in the daytime.
Martin Steers, awards chair, said: "Every year we are constantly surprised and delighted by the breadth and depth of the output of community radio, both on air and in their local communities.
"We wish all those shortlisted good luck and can't wait to host the ceremony in Newcastle in November."
The event is sponsored by radio software company Aiir.
Community Impact Project of the Year
Music Therapy Community Request Show – Quality Radio
Rehabilitation into Education – Sheppey FM 92.2
Food For Thought – The Voice FM
The 4Ps Radio Training School for Young People – Vectis Radio
The 4Ps Radio Training School – Adult Learning – Vectis Radio
Station of the Year – Sponsored by Aiir
GTFM 
Sheppey FM 92.2
Switch Radio
Ujima Radio
Vectis Radio
Female Presenter of the Year
Gemma-Leigh James – BFBS Brize Norton
Dr Audrey Tang – NLive Radio
Malaka Chowdhury – Switch Radio
Priya Matharu – Switch Radio
TJ aka Telojo Emina – Ujima Radio
Male Presenter of the Year
Patrick Foster – Academy FM Thanet
Neil Kefford – Academy FM Thanet
Ste Greenall – Black Cat Radio
Clark Byrne – Hot Radio
John Reen – Maritime Radio
Community Show of the Year
The Erskine Veterans Radio Show – Quality Radio
The Monday Afternoon Diversion – Skyline Gold 102.5FM
A Space to Speak Your Mind – SourceFM
Sophie Preece – Switch Radio
Short Breaks Takeover – Vectis Radio
Live Event or Outside Broadcast of the Year
Kirkcaldy's Christmas Spotlights – K107fm
Kirkcaldy Parks Running Festival – Half Marathon Live – K107fm
Mix 92.6 at The National League Play Off Final – Mix 92.6
Varsity 2023: Bedfordshire vs Northampton – Radio LaB 97.1FM
Carols for Christmas – SourceFM
Entertainment Show of the Year
Neil Kefford on Drivetime – Academy FM Thanet
Gemma-Leigh James – BFBS Brize Norton
Glenn Jones – Cambridge 105 Radio
Paul Marsh Mid Morning Show – Express FM
Tom & Matty's Monthly Montage – Maritime Radio
News, Journalism & Factual Storytelling
Forced Out – BFBS Aldershot
The Host – Ukraine 1 Year On – Hope FM
Radio Cardiff Local News Team – Radio Cardiff
Amanda Cooper- Holding MP to account – Sheppey FM 92.2
Trinity Theatre Seniors – West Kent Radio
Specialist Content Show of the Year
Your Voice – Black Cat Radio
Backseat Driver – Drystone Radio
The Parents' Show – Mix 92.6
The Wellbeing Lounge – NLive Radio
A Space to Speak Your Mind – SourceFM
Arts & Creative Radio of the Year
Christmas Play – Academy FM Thanet
Rock Lobster – CHBN
Frankenstein the pantomime – Chelmsford Community Radio
The Space Folk Horror Lounge Mummer's Play – Frome FM
The art of listening on Resonance FM – Resonance FM
Specialist Music Show of the Year
Baker's Dozen Radio Show  – Ipswich Community Radio
Currently Country – K107fm
The Gina Mills Show – Radio Skye
Friday Night Trad – Radio Skye
Big Beat Tuesdays – WR FM (Witney Radio)
Sports Show of the Year
Academy FM Sports Show – Academy FM Thanet
Saturday Sports Show: Non-League Day Special – Black Country Radio
The Local Sports Mix – Mix 92.6
MônFM Sport with Ryan McKean – MônFM
Varsity 2023: Bedfordshire vs Northampton – Radio LaB 97.1FM
Volunteer of the Year
Brian Dobson – Black Cat Radio
Mike Butterworth – K107fm
Robin Zhang – Radio Cardiff
Steven Weighill – Sheppey FM 92.2
Maggie Currie – Vectis Radio
Young Person of the Year (under 25)
Dafydd Furnham – Bro Radio
Josh Holmes-Bright – Caroline Community Radio
Daisy Barker – Chelmsford Community Radio
Clark Byrne – Hot Radio
Hope Lynes – Spark Sunderland
Sage Person (Over 60)
Paul James – Academy FM Thanet
Ernie Almond – Black Cat Radio
Paul Brennecke – NLive Radio
Norman Ross – Quality Radio
Sam Hinks – Radio Skye
Newcomer of the Year
Sebastian Nutter – Abbey 104
Jenny Jefferies – Black Cat Radio
Ian Campfield – Gateway 97.8
Phil Norris – Vectis Radio
Verity Babbs – Voice FM
Special Category: HM Queen Elizabeth II – Her life, Her Reign, and her passing
Her Majesty Queen Elizabeth II Has Died – Cambridge 105 Radio
Northampton remembers and celebrates HM Queen Elizabeth II – NLive Radio
Local News Special: The Passing of HM The Queen and The Accession of the King – Susy Radio
The Queen In Birmingham – Switch Radio
Denise Southworth's Overnight Trip to say Farewell to the Queen – Wythenshawe FM
Special Category: Coronation of King Charles III
Coronation of the King – BFBS Aldershot
The Day the King Came – Bolton FM
The Coronation Ceilidh Special Broadcast – Radio Skye