All the winners from the Student Radio Awards 2023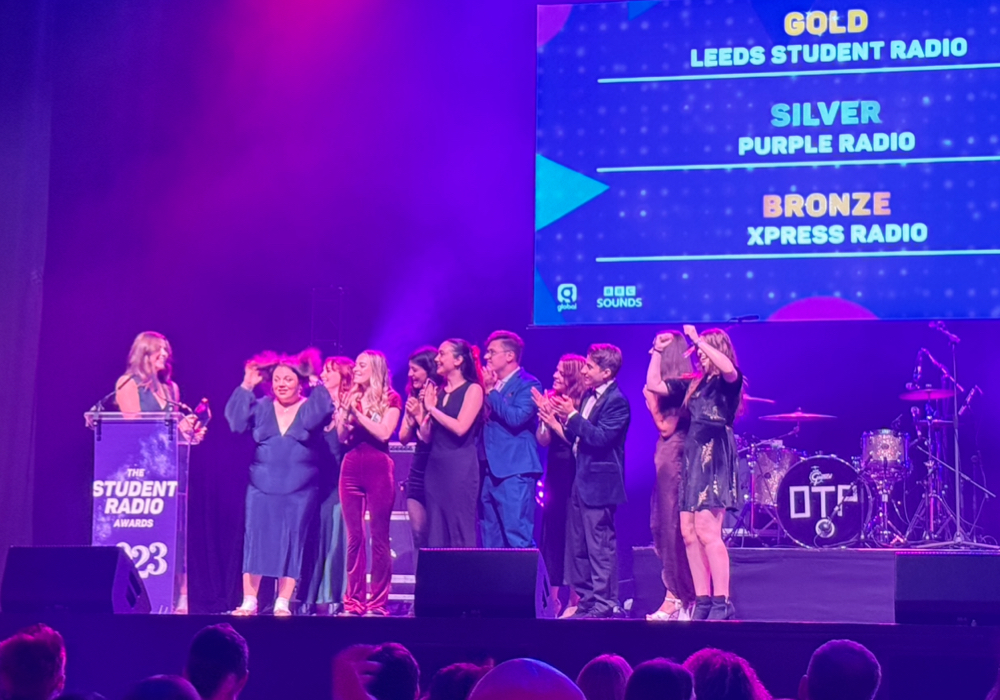 Leeds Student Radio took home the title of Best Student Radio Station at the Student Radio Awards 2023.
Industry folk, judges and students gathered at indigo at The O2 in London on Tuesday to see the awards announced in a ceremony hosted by Aimee Vivian from Capital and Dean McCullough from BBC Radio 1.
Honorary life memberships were also given out to Abbie Brock, Daniel Wildman, Thomas Rowson and Heart's Pandora for all their work supporting the SRA.
Here are all the winners:
Best Newcomer 
Supported by BBC Asian Network 
Fion Cudmore University Radio York Harvey Mellor University Radio York Thivyaa Rahulan RAW 
Best Multiplatform Initiative 
Supported by Pineapple Audio Production 
12 Days of Christmas Queen's Radio Round the Clock Radio Challenge: The Big Music Quiz South Region RAW Sport Varsity 2023 RAW 
Best Technical Achievement 
Supported by Aiir 
Jake Kalender Forge Radio Roses 2023 University Radio York Triple Studio Project: The Long and Winding Road Insanity Radio 
Best Station Branding 
Supported by Painting Pixels 
Fuse FM 
Leeds Student Radio 
Purple Radio 
Best Station Sound 
Supported by Wizz FX 
Shock Radio 
Roses 2023 University Radio York and Bailrigg FM University Radio Nottingham
The Diversity, Equality & Inclusion Award 
Supported by News UK 
Leeds Student Radio Daytime Teams Leeds Student Radio Melanin Queens Cam FM Unfiltered with Anahita St Andrews Radio 
Best Interview 
Supported by Times Radio 
Amelia Salmons interviews Chloe Ann Fly Live GRL: Gynae Gossip Spark Henrique Fenner-Leitao's Interview with American Composer Jake Heggie for "Moments that Matter" RAW 
Best Event Programming 
Supported by Capital's Jingle Bell Ball 
1350AM: The Last Hurrah! University Radio York SU Elections on URN University Radio Nottingham Roses 2023 University Radio York 
Best Chart Show Programming 
Supported by BBC Radio 1 
Queen's Radio 
Shock Radio 
University Radio York 
Best Podcast Programming 
Supported by BBC Sounds 
The Beat of the North East Spark Freshers 2.0 Xpress Radio Purple Radio Drama Purple Radio
The Joe Lyons Award for Best Producer  
Supported by Global 
Connor Begley Forge Radio Jake Chappell Spark Matty Fisher Leeds Student Radio 
Best Journalistic Programming 
Supported by Bauer Media Audio UK 
Cam and Jack's Local Election Extravaganza! JAM Radio The Pulse University Radio Nottingham URNgasm University Radio Nottingham 
Best Specialist Music Programming 
Supported by BBC Radio 1Xtra 
Indie Archive with Olly Hilton University Radio York Lucy Crisp's Top N Takeover Fly Live Singles of the Seventies University Radio York 
Best Sport Programming 
Supported by TalkSPORT 
RAW Sport Varsity 2023 RAW They Think It's All Doha University Radio Nottingham The Welsh Varsity – The Final Rugby Showdown Xpress Radio 
Best Speech Programming 
Supported by LBC 
A New Age of Riot Grrrl documentary – Hope Lynes Spark Freshers 2.0 Xpress Radio Who Took Mic? Queen's Radio
Best Entertainment Programming 
Supported by Global 
Honor Mant Fuse FM It's Margot Mondays University Radio Nottingham Monday Breakfast with Tyler Selby Spark 
Best Presenter 
Supported by BBC Radio 1 
Daisy Cox Cam FM Hope Lynes Spark Jack Wilfan JAM Radio 
Best Student Radio Station 
Supported by Global 
Leeds Student Radio 
Purple Radio 
Xpress Radio 
Kevin Greening Award for Creativity 
Rebekah Newnes (Best Newcomer) Queen's Radio RAW Sport Varsity 2023 (Best Multiplatform Initiative) RAW Ali Glen (Best Presenter) University Radio Nottingham
And the winner of Station of the Year is……. #SRAs pic.twitter.com/v5ZlHGaxCr

— RadioToday Live (@RadioTodayLive) November 14, 2023