Sheppey FM wins Station of the Year at the Community Radio Awards 2023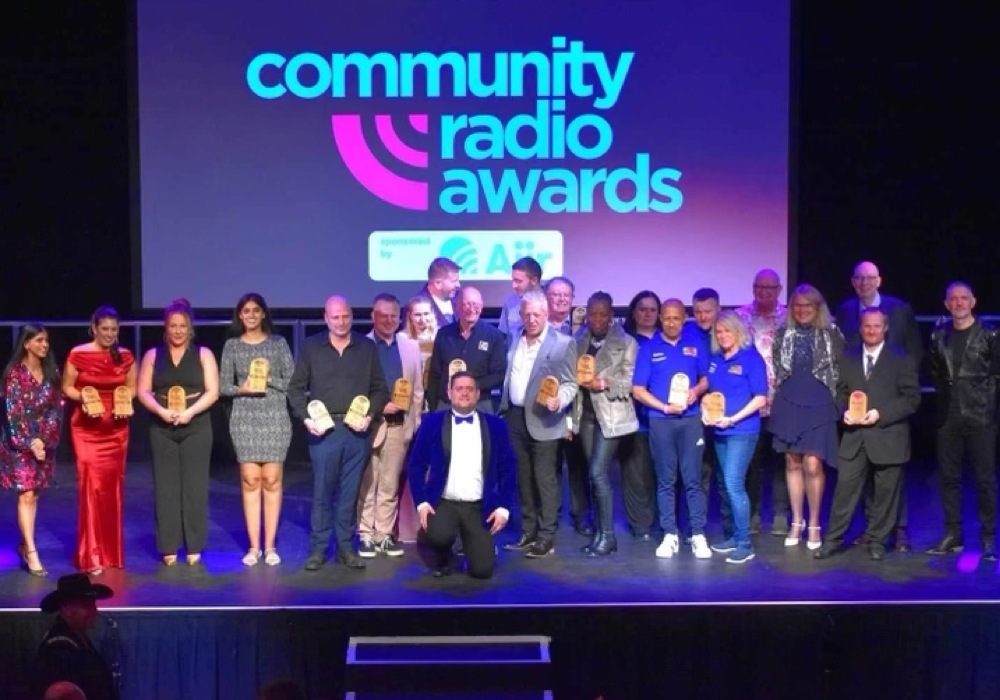 Sheppey FM 92.2 on the Isle of Sheppey has been named as Station of the Year at the 2023 Community Radio Awards event.
Hosted by last year's male and female presenter of the year winners, Rupa Mooker from Awaz FM and Stephen Higgs from Switch Radio, the evening celebrated the hard work of recipients from up and down the country.
Martin Steers, awards chair, said: "We've been running the awards now for eight years, and as ever the standard is immense, and our judges have a really tricky job".
"It was great to hold the event further north than ever before, and really appreciate that so many made the journey."
In his remarks before presenting the Male Presenter award, Stephen Higgs said: "We're all here to create things that never existed before. Not just presenters, but social media producers, techies, engineers and volunteers. We're here to entertain and inform people, and if these awards push us a little bit harder, if it makes us set a slightly higher standard, that is why it matters."
"We're part of a creative community that strives for excellence – whether it be an outside broadcast from a remembrance day, or commentating on live local sports. To just be a speck in that landscape has been an honour."
Recipient of the Honours award was David McGealy, from Oldham Community Radio, who sadly passed away two weeks ago. David was a pioneer and champion of both the hospital and community radio sectors since the 1970s.
The awards followed the UK Community Radio Network Annual Conference, which took place in the same venue earlier in the day.
Expressions of interest to host the 2024 Community Radio Awards next October alongside the UKCRN Conference will open later this month, and entries for the awards open again next Spring.
And the winners are:
Special Category: HM Queen Elizabeth II – Her life, Her reign, and her passing
Gold Northampton remembers and celebrates HM Queen Elizabeth II – NLive Radio
Silver The Queen In Birmingham – Switch Radio
Bronze Her Majesty Queen Elizabeth II Has Died – Cambridge 105 Radio
Special Category: Coronation of King Charles III
Gold Coronation of the King – BFBS Aldershot
Silver The Coronation Ceilidh Special Broadcast – Radio Skye
Bronze The Day the King Came – Bolton FM
Newcomer of the Year
Gold Ian Campfield – Gateway 97.8
Silver Jenny Jefferies – Black Cat Radio
Bronze Phil Norris – Vectis Radio
Sage Person of the Year (Over 60)
Gold Sam Hinks – Radio Skye
Silver Paul James – Academy FM Thanet
Bronze Norman Ross – Quality Radio
Young Person of the Year (under 25)
Sponsored by The Radio Hub
Gold Josh Holmes-Bright – Caroline Community Radio
Silver Daisy Barker – Chelmsford Community Radio
Bronze Dafydd Furnham – Bro Radio
Volunteer of the Year
Gold Maggie Currie – Vectis Radio
Silver Steven Weighill – Sheppey FM 92.2
Bronze Brian Dobson – Black Cat Radio
Sports Show of the Year
Gold Saturday Sports Show: Non-League Day Special – Black Country Radio
Silver Varsity 2023: Bedfordshire vs Northampton – Radio LaB 97.1FM
Bronze The Local Sports Mix – Mix 92.6
Arts & Creative Radio of the Year
Gold Frankenstein the Pantomime – Chelmsford Community Radio
Silver The Art of Listening – Resonance FM
Bronze The Space Folk Horror Lounge Mummer's Play – Frome FM
News, Journalism & Factual Storytelling of the Year
Gold The Host – Ukraine 1 Year On – Hope FM
Silver Trinity Theatre Seniors – West Kent Radio
Bronze Forced Out – BFBS Aldershot
Specialist Content Show of the Year
Gold A Space to Speak Your Mind – SourceFM
Silver Your Voice – Black Cat Radio
Bronze The Parents' Show – Mix 92.6
Specialist Music Show of the Year
Gold Baker's Dozen Radio Show  – Ipswich Community Radio
Silver Friday Night Trad – Radio Skye
Bronze Currently Country – K107fm
Entertainment Show of the Year
Gold Gemma-Leigh James – BFBS Brize Norton
Silver Glenn Jones – Cambridge 105 Radio
Bronze Tom & Matty's Monthly Montage – Maritime Radio
Live Event or Outside Broadcast of the Year
Gold Carols for Christmas – SourceFM
Silver Varsity 2023: Bedfordshire vs Northampton – Radio LaB 97.1FM
Bronze Mix 92.6 at The National League Play Off Final – Mix 92.6
Female Presenter of the Year
Sponsored by AutoPod
Gold Priya Matharu – Switch Radio
Silver Dr Audrey Tang – NLive Radio
Bronze Gemma-Leigh James – BFBS Brize Norton
Male Presenter of the Year
Sponsored by Hippynet
Gold Ste Greenall – Black Cat Radio
Silver Patrick Foster – Academy FM Thanet
Bronze Neil Kefford – Academy FM Thanet
Community Show of the Year
Gold Sophie Preece – Switch Radio
Silver The Erskine Veterans Radio Show – Quality Radio
Bronze A Space to Speak Your Mind – SourceFM
Community Impact Project of the Year
Sponsored by UK Community Radio Network
Gold Rehabilitation into Education – Sheppey FM 92.2
Silver The 4Ps Radio Training School for Young People – Vectis Radio
Bronze Food For Thought – The Voice FM
Station of the Year
Sponsored by Aiir
Gold Sheppey FM 92.2
Silver Vectis Radio
Bronze Ujima Radio