UK Community Radio Network makes plans for its future following national conference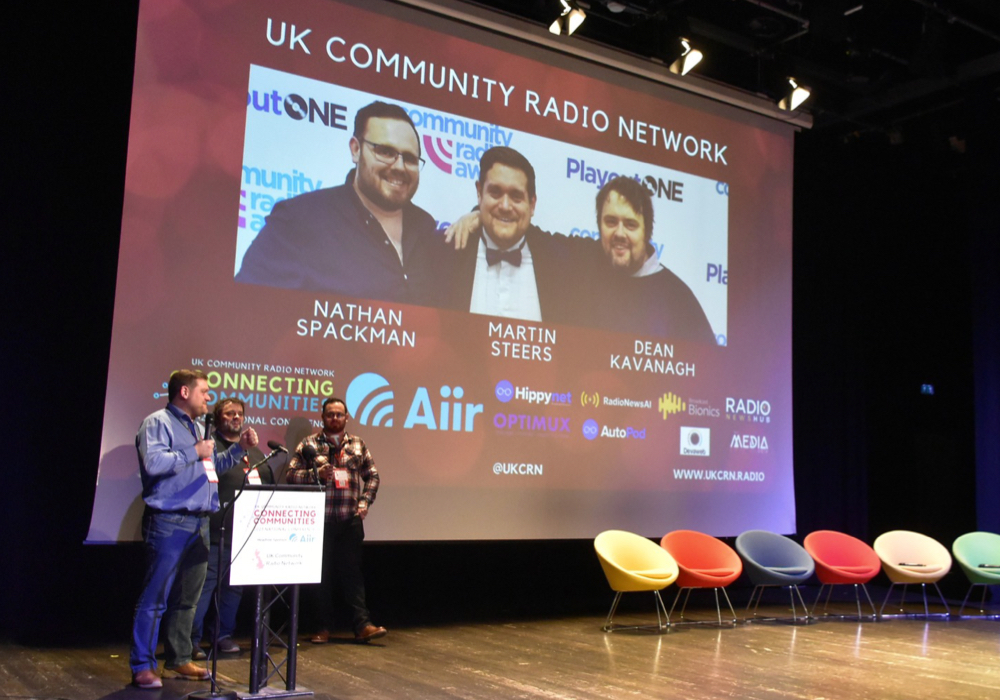 The UK Community Radio Network is hailing its third national community radio conference on the 4th of November as a success and says they are excited about future plans.
The conference was started by the UKCRN celebrating its work and activity over the past year.
This included representing the sector with regular meetings with DCMS and Ofcom including pushing for the Community Radio Order to support licence renewals, submission to the Ofcom annual plan, winning the campaign with Ofcom to increase the volunteer value, as well as starting conversations with the secretary of state & minister and their shadow counterparts ahead of the general election.
The past 12 months have also seen the UKCRN partnering with the Advertising Standards Authority for its "Trust in advertising" campaign, submitting evidence to the Commons Culture Media & Sport Select Committee, and then giving evidence in person to parliament, representing Community Radio at the Public Internet News Foundations forum, and partnering with a University to conduct on-air impact measurement.
The UKCRN Connecting Communities conference included a variety of talks and panels including on AI in Radio with a presentation from Stefan De Groot from RadioNewsAI and then discussion on if AI is a threat or opportunity for the industry, there was also a talk from Dave Roberts from MUXOne talking about the trials and challenges of launching the UK's first full small-scale Mux and how it's not a 'pot of gold'.
There were also lightning presentations from local Community Stations showcasing who they are, a presentation on diversity in radio by Community Radio Awards Female of the Year and presenter at Awaz FM Rupa Mooker.
Nathan Spackman from the UKCRN said; "I'm thrilled we were able to bring our National Conference to Newcastle, a city featuring multiple great examples of community radio. The day has been full of some really interesting conversation about community radio, its role in the wider industry and its future, which I hope stations will continue back home."
Towards the end of the Conference the three directors of the UKCRN, Martin Steers from NLive Radio, Dean Kavanagh from Switch Radio & Nathan Spackman from Bro Radio presented an ambitious vision for the organisation for the next 18 months, which includes;
Supporting stations for General Election coverage with support materials, training activities and guidance
Leading the sector on a General Election campaign with materials for stations to engage local candidates to gain their support for the sector, as well as publishing a Community Radio manifesto of sector needs
Continuing to lobby for a bigger and better Community Radio Fund & funding from Government
Continue to lobby for the longevity and growth of FM
Attend the main party conferences to promote and represent Community Radio
Organise a Community Radio day in Parliament
Publish & promote an on-air impact report for Community Radio
Develop & launch an audience measurement system for Community Radio (and SSDAB stations)
Develop a national training umbrella for Community Radio to support stations their accredited and unaccredited training
Launch a national platform for the sharing of content and resources to support and share best practice
Work on the celebration of 20 years of Community Radio in 2025 with plans for a series of events and activities including a national conference in or around London
In addition to their vision for the organisation they announced that the UK Community Radio Network is launching a supporters scheme to begin in January 2024 for those stations, organisations and individuals who wish to support the work of the UKCRN and help fund their activity and vision, they hope to also be able to offer benefits for supporting stations including access to resources and opportunities, discounts and deals.
Martin Steers from the UKCRN said; "We really hope people and their stations will believe in our vision, and also recognise what we've already achieved over the past few years to want to support our work, we don't want a closed membership model and still want our primary activity of supporting, developing, and representing the sector to be open to all Ofcom licenced Community Radio stations"
Pride Radio were the host station of the conference and the awards, and worked with both organisations to bring their events to Newcastle via a tendering process, the UKCRN and the Awards have now reopened tendering expressions of interest for 2024 which they are looking to hold in October next year.