Global says it's reviewing internship roles
Global has dropped an advert for an unpaid internship opportunity and says there is an ongoing review of such positions.
The ad for an unpaid three-month role on Heart Breakfast in Leicester Square was shared on social media, and prompted criticism that the UK's biggest commercial radio company was seeking to take someone on for free to do a job that would perhaps normally attract a salary.
An advert posted on the Facebook group 'Audio Grrlz' read: "We're looking for a new intern to work on Heart Breakfast in London for the next three months and we'd like them to start ASAP! It's unpaid, but it's working on one of the biggest commercial breakfast shows in the country so there's a HEAP of amazing experience going. A couple of our previous interns have gone on to be Assistant Producers at Heart!"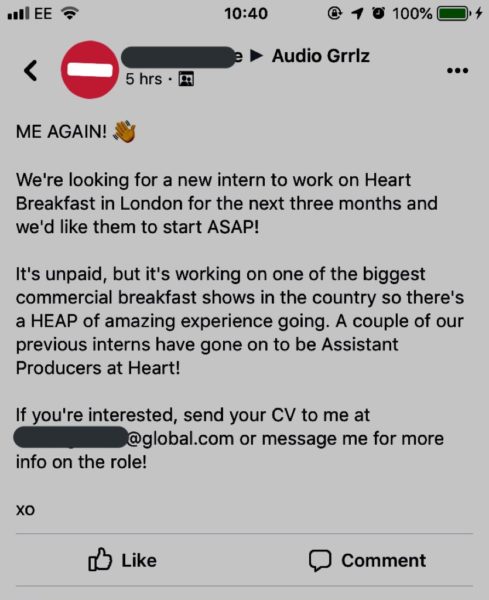 The advert has now been withdrawn.
Last year, HMRC increased efforts to end illegal unpaid internships, reminding firms that those classed as workers – must be paid at least the minimum wage. This applies to interns who are, for example, expected to work set hours or on set tasks.
A Global spokesperson told RadioToday: "Internship opportunities at Global are a popular route of entry into the sector and we enjoy a high level of interest. These include student internships and work experience opportunities.
"The guidelines around internships are constantly evolving and we are currently conducting a review to ensure we distinguish between those that shadow existing roles and those that provide distinct roles. The completion of this review is imminent.
"Global knows that internships provide a unique route into the industry which, more often than not, lead to permanent employment."
RadioToday's take
Volunteering, internships and work experience placements are a vital part of our industry and are just one way of enabling people to get a 'foot in the door' at a radio station. They're a great way to get experience across a range of departments or programmes in a radio station or media company. But those individuals should not be exploited – and if they are doing a particular role which might otherwise be done by a paid employee, then they should be paid for their work. We encourage other companies to review their internship opportunities, as Global are doing, to ensure that placements offered are compliant with employment legislation.