Zoe Ball welcomes listeners to new Radio 2 Breakfast
BBC Radio 2's new breakfast show started this morning with Zoe Ball welcoming listeners old and new to the programme and the new team.
Zoe's first song was Respect by Aretha Franklin just after 6.30am on Monday.
Her team includes Richie Anderson on travel, Mike Williams on sport, weather with Carol Kirkwood, news with Tina Daheley and a daily Pause For Thought.
Zoe says: "I'm absolutely thrilled to be following in the giant footsteps of Chris Evans as the host of the Radio 2 Breakfast Show. To be the first woman to present this very special show is both an honour and privilege.
"Believe me, I'm not underestimating the enormity of the task, to follow not one but two of my broadcasting idols, into such a well-loved show is somewhat daunting but I hope, in the same way that Chris made this show his own after taking over from the wonderful Sir Terry Wogan, that with a top team alongside me, I can bring the fabulous Radio 2 audience a show they want to wake up to."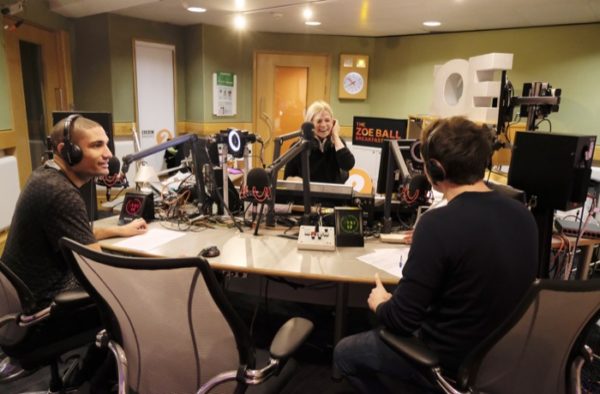 It's a big day for the station with new programmes during the day and into the evening. Sara Cox hosts her first permanent drive-time show from 5pm till 7pm. On moving into the new slot Sara says: "I've been proud to be part of the Radio 2 family for a few years now and the opportunity to present such a big show… playing fantastic music and hopefully making people smile as they cook tea or head home after a day's graft – is the icing on what is already a very brilliant cake.
"I'm beyond chuffed to be given this role and to directly quote my mum on hearing the good news, it is indeed 'fandabbyruddydozy'."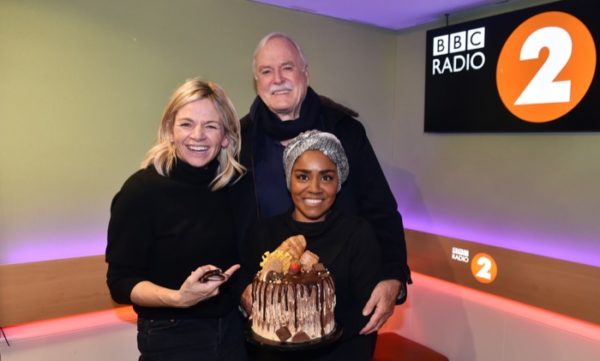 Former drive co-host Jo Whiley is moving to evenings, and starts her new show today as well. Jo says: "I'm very much looking forward to hosting a new show for a new year which will have music at the very heart of it as well as guests and live sessions. Dream show, actually. Can't wait!"
Jo will be on from 7pm till 9pm, with specialist programmes following at 9pm each night and Trevor Nelson's new Rhythm Nation, also starting tonight.
Trevor says: "To present eight hours a week of the music I love on BBC Radio 2 is a dream come true for me. I'll be introducing tracks from some soul stars of the future as well as playing some of my favourite songs from the past 50 years of dance music, from Motown to the present day. Bring it on!"
Trevor previously presented Rhythm Nation on Radio 2 on Saturday nights (8pm-10pm).
Good luck @ZoeTheBall ❤️

I was going to offer some advice but you used to do my job so you know exactly what to expect. You'll be brilliant. Welcome back to the best time of day to be on the radio. Even though after 2 weeks, you'll feel like shit and question everything.

— Greg James (@gregjames) January 14, 2019
All the best of wishes to @ZoeTheBall, @sarajcox, @DJTrevorNelson and @BBCRadio2 teams on a big day of new beginnings tomorrow ☺️!

We've created a host of new themes & sounds for the shows; which you can hear right from Zoe's first 6.30 opener, so make sure you all set your ⏰!

— Wisebuddah Jingles (@wbjingles) January 13, 2019
Aaaand they're on! Sounding lovely @ZoeTheBall @TinaDaheley @mikewills_sport @richie_anderson @BBCRadio2

— sara cox (@sarajcox) January 14, 2019
As the new presenter of the @BBCRadio2 breakfast show from today, Hove's Zoe Ball is the first woman to front a weekday show from breakfast to home time, full-time, since Debbie Thrower in 1998! Look at the line-up then… #radio #medianews #R4Today pic.twitter.com/Z4lChOGUKk

— Press Office Peter (@PressOfficeMan) January 14, 2019
RadioToday's take
It's been a very long time since the biggest radio station in the UK introduced four brand new shows in the same day – if ever.
And to add to the buzz, former host Chris Evans kicks off his new rival show this time next week. Timing is everything, and Zoe starting a week earlier allows Chris Evans fans to try out the new Zoe Ball show before they are likely to 'follow him' to Virgin Radio. It's a big risk (and a clever move, even if unintentional by Radio 2) giving listeners a week to sample the replacement before moving the digital dial.
But like watching the pilot of a good Netflix series, they might just get hooked and stay with Zoe until the end.