Sunrise Radio plans a summer of Melas
Sunrise Radio is hosting a number of community events over the summer to celebrate its 30th anniversary.
The station will be at the Croydon Mela at Wandle Park, Croydon on July 14th, The Manchester Mela at Platt Fields Park, Rusholme the week after and The Luton Mela at Wardown Park Luton on August 3rd and 4th.
Tony Lit MBE, MD of Sunrise Radio explains: "I'm very proud that Sunrise Radio, now celebrating its 30th year of entertaining British Asians will be part of these great community events.
"Our popular radio personalities will be presenting the main entertainment stage at a number of Melas over July and August, promising to bring an added dimension of fun to these popular events. The first one was the Cambridge Mela which took place on Sunday 7th July, with some great acts including Panjabi MC & Apachie Indian, the crowd was buzzing and the day was a big success.
"Make sure you don't miss the fun and come along to the next one…."
Paul Shah, Programme Manager Sunrise Radio adds: "I'm so proud that Sunrise Radio will be traveling up and down the country this summer meeting so many of our loyal listeners at these popular Summer Melas.
"We look forward to entertaining you and can't wait to see you all there!"
Sunrise Radio was also presented with the Cancer Research UK (CRUK), Flame of Hope Award for Media Supporter of the Year 2019 at an awards luncheon held at Merchant Taylors Hall last month.
The award was for a campaign run last September in support of Step up to Cancer, with the aim of raising awareness of the positive work Cancer Research UK does amongst the British Asian community.
Paul Shah accepted the award on behalf of the station which he attended with Bollywood singer, song writer Veronica Mehta who has beaten cancer and took part in the Sunrise Campaign.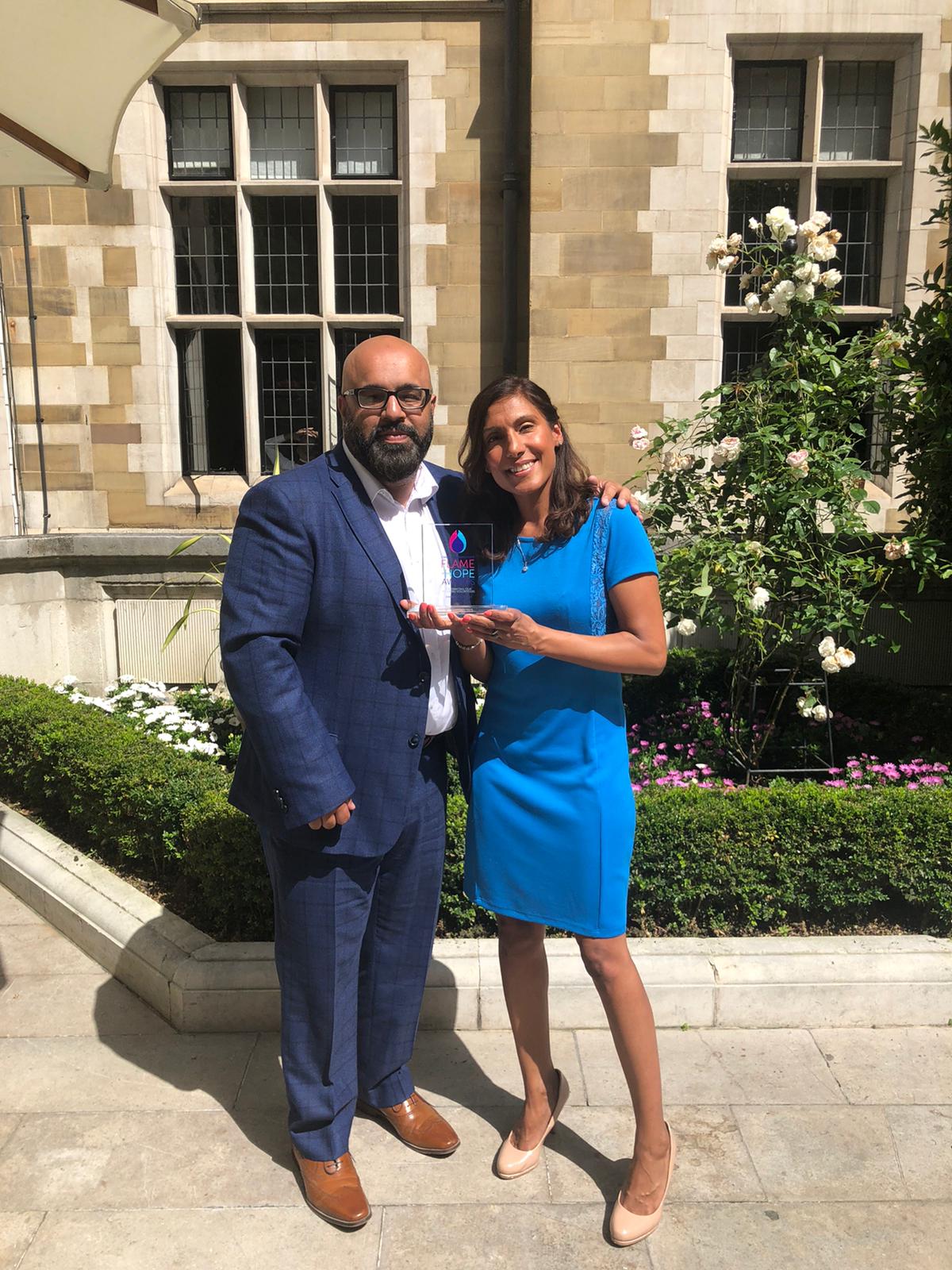 Tony Lit MBE said: "Though Sunrise Radio is a commercial radio station and survives on the income generated from its loyal and valued advertisers, I also feel it's important to support certain issues, Cancer being one of them, we wanted to make sure our listeners were aware of the good work CRUK does for the benefit of everyone. This award was unexpected but greatly appreciated and valued."