Ofcom awards Channel Islands DAB to Bailiwick Broadcasting
Bailiwick Broadcasting has won the bidding war to provide a local DAB digital radio multiplex to the Bailiwicks of Jersey and Guernsey.
Three companies applied to run the service, which is offered for a period of 12 years.
Bailiwick Broadcasting – a wholly-owned subsidiary of Nation Broadcasting, plans to broadcast 25 services, to Jersey, Guernsey, Herm, Sark and Alderney using three transmitters.
Stations proposed include a large number of new digital services covering a variety of genres including country music, children's programmes, rolling news, rock music and a number of new regional radio stations for the Channel Islands with a range of music, local news and information.
Digital capacity of 256 kbits/sec must be reserved on this local radio multiplex service for the BBC to broadcast BBC Radio Jersey and BBC Radio Guernsey.
The frequency being cleared for this licence is a standard VHF DAB channel known internationally as 'Frequency Block 12A (centre frequency of 223.936 MHz)'. Should clearance of this block be problematic then the GE06 Plan allocation of block 11C (centre frequency 220.352 MHz) will be used.
Here are the proposed services offered by Nation: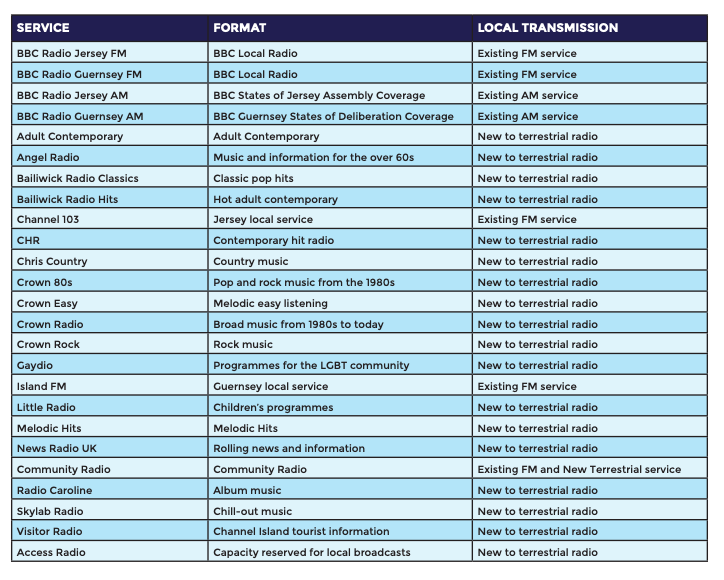 The other applicants for the licence were:
Small Digital Planet – Chaired by Mark Sumner, the former Director of Regulation at the Jersey Financial Services Commission, and has local businessman Chris Bee as Managing Director.
Small Digital Planet proposed to include 16 stations from launch, including BBC locals, community station Quay FM, five new locally-based stations including a Portuguese language station aimed at the 8% of the population who speak the language.
And Tindle MuxCo Channel Islands – a joint venture between Folder Media (30%) and Tindle CI Broadcasting (70%). Tindle CI Broadcasting owns Channel 103 in Jersey and Island FM in Guernsey, and wanted to bring UK stations such as Virgin Radio, talkSPORT and talkRADIO to the islands terrestrially for the first time.
Currently, the only DAB services available in the Channel Isles are national BBC stations Radios 1 to 5 Live, 1Xtra, 4 Extra, 5 Live Sports Extra, 6 Music, Asian Network and World Service.