The Future is Hear: Radiocentre's new message for advertisers
Radiocentre is launching a campaign parodying the marketing hype used by companies such as Apple and Samsung for new technology launches.
The messages show that radio is the medium that advertisers should look to for the future.
The radio and out-of-home campaign, created by The&Partnership, features radio ads that highlight the benefits of the medium in the style of a tech launch, while showing the advantages commercial radio has over other, newer media technologies.
The campaign will also be on social media and on industry news websites and ends with the call to action "See Radio Differently."
This is the first brand campaign created by The &Partnership since the industry body appointed the agency last year.
In one of the radio spots, called 'Cookies', the narrator appears to be introducing an exciting new piece of tech when he is interrupted by an automated voice saying "accept cookies". The spot ends with the narrator saying: "Welcome to radio, advertising that's cookie free".
Another ad, 'Influencer', hears the narrator describe radio as the "original influencer, with 36 million real followers".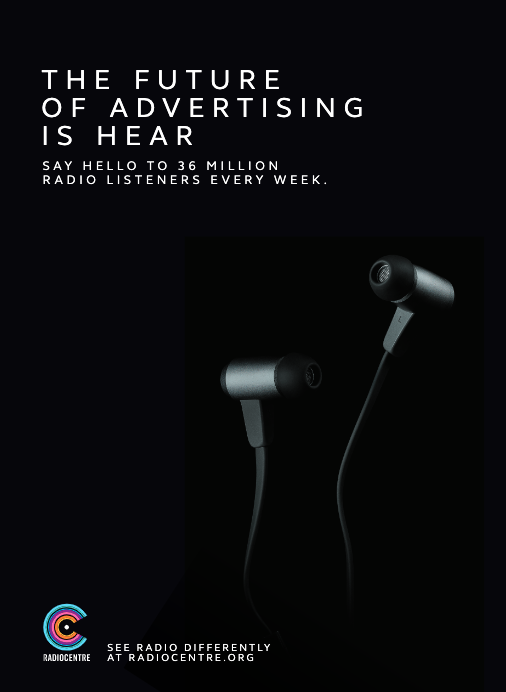 The outdoor campaign describes radio in one execution as "Unskippable. Unblockable. Unbeatable", adding: "Brands cut through with radio advertising". Another outdoor ad in the series says "This influencer has 36 million followers" with the line: "Radio, the influencer advertisers can trust."
The radio ads will run 30, 20, and 10-second spots across the commercial radio network and launches on Monday, October 21st.
Lucy Barrett, Client Director at Radiocentre, said: "Because it has been around a lot longer than the newer ad tech, people don't always appreciate what an incredible medium radio is. If radio was invented as a new piece of technology today, we would all be in awe of its reach, engagement, and ad effectiveness. This campaign is designed to help advertisers imagine just that."
Yan Elliott, Executive Creative Director at The&Partnership, said: "Advertising on radio is a no brainer; when it's impossible to skip the ads and you don't have to 'accept cookies' to carry on listening. Surely, it's an advertiser's slam dunk."