NME, Now Music and the Telegraph join Global's DAX platform
New media partnerships have been announced at Global's annual Upfronts presentation for advertisers today.
Kicking off its set of announcements, DAX unveiled a brand-new exclusive partnership with Telegraph Media Group, to help grow and monetise their podcast portfolio in the UK.
From today, brands will have the opportunity to sponsor 18 of Telegraph Media Group's podcasts which cover a range of topics from food to fashion, football to finance, news and politics.
DAX also revealed a new partnership which sees NME onboard its online radio properties – NME Radio 1 and NME Radio 2. Concluding its set of publisher partnership announcements, DAX announced that NOW Music has now made its inventory available on the platform.
Eleanor Marshall, Head of Data at DAX, continued the Upfronts presentation to unveil DAX Cross Device, which enables advertisers to reach more people consuming digital audio on smartphones, tablets and desktops, and track the effectiveness of their campaigns. The feature will give brands and agencies a more holistic view of their advertising across music, podcast and digital radio streaming services.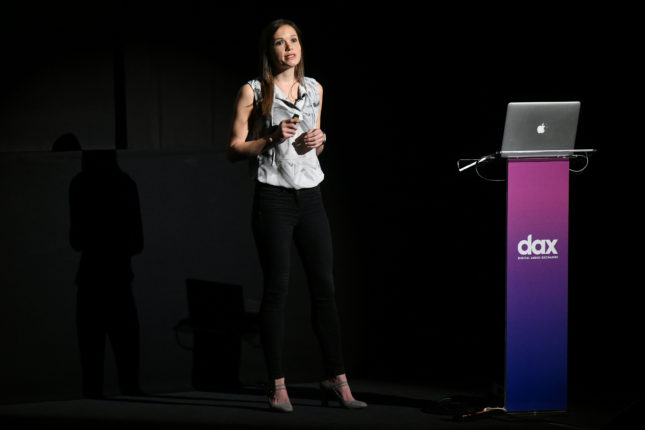 DAX Cross Device reports the path to purchase when a listener has acted on a brands' advertising message. So if a digital audio ad is heard via a smartphone and a listener later makes a purchase via brands' website on their desktop device, advertisers can attribute this action to their digital audio advertising campaign.
Bringing additional insight and metrics to DAX, DAX Cross Device is being billed as the most significant update to the platform since the launch of audio measurement tool, Listener Insight ID in 2016. DAX hopes to further simplify the targeting and measurement process for advertisers with this new feature.
Eleanor Marshall concluded the morning's announcements with the reveal that DAX has updated its Listener Insight ID tool to offer advertisers a podcast measurement solution.
Marshall said: "The need for cross device measurement is nowhere more acute than in the podcast space. Not only is it the fastest growing form of audio content but it is also the hardest to track. The majority of podcast inventory is delivered on app, while the vast majority of calls to action are browser based, meaning that post-listen behaviour tends to fall down a data black hole.
"However, our device graph means that, for the first time, we have a genuine effectiveness measurement solution for podcast advertising that is neither survey-based, nor sample-based but based on known exposure. Listener Insight ID will, therefore, be available as a standalone podcast-specific product that can be deployed on pre, mid and post-roll content, along with host read."