Stray FM gives away £10k to one listener for its 25th birthday
Stray FM has given away £10,000 to one listener for smiling, as part of a 10,000 smiles promotion.
The station has been collecting photos of listeners smiling and picked one winner at random to win the cash.
Stray FM's breakfast presenter Nick Hancock broke the news to Carole Reid on Tuesday morning, 10th December, with presenters Will Smith and Pete Egerton also surprising her at home.
Carole Reid had her photo taken at the Knaresborough bed race earlier this year.
CAROLE HAS WON £10,000! @TheRaglanSuite #10KSmiles pic.twitter.com/bL1JBirJS4

— Stray FM (@StrayFM) December 10, 2019
Congratulations Carole Reid who's just won £10,000 with @TheRaglanSuite in our #10KSmiles competition ?? We've given her a huge welcome ? pic.twitter.com/Jo3ZPEk7sA

— Stray FM (@StrayFM) December 10, 2019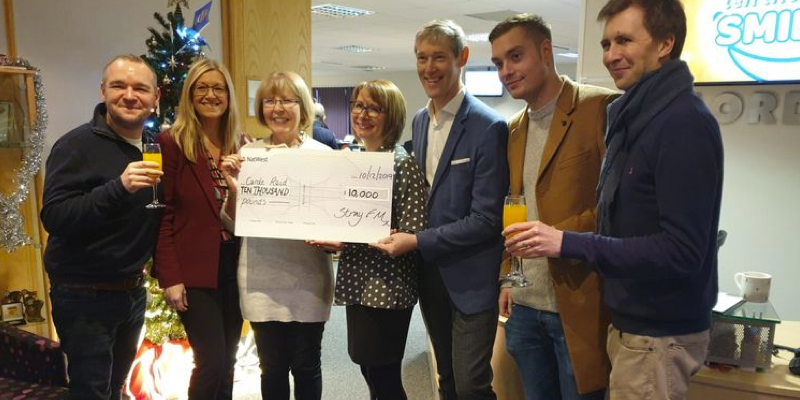 L-R – Nick Hancock, Stray FM; Sarah Barry, Stray FM; Carole Reid, competition winner; Lynn Nichols; Raglan Suite; Chris Egan, Raglan Suite; Will Smith, Stray FM and Pete Egerton, Stray FM