Chris Moyles remembers his radio stint in Milton Keynes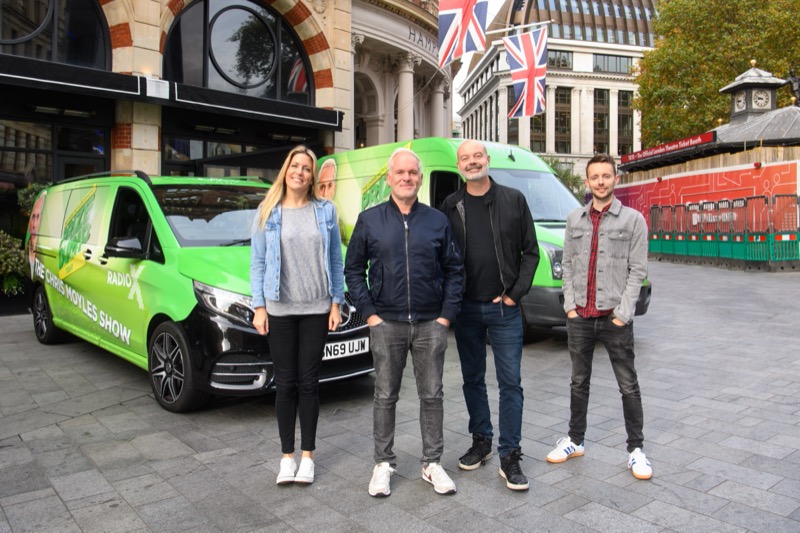 Chris Moyles took a trip down memory lane in his former home town Milton Keynes this week as he arrived in town as part of Prize Dump Tour.
On his Radio X show yesterday (Wednesday 15 September) – which he was hosting from Global's Milton Keynes studios due to the competition winner living nearby – Chris reminisced about hosting a show on Horizon Radio 25 years ago "when I was a little baby DJ trying to make it in the world of radio".
He also took his Radio X team to see his old flat in Emerson Valley and FaceTimed his parents from outside it.
Chris told his listeners about his trip down memory lane on his Radio X show, reminiscing about Milton Keynes landmarks he frequented in years gone by, including The Point, sports bar Heroes and Oceana, and the bar in a leisure centre where he used to perform stand-up comedy.
The team also tried out Milton Keynes' famous robot delivery service, getting some snacks delivered to the studio while they were broadcasting live from Global's Milton Keynes studios.
Whilst on tour, @JamesRobinson got overly excited of the robot delivery service in Milton Keynes

If you do find these, DO NOT SIT ON THEM pic.twitter.com/xieDUZwJQ8

— Radio X (@RadioX) September 16, 2021
The Chris Moyles Show on Radio X Prize Dump Tour sees the team personally deliver a van's worth of prizes to a winner's home, from Monday – Thursday this week. Each winner is selected at random on that morning's show, meaning the team has absolutely no idea where they'll be travelling to to "dump" that day's prizes.
The location could be anywhere in Great Britain and is revealed by the winner live on air. Not only will they need to find their way to the winner's house, they'll also need to work out where they're broadcasting the next day's show from… This week has seen Chris and the team travel to Northolt in West London, Oxford and Crowborough in East Sussex, and Hainault.
Today Chris Moyles called into Toby's show to give an update on their trip to drop off the prizes in East London, however, told him that they've "gone rogue"… so we'll need to wait and see where they end up for tomorrow's show.
TRANSCRIPT FROM THE CHRIS MOYLES SHOW ON RADIO X, 15TH SEPTEMBER
Chris Moyles: So you know I lived in Milton Keynes and I worked in Milton Keynes for the radio station here? So I was very excited about… 'oh my god, I'm gonna do the show from the same studio I did the show from 25 years ago.' But we're in a different place.
Dominic Byrne: So how far away is the other studio that you used to broadcast from?
Chris Moyles: Erm, maybe a mile, if that. So I used to live in Emerson Valley, and when we were driving into Milton Keynes yesterday we saw a sign. And [producer] James Robinson who's driving, goes "do you want to go and see your old flat?" And I found where I used to live and I took a picture.
Now, weirdly as I got out the van, my dad FaceTimed me and he's going "where are you?" and I goes "you tell me!" And he goes "I don't know, where are you?" And then mum comes on and goes "where's that?" I said "I'm in Milton Keynes, that's my old flat!" And they were like "oh my god!"
It was lovely, it was a maisonette. Anyway it was a lovely trip down memory lane in Milton Keynes, back to where I used to live, 25 years ago, when I was a little baby DJ trying to make it in the world of radio. Wow, what a moment.
I didn't have time to go through all my old favourite haunts like the fish and chip shop, the Chinese, the pub I used to drink in, the shops where I used to get me bread and milk, there's a little mini supermarket, where I used to the do the stand-up comedy in the bar of a leisure centre… We didn't get time but today after the show, if we've got time, I'll take you round!
I'll show you where the radio station used to be. I'll show you where Chiquito's used to be – Chiquito's is gone! I'll show you where the Heroes, the sports bar, used to be. I could show you where Oceana used to be if you're interested. If you really wanna know, I could show you the bus shelter where the man lives in Milton Keynes, who's lived there in two years.
Dominic Byrne: Has he? What, still?
Chris Moyles: He says [reading headline from MK Citizen]: "tell people not to worry about me, I'm fine, says man who's lived in a bus shelter for two years in Milton Keynes." We could go see him.