Reduced Listening wins top award at the 2022 Audio Production Awards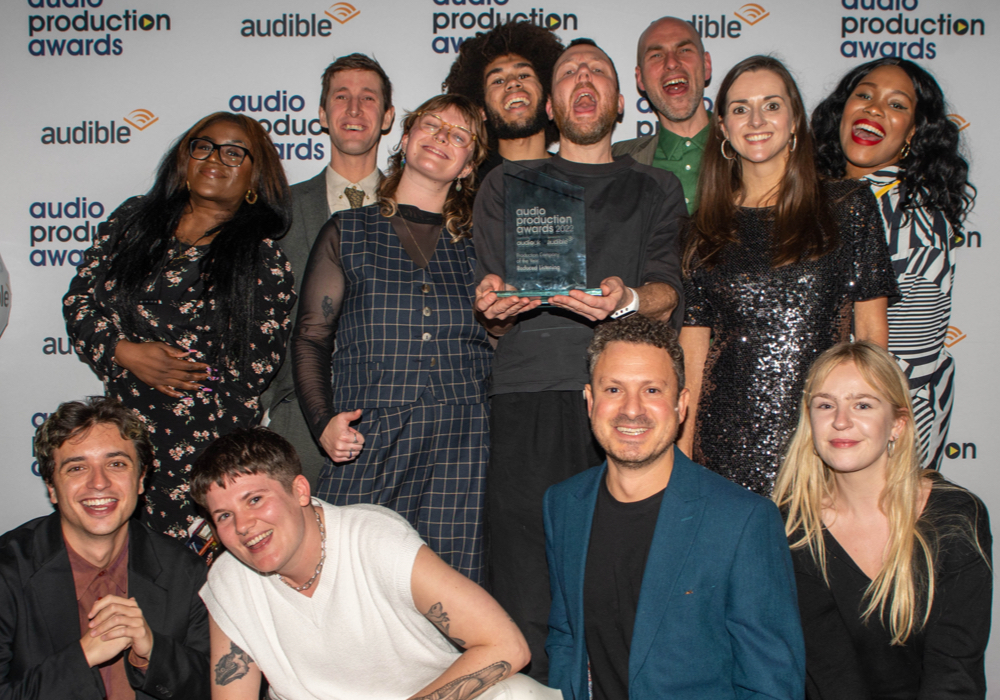 Reduced Listening was named Production Company of the Year at the 2022 Audio Production Awards at a ceremony in London on Wednesday evening.
Other winners this year include Lina Prestwood, who won gold for Best Lifestyle & Society Producer and The Sustainability Award for her work The Long Time Academy at Scenery Studios.
Axel Kacoutié also won two awards including Best Factual Producer and Best Sound Design Producer for his work at Falling Tree Productions.
Producer of the Year was won by Steve Urquhart and audio newcomer Lianne Sanderson was crowned Best New Voice for her work at talkSPORT.
The special AudioUK Award was presented to Lily Ames for the UK Audio Network (UKAN), a growing community of audio producers, commissioners and creators, distributing work opportunities via a shared email list.
Here's the full list of winners:
Best Arts & Culture Producer
GOLD – Geoff Bird – Freelance
SILVER – Steven Rajam – Overcoat Media
BRONZE – Lyndsay Fenner & Victoria Lloyd – Storyglass
Nominees
Hannah Dean – Falling Tree Productions
Hannah Hufford – BBC Audio
Victoria Ferran – Just Radio
Best News & Current Affairs Producer
GOLD – James Shield – The Times and The Sunday Times
SILVER – Taryn Siegel – The Times and The Sunday Times
BRONZE – Ruth Abrahams – Freelance / The Guardian
Nominees
Ant Adeane – Freelance
Daniel Rosney – BBC Newsbeat
Edward Drummond – The Times and The Sunday Times
Best Entertainment Producer
GOLD – Meera Kumar – Freelance
SILVER – Adem Waterman – Absolute Radio
BRONZE – Lorna Skingley – 7digital
Nominees
Lucy Dearlove – Storyglass
Ore Olukoga – TBI Media
Victoria Ferran – Just Radio
Best New Producer
GOLD – Redzi Bernard – Falling Tree Productions
SILVER – Julian Maclurg – Freelance
BRONZE – Pippa Smith – Novel
HIGHLY COMMENDED – Talia Augustidis – Message Heard
Nominees
Charlotte North – Whistledown
Rufaro Faith Mazarura – Audio Always
Best Presenter 
GOLD – Danny Robins – Bafflegab Productions
SILVER – John Sweeney – Chalk and Blade
BRONZE – Claudia Winkleman – TBI Media
Nominees
Axel Kacoutié – Falling Tree Productions
Elis James and John Robins – Audio Always
Rob Beckett – TBI Media
Best Factual Producer 
GOLD – Axel Kacoutié
SILVER – Joshua Kelly – The Guardian
BRONZE – Eva Krysiak – Freelance
Nominees
Kate Taylor – Audible
Redzi Bernard – Falling Tree Productions
Russell Finch – Wondery
Best Sports Producer
GOLD – Chessie Bent – TBI Media
SILVER – Olly Clink – talkSPORT
BRONZE – Joel Grove – Guardian News and Media
HIGHLY COMMENDED – Isabel Minter – talkSPORT
Nominees
Adonis Pratsides – The Athletic
Christian Hewgill – BBC Radio 1 Newsbeat
Gethin Thomas Award for Best Comedy Producer
GOLD – Matt Thomas – Audio Always
SILVER – Gus Beattie – Gusman Productions
BRONZE – David Tyler – Pozzitive
Nominees
Ed Morrish – Lead Mojo Productions
Gwyn Rhys Davies – BBC Studios
Kurt Brookes – Made In Manchester
Best Music Producer
GOLD – Arthur Hagues – Prison Radio Association
SILVER – Jack Howson
BRONZE – Katie Callin – Reduced Listening
Nominees
Helen Weatherhead – Audio Always
Keana Bernard – BBC Audio
Nate Goodman – We Are Grape
Best Audiobook Producer
GOLD – Laura-Leigh Smith – String and Tins for Audible
SILVER – Chris Thompson – Penguin Random House
BRONZE – David Beck – Wireless Theatre for Audible
HIGHLY COMMENDED – Lily Ridett – Freelance
Nominees
Kathleen Moroney – Red Apple Creative for Audible
Tanya Hougham – HarperCollins Publishers
Best Narrator
GOLD – Tracy Wiles – Almost Tangible
SILVER – Julie Hesmondhalgh – HarperCollins
BRONZE – Tom Alexander – HarperCollins
HIGHLY COMMENDED – Minnie Driver – Bonnier Books UK
Nominees
Andy Serkis – HarperCollins
Kristin Atherton – Penguin Random House
Best Lifestyle & Society Producer (NEW) 
GOLD – Lina Prestwood – Scenery Studios
SILVER – Sangeeta Pillai – Soul Sutras
BRONZE – Andrew Gold – On the Edge with Andrew Gold
Nominees
Anouszka Tate – Freelance
Selina Ream – Somethin' Else
Sylvie Carlos – Unedited
Best Ensemble Cast
GOLD – Joelah, Keke & DJ Silk – 1Xtra's Throwback Party
SILVER – Kat Anderson & Natalia Anderson – Expat Immigrant Podcast
BRONZE – Helen Brown, Terri Sweeney, Emma Goswell & Beena Khetani – Effin Hormones
Nominees
Elis James &. John Robins – Audio Always
Kim Davis & Raffaella Coleman – The Scene
William Hanson & Jordan North – Audio Always
Best New Voice 
GOLD – Lianne Sanderson – talkSPORT
SILVER – Cara McGoogan – The Telegraph
BRONZE – Talia Augustidis – Message Heard
Nominees
Afrodeutsche – Reform Radio
Lily Baldwin – Audible
Peter Waring – Whistledown
Best Branded Sound Producer
GOLD – Luke Berry – BBC Popular Music Station Sound
SILVER – Adam Venton – Little Monster Media
BRONZE – Chris Nicoll – WIZZFX
Nominees
Ali Rezakhani – BBC Sounds
Kenny Southavy – ReelWorld
Sam Parker – WIZZFX
Best Sound Design Producer
GOLD – Axel Kacoutié – Freelance
SILVER – Benbrick
BRONZE – Kit Milsom – Mags Creative
Nominees
Hannah Dean – Falling Tree Productions
John Wakefield – Audible
Steve Urquhart – Freelance
Best Drama & Fiction Producer
GOLD – Andrew Mark Sewell – B7 Media
SILVER – Barnaby Eaton-Jones & Ian Haig – Idea Hat Productions
BRONZE – Melanie Harris – Sparklab Productions
Nominees
Celia de Wolff – Pier Productions
Jacqueline Rayner – Big Finish Productions
Nicolas Jackson – Afonica
AudioUK Award
UK Audio Network (UKAN)
Grassroots Production Awards 
GOLD – Carousel
SILVER – Vic Elizabeth Turnbull – MIC Media
BRONZE – Modus Arts – Tape Letters
Nominees
Boz Temple-Morris & Fin Kennedy – The Waves
Miranda Rae – Afrikan Queens
Steve Urquhart – Doing Bird
The Sustainability Award (NEW)
GOLD – The Long Time Academy – Scenery Studios
SILVER – Lucia Scazzocchio – Wild Eye
BRONZE – Resonance FM
Nominees
Jo Kennedy & Cathy Shaw – Nature Tripping
Loftus Media – Funghi: The New Frontier
Reform Radio
Producer of the Year (NEW)
GOLD – Steve Urquhart – Freelance
SILVER – Hana Walker-Brown – Broccoli Productions / Freelance
BRONZE – Jon Holmes – unusual
HIGHLY COMMENDED – Jack Howson
Nominees
Hannah Dean – Falling Tree Productions
Victoria Ferran – Just Radio
Publisher or Network of the Year (NEW)
GOLD – Resonance FM
SILVER – Mags Creative
BRONZE – Fun Kids
Nominees
Crowd Network
Sky News
talkSPORT
Production Company of the Year 
GOLD – Reduced Listening
SILVER – Unedited
BRONZE – Whistledown
Nominees
Holy Mountain
TBI Media
We Are Grape