Amplify Awards winners announced at SRA Conference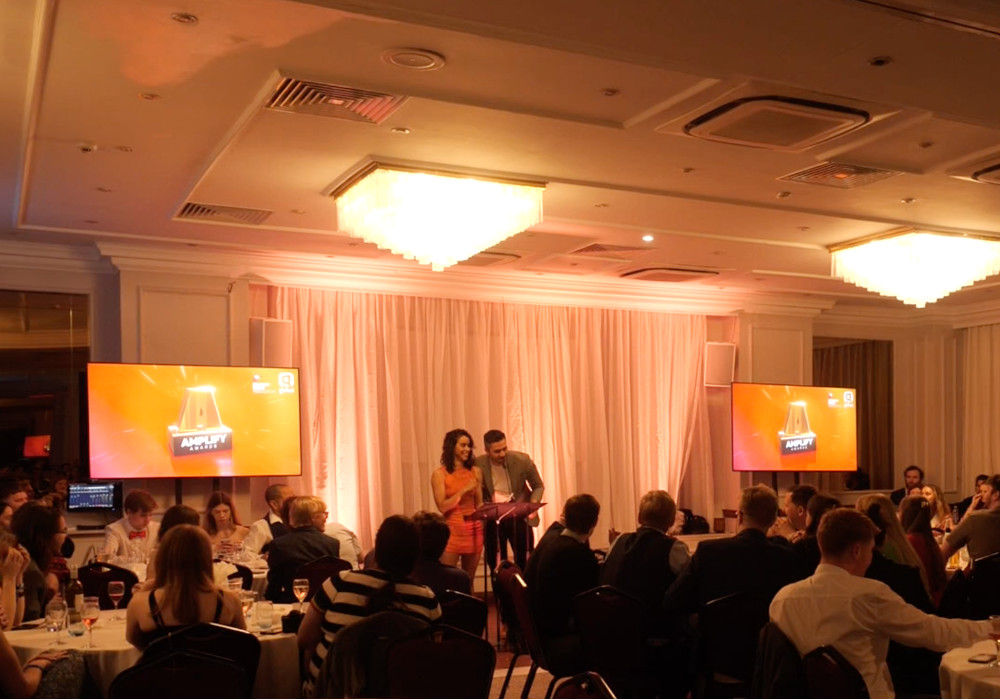 Over 150 students from across the UK attended the annual Student Radio Conference in Exeter, where the winners of this year's Amplify Awards were announced.
Delegates from student radio stations attended sessions delivered by radio industry figures from Bauer, BBC, Global, Sony Music Entertainment, News UK, Audio Always, TBI Media, WIZZFX, Radio.Co, Aiir, North Media Talent, and FunKids.
Keynote speakers included Capital's Sonny Jay, Virgin Radio's Ricky Wilson, Hearts Rob Howard and Katrina Ridley, LBC's Charlotte Lynch, Tom Gane and Jenny Keogh from BBC Audio for BBC Radio 1, BBC Film Critic Ali Plumb and BBC Radio 1's Zara Tso.
Demo Factor, which sets out to find the next big presenting talent in Student Radio, saw judges Chris North (North Media Talent), Pandora (Heart), Aled Haydn-Jones (BBC Radio 1), Paul Sylvester (Absolute Radio) and Calum Macdonald (Times Radio) chose Spark Sunderland's Chris Howard as winner.
The second annual Amplify Awards, supported by Global (formerly I Love Student Radio Awards) were hosted by Rob Howard and Katrina Ridley.
The Winners:
Best Contribution to Region
Bronze: Insanity and South Bank Radio
Silver: Phoenix Radio Unplugged
Gold: Shock Radio's SRA Chart Show
Best Fundraising Initiative
Bronze: LSR's Transmission Festival
Silver: The Purple Radiothon 2023 – Purple Radio
Gold: URN's Week of 24-Hour Shows for Comic Relief
Best Outreach Project
Bronze: Under One Sky Podcast – Purple Radio
Silver: Cam FM x Student Minds
Gold: More Than Movember – Fly Live
Best Promotional Initiative
Bronze: Spark @ Freshers' Fair
Silver: Freshers' Week 2022 – URY
Gold: What are you listening to Durham? – Purple Radio Music Team
Best Student Media Collaboration
Bronze: Musicfeed x Societies – Purple Radio
Silver: XpressionFM and RAG Presents: Matchmakers
Gold: Live from the Hive – Fuse FM
Best Training Initiative
Bronze: Fuse FM
Silver: URN
Gold: Mentorship Scheme – Leeds Student Radio
Most Committed Committee Member
Bronze: Sophie Fowler – LSR
Silver: Celina Wells – Fly Live
Gold: Serena Jemmett – Fuse FM
Most Improved Station
Bronze: Fly Live
Silver: Fuse FM
Gold: Leeds Student Radio
Most Supportive University or Students' Union
Bronze: Falmouth and Exeter Student's Union
Silver: King's College London Students' Union
Gold: University of York Students' Union
Outstanding Contribution
Bronze: William King – URY
Silver: Serena Jemmett – Fuse FM
Gold: Toby Crabb – Radio L.a.B 97.1FM
Student Radio Moment of the Year
Bronze: The Surf Radio Chart Show
Silver: Francis Goes On The Big Wheel At The Winter Wonderland – Shock Radio
Gold: 25 Hours for 25 Years – Radio LaB 97.1FM
The Amplify Award
Bronze: Grace McDonough – Spark
Silver: Sophie Fowler – LSR
Gold: Francis Goes On The Big Wheel At The Winter Wonderland – Shock Radio