10,000 people attend The Podcast Show 2023 in London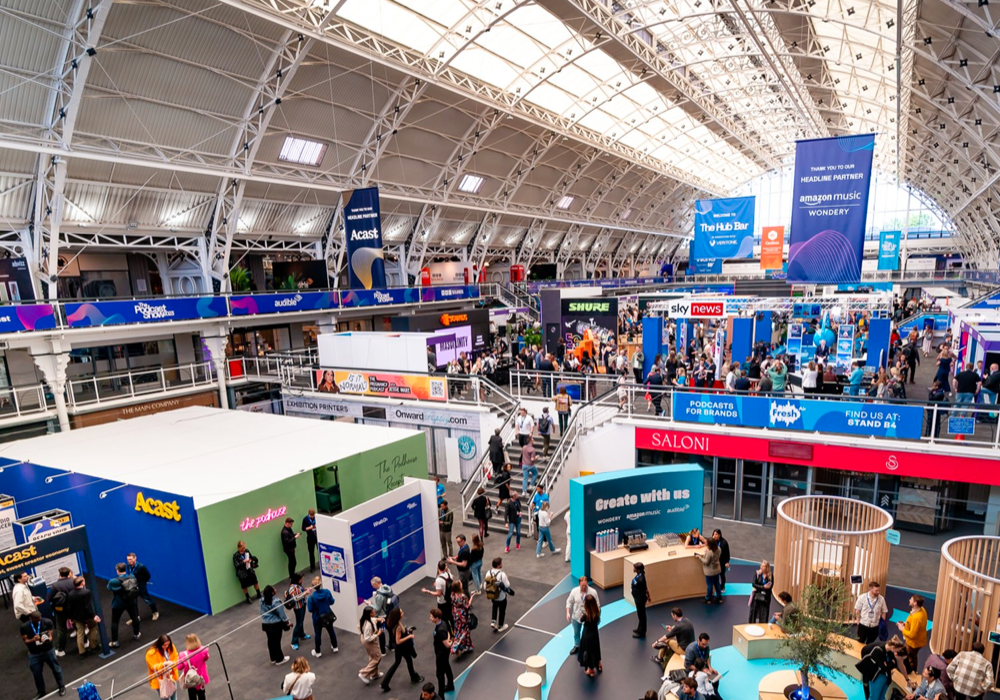 The Podcast Show attracted over 10,000 attendees from over 40 countries this year which saw the likes of Mark Kermode & Simon Mayo, Adam Buxton, Poppy Jay & Rubina Pabani and Jon Ronson take to the stage in various venues across Islington.
Outside of the UK, the US was the most represented country at the event for the global podcast industry.
Some of the biggest names from the podcasting industry were in attendance as speakers, including The News Agents, Katherine Ryan, Katie Price, Russell Tovey, Nish Kumar, Nick Grimshaw, Gabby Logan, Spencer Matthews, Gary Kemp, Vogue Williams, Elizabeth Day, Sam & Billie Faiers, Alice Levine, Sam Thompson, Pete Wicks, Roman Kemp & more.
Who made you at #PodShowLDN? pic.twitter.com/ijSmnf5FlM

— The Podcast Show (@PodcastShowLDN) May 25, 2023
Comedian Nish Kumar spoke about the launch of his brand-new podcast Pod Save The UK in a talk entitled "A Podcasters Manifesto: How Pod Save The UK Can Change The World".
Kumar said: "Historically big companies were best placed to launch new media products. To create and distribute a new newspaper required oodles of cash over a long period of time – only a few people could stomach that. Even today trying to launch a new TV channel is expensive and the results aren't often great – just ask Rupert Murdoch or Piers Morgan.
"Outside of that many news podcasts seem to have a desire to have some sort of provable impartiality as if that's the key to something… I think this is where the BBC
looms large over lots of media. If you're doing something mainstream, then being fair and impartial seems this immovable object you need to orbit around.
There's nothing wrong with trying for impartiality, it's a noble aim, but social media has changed people's perceptions. And it's a language we are tired of. Did someone 'speak a mistruth' or did they 'lie'? Was someone's comment 'racially charged' or was it 'racist'? Is Boris Johnson 'unorthodox' or 'a philandering alcoholic/chancer".
"Sometimes what sounds impartial can actually be minimising, or even sanitising."
We've curated 17 of the most powerful insights we collected from The Podcast Show 2023 to keep you up to date with the current podcast landscape and give you the latest tips on growing your show!https://t.co/OqbMDR5CDM#podcast #podshowldn #podcast #podcaster #podcasting #show pic.twitter.com/iepC2AGcYy

— Clarion (@ClarionPod) May 30, 2023
Emily Maitlis, Jon Sopel and Lewis Goodall, co-hosts of The News Agents, took to The Origin Theatre on Day 2, one year on from the launch of their podcast, to announce they'll be launching News Agents USA on 20th June. Emily said: "It's going to be the same fields, big analysis, big names. All the cultural things which are happening; gun laws, abortion laws… It's a full-on circus from now until 2024 with the presidential election, we will be tapping into all that… we get excitable talking about America.
"I remember this time a year ago feeling like the biggest fraud ever, we had an idea but no name… We had left mainstream broadcasting, jobs where we know what we were doing. Now it's a podcast, it's visuals, it's a brand. It feels so rewarding."
To which Jon Sopel chimed in with: "When we sat here last year I didn't realise you start a podcast with zero listeners. To start with zero suddenly seemed terrifying… We got going at the end of August and god bless Boris Johnson and Liz Truss I mean they are just the patron saints of The News Agents."
Dino Sofos, executive producer of the podcast, said: "What we've done here is more than redefining public service broadcasting, it's redefining the news and how people consume the news… we're setting the agenda… you know, Matt Hancock texting us to come on…"
To which Maitlis added: "We won't be doing that again!". Sopel also mentioned an encounter with a celebrity fan: "I was walking along the street and a guy was walking his dog, he came bounding over and he shows me his phone saying 'I'm listening to you right now' and shows the picture of the three of us… when he looks up I realise it's Tom Hiddleston."
Just had an incredible time at The Podcast Show! Seeing some of my amazing YouTube viewers in person was beyond amazing. Hope everyone is also ready to go and create something amazing with a little help from #AI too! #PodShowLDN pic.twitter.com/prXA0nJklj

— Mike Russell (@imikerussell) May 25, 2023
Vogue Williams (co-host of Spencer & Vogue and My Therapist Ghosted Me) admits in a talk entitled "The Accidental Podcaster" that her podcast with her husband Spencer Matthews is the only time they have a proper conversation: "I love working with Spencer. It's when we have an actual conversation. You talk about all these things that have happened during the week. It's really nice to just focus and do that."
In a talk entitled "BBC & Spotify: What Content, Which Platform And Whose Audience?", BBC Sounds announced that they had a record week for audiences last week, as 4.9m used the app. Their most recent podcast launch, Believe in Magic hosted by Jamie Bartlett, has been a recent chart-topper.
Missed Day 1? Read all about it here.
Seeing your favourite podcast in person.

Now that's a good feeling

#PodShowLDN LIVE pic.twitter.com/1zlBAp9kA6

— The Podcast Show (@PodcastShowLDN) May 25, 2023