Here's what happened on day one of the Podcast Show 2023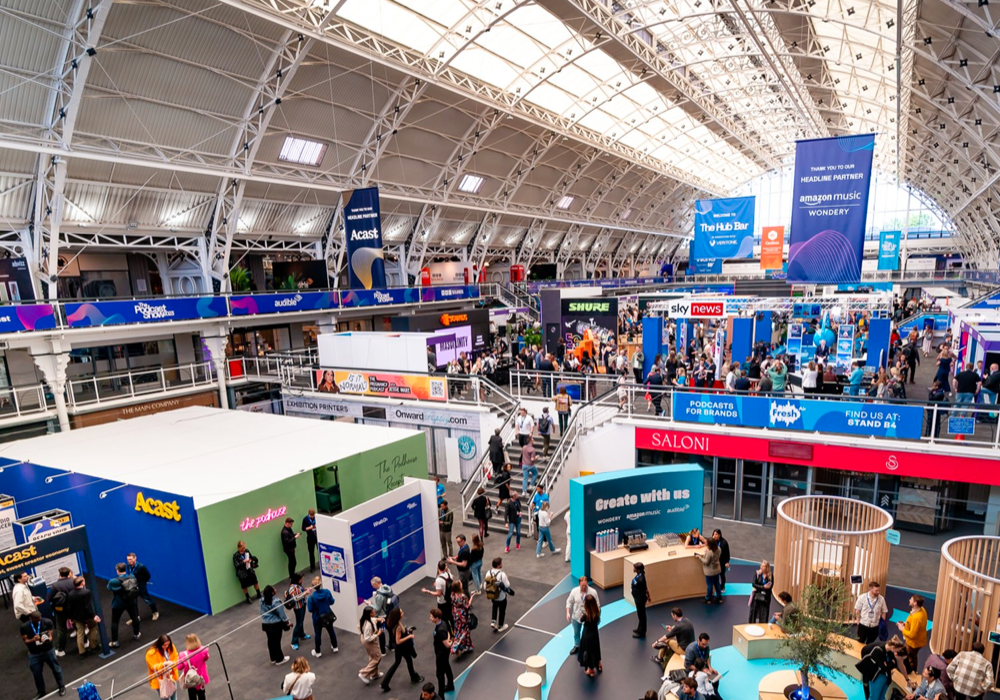 Day one of the two-day Podcast Show kicked off today at The Business Design Centre in London.
Some of the biggest names from the podcasting industry were in attendance, including Katherine Ryan, Katie Price, Russell Tovey, Sam & Billie Faiers, Giovanna Fletcher, Jordan North, Alice Levine, Paul Chowdhry, Luisa Zissman, Sam Thompson, Pete Wicks, Roman Kemp, Candice Brathwaite, and more.
The Show opened for an exclusive Preview Night last night, allowing attendees a sneak-peak at the show's activations and a chance to network ahead of the doors opening to the public.
Oh what a (preview) night

#PodShowLDN pic.twitter.com/eJcQFzNQwz

— The Podcast Show (@PodcastShowLDN) May 23, 2023
Nihal Arthanayake from 5 Live hosted the evening. Fearne Cotton presented the inaugural International Podcast Trailblazer Award to Ashley Flowers, recognising the global impact she has made on the podcast industry.
Ashley hosts the true crime podcast Crime Junkie, and is the founder and chief creative officer of audiochuck, one of the top media and podcasting companies in the world, generating over 2 billion downloads with listeners in over 170 countries.
Ashley said: "I'm so grateful to The Podcast Show for this incredible honor. To be recognized for our work at audiochuck at an event that acknowledges the many talented storytellers in our industry means so much to me, and I can't wait to celebrate with our Crime Junkies in London!"
Feels good to be back #PodShowLDN pic.twitter.com/vwFe4BhX7q

— The Podcast Show (@PodcastShowLDN) May 24, 2023
Katherine Ryan, host of Telling Everybody Everything podcast, took part in a panel discussion called "Keeping It Real: Podcasting's Power To Help". She discussed independence in podcasting, saying: "I do everything, there is no lawyer, no producer. I love doing it myself. A lot of my projects before had too many hands in it, too many thoughts.
"When you do stand up, you stand up there alone, there's no music, just you on stage – sometimes in dodgy venues with air hockey tables. You become self-sufficient. When there's too many people involved, that's a distilled version of you. You don't connect to people as well."
She jokingly added that her podcast influences her stand up style, and laughed about being a mum and a podcaster: "People say my stand up has become a lot warmer since starting my podcast. Everyone thought I was a horrible b**ch. Podcasting makes me do a different style of comedy. More long form… I try and balance everything. I'm a mum of two under two. I might be pregnant again, who knows. I like the flexibility of podcasting. I recorded an episode on the day my son was born."
Sky News was also broadcasting live from the event, and many radio stations and shows were in attendance including Podcast Radio.
Come and say hi to @ThePodcastRadio at #PodShowLDN pic.twitter.com/ST8kaR1why

— Paul Chantler (@PaulChantler) May 23, 2023
LIVE on @SkyNews

It's @IanKingSky broadcasting from the show floor with @Acast CEO @RossAdams77 #PodShowLDN pic.twitter.com/8YGY0x546Y

— The Podcast Show (@PodcastShowLDN) May 24, 2023
Katie Price was a last minute addition to the show to talk about the launch of her brand-new podcast The Katie Price Show, in a panel called "Katie Price does podcasting!". She highlighted the candid nature of the upcoming podcast, saying: "I can't help being honest, I only say what people think… I think everyone thinks they know everything about me, which they don't.
"For example I love sewing, I've made all the curtains in my house. Did you know that? Bet you didn't, bet you don't care… I just love singing, I know everyone hates it but I'm just gonna carry on doing it."
Sam Thompson and Pete Wicks, hosts of Staying Relevant podcast, took part in a discussion on "Duos in Podcasting", chaired by
Roman Kemp. Sam jokingly said to Roman "You're my nemesis. I look up to you so much, and I hate you". Roman asked Sam and Pete what's next for the podcast, and they announced they have their first live tour coming up.
Sony Music Entertainment launched a brand-new podcast today in their talk entitled "Podcasts x Video: How The Rapidly Evolving Video Environment Is Impacting the Future of Podcasting". The Referral… with Dr Karan – the NHS surgeon with over 7 million social media followers – will be your one-stop-shop demystifying the world of medicine and health.
John Allen AKA MrBallen was in conversation with Marshall Lewy, Chief Content Officer at Wondery, and announced that he will be launching a new series with Wondery.
MrBallen's Medical Mysteries is the first original series coming from Ballen Studios' first-look deal with Amazon Music. John Allen, the former U.S. Navy SEAL turned hit podcaster, is set to host an original audio series focused on medical horror stories and miracles that will debut later this fall.
Let's do this!! #PodShowLDN pic.twitter.com/hWg1yAIiZ0

— Izabela Russell (@izabelarussell) May 24, 2023
And BBC Sounds continued to champion the growing UK podcast sector as it announced it is joining Spotify's Megaphone, a podcast publishing and monetisation platform.
"With Megaphone's technology, we will be able to dynamically recommend relevant content to audiences on other podcast platforms in the UK, helping listeners discover more brilliant audio they'll love from across the BBC, wherever they listen. Thanks to this new approach, we will transform the way we highlight BBC programmes on other podcast platforms, demonstrating our commitment to the growing podcast listenership in the UK."
Podcaster Jon Ronson announced the return of the BBC Radio 4 podcast Things Fell Apart for a second series in 2024, and the long awaited Chapter Four of George The Poet's groundbreaking Peabody Award winning Have You Have You Heard George's Podcast? launches this autumn.
Plus details of a raft of exciting new commissions from across the BBC networks were also revealed including The Good, The Bad and The Wealthy with Zing Tsjeng and Simon Jack, The Gatekeepers with Jamie Bartlett, Danny Robins' Haunting History, Child with India Rakusen and more.
@PodcastShowLDN DAY 1

You will find us at the @TheSportSocial stand, come say hi to the team and let's talk all things podcasting #podcast #network #podcasting #podcastshow #podshowldn pic.twitter.com/1EA51cOuLM

— Voiceworks.ai (@voiceworksai) May 24, 2023
The Podcast Show is a one-of-a-kind event open to industry professionals, independent podcast creators, business leaders, emerging talent and fans alike. The Show is proud to be presenting a programme packed with international speakers and to be partnering with many prominent global brands. Headline partners for The Show are Acast and Amazon Music and Wondery, who are presenting The Studio Stage and The Amplify Theatre respectively.
Here it is, come say hi to Team Triton! #PodShowLDN pic.twitter.com/n7sgkhpkdO

— Triton Digital (@TritonDigital) May 24, 2023
The event continues on Thursday from 8.30am.