BBC Radio's Make A Difference initiative set to continue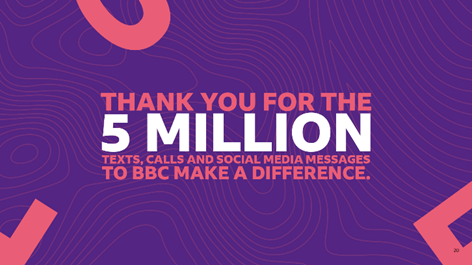 The BBC's community initiative "Make A Difference" is to continue as COVID restrictions ease and the country moves into the next stage of the pandemic.
"Make a Difference" was launched by Local BBC Radio in March 2020 as the first national lockdown began to connect communities during the crisis.
Since its launch, the BBC says over five million people have contacted their local BBC radio stations across England.
As the country reopens on July 19th, Make a Difference will continue connecting those in need of help with those able to offer and highlighting the good things that people are doing.
Make A Difference highlights include:
BBC Radio Cumbria and BBC Radio Wiltshire reunited an elderly man from Cumbria with his beloved sheep dog who was adopted by a women in Wiltshire when he went into a care home.
A teenage boy walked to BBC Radio Devon's Plymouth studio in his pyjamas after hearing a discussion on domestic abuse. He'd been a victim himself and arrived at the station asking for help. BBC staff contacted the authorities.
An appeal on BBC Radio Tees saw iPads donated to James Cook Hospital in Middlesbrough so patients in palliative care could safely speak to their loved ones.
Make a Difference has also seen Local BBC Radio working in partnership and running a number of campaigns including:
Give a Laptop – With children learning from home during lockdown, the 'Make A Difference': Give a Laptop campaign saw thousands of laptops and other devices donated by listeners and local businesses to help children gain access to online learning. More than 116,000 laptops and a million pounds were donated to schools and local charities across the country.
Jobs campaign – BBC Radio Nottingham launched a local job campaign. Working with partners, the station pledged to find £10 million worth of work across Nottinghamshire. A further 17 BBC local stations joined in the campaign and promoted £190million worth of local job vacancies.
DAB Radio – Local BBC Radio also teamed up with manufacturers, retailers and the charity Wavelength to offer free DAB radios to the most vulnerable people aged over 75. With radio providing a vital source of news, information and companionship during the unprecedented times, local radio wanted to ensure as many people as possible had access to it by giving away DAB digital radios to those in need nominated by local radio listeners.
Language services – When Leicester became the first city to go into a local lockdown, Local BBC Radio extended the smart speaker news update service to Leicester and launched a news service offering Leicester bulletins in both English and Gujarati. All news bulletins from BBC Radio Leicester were made available on-demand on digital devices to anyone who asked for the "BBC Radio Leicester Update" or "BBC Radio Leicester Gujarati Update".
Religious Services– With places of worship closed due to lockdown, local radio ran weekly Sunday virtual services. It also offered religious reflections from other faiths groups. Contributors included Islamic reflections by singer/songwriter Yusuf/Cat Stevens, Sikh reflections by musician Jaz Dhami and the cricketer Monty Panesar. While Christian services were taken onto the wireless, every Sunday a different denomination's service is broadcast in full across all 39 local radio stations, The first coming from The Archbishop of Canterbury himself.
In addition, Local BBC Radio launched three temporary services Make a Difference stations in Bradford, Sunderland and Wolverhampton to help provide additional information to those areas being hit by high COVID infection rates.
Chris Burns the Head of Audio and Digital, BBC England said: "Radio has the power to connect communities and bring people together and 'Make A Difference' is just one example of how Local BBC Radio has done that over the last sixteen months.
"We recognise that it's going to be a while yet before life completely returns to normal, which is why Make a Difference will continue. We will be there to hold the hands of our listeners and guide them through this next phase.
"We will also be there to celebrate good news and the great things people are doing in their communities to help each other and when required work in partnership with others to address the needs of our listeners."