Protesters and journalists picket at Broadcasting House in London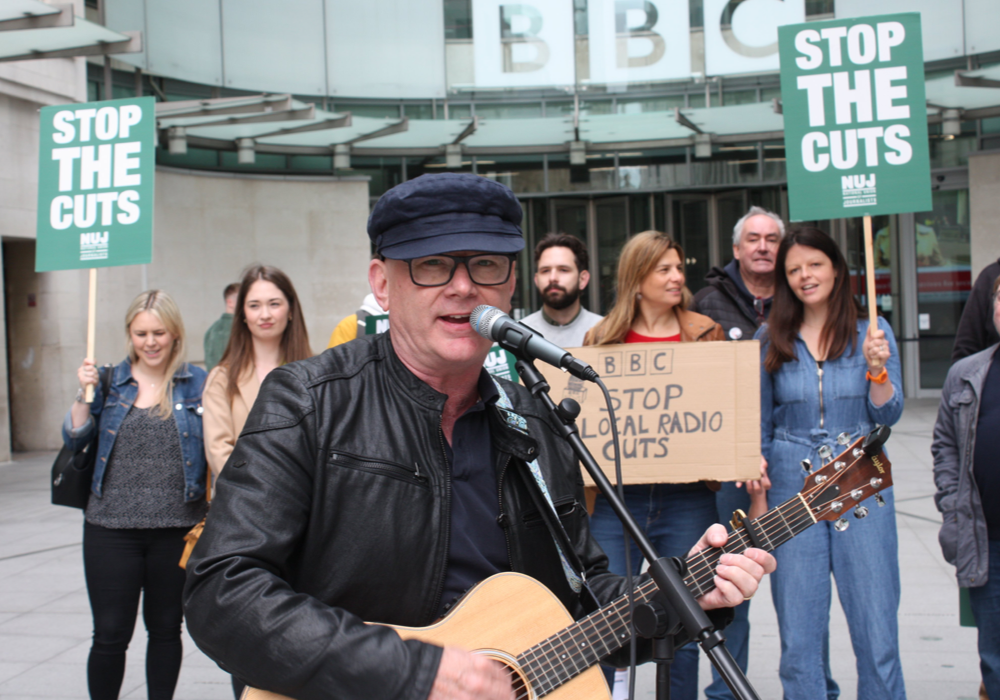 Striking journalists and angry musicians picketed the BBC's HQ in London today over plans to slash content from local radio stations across the UK.
Journalists at the BBC are staging a 48-hour strike in protest at proposals to force 39 radio stations to share programming instead of offering a fully local service.
The strikers were joined by Scots-based musician Beldon Haigh, who performed live on a noisy picket line outside the BBC's multi-million pound complex in Portland Place.
The singer called upon fellow musicians throughout the UK to join the campaign against the plans and he accused the BBC of trying to silence local communities through "a race to the bottom."
The protest comes after members of the National Union of Journalists (NUJ) working in local services at the BBC passed a vote of no confidence in their senior leadership team.
Under the proposals, most BBC local radio stations will share programmes after 2pm on weekdays and all weekend (apart from sports commentaries).
Programming will be slashed from around 100 hours a week per radio station to just 48 hours and, in some cases (where there are no sports fixtures to cover), just 40 hours a week.
The NUJ says that only programmes from 6am to 2pm on weekdays will remain truly local. After 2pm on weekdays content will be shared between two or more stations, reducing their ability to cover local stories.
Paul Siegert, National Broadcasting Organiser at the NUJ, said: "Local radio is a lifeline to many people. It's the front door of the BBC, serving those who may be digitally excluded – elderly or disabled people living on their own who aren't picking up a smartphone to access news apps – the very people the BBC has been told to serve better.
"Most BBC Local Radio presenters have had to reapply for their own jobs – for fewer new presenter and producer roles. There is a danger that BBC Local Radio will haemorrhage experience, talent, and local knowledge."
Crowds of passers-by watched today as singer Beldon Haigh and a fellow band member performed a protest track at Portland Place called 'Need My Local Radio'.
The song contains the lyrics: "Sweet sound of local voices. Talking to the lonely… In the wee small hours… When nothing's moving."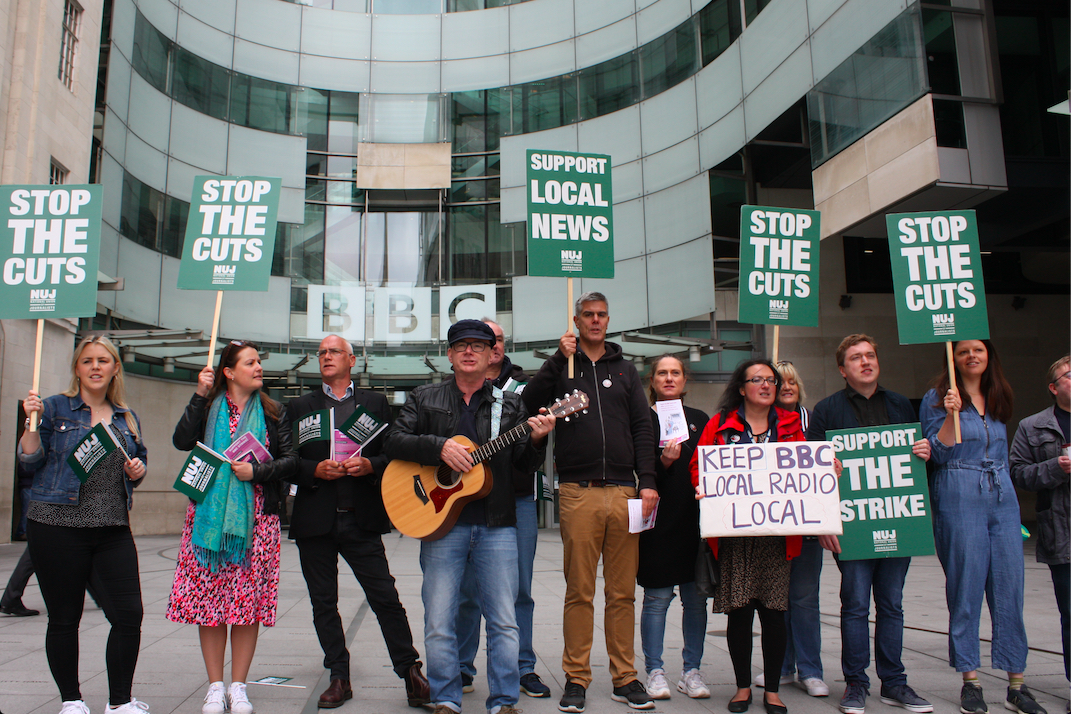 Beldon said: "I've come here today on behalf of all musicians who appreciate the true value of local radio. When it's at its best, the BBC is a fine institution that's helped many a young artiste to progress, but these proposals will decimate local radio.
"When this type of thing happens it can be a huge blow to local confidence. A local voice gives a community pride. It helps that community to grow, express itself and be more ambitious and strive to be more successful in the future."
"Limiting, dulling, silencing that voice by cutting back investment in that local creative content production achieves the reverse. It's as if the BBC is in a race to the bottom. It will surely make people feel more isolated, less important, less valued and less like the place that they call home, matters."
Other musicians who have previously indicated their opposition to the plans include Rolling Stone legend Ronnie Wood, who was pictured last month holding a sign saying 'KEEP BBC LOCAL RADIO LOCAL.' The picture was taken backstage at the Royal Albert Hall and was later tweeted by DJ Nicky Horne.
The BBC has previously said it will continue to engage with the NUJ in an effort to minimise the impact of the changes on its staff and audiences.
NUJ members working for BBC Local originally went on strike on March 15th. A second strike was planned in May but was called off while members were balloted on a revised BBC proposal that offered extra weekend breakfast shows. The offer was later rejected.
In May, the BBC said: "We will continue to engage with the union as we have done over the last few months in an effort to minimise the impact on our staff and our audiences.
"We have a plan to modernise local services across England – including more news journalists and a stronger local online service – which will see no overall reduction in staffing levels or local funding.
"Our goal is a local service across TV, radio and online that delivers even greater value to communities."
Paul Siegert of the NUJ said at the time: "This fight is about the heart of the BBC's public service remit. Local news is vital not just so people can be informed to be able to participate in local democracy, it binds communities together and for the many who will not be able to access local news digitally they will lose the familiar presenters who have become their friends.
"Local radio is not expensive in terms of the BBC's budget and we believe that the BBC could easily solve this dispute."
On June 2nd, the NUJ announced that a poll of union members working across BBC Local in radio, TV and online showed that 93% said they no longer had confidence in the senior management team.
The BBC has been approached for a comment.