BBC Local Radio to cut 139 jobs in England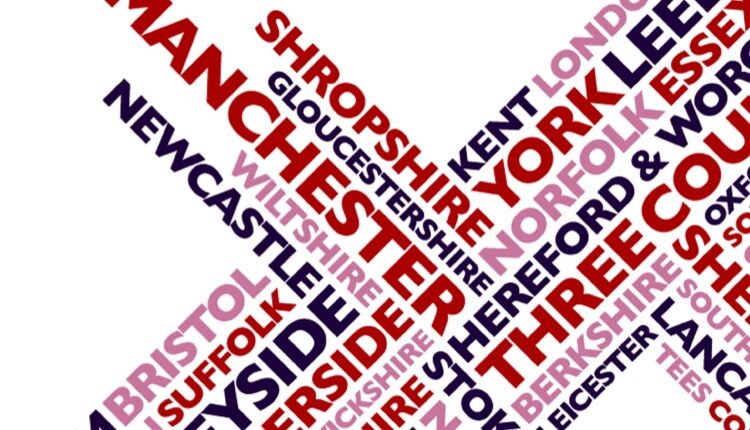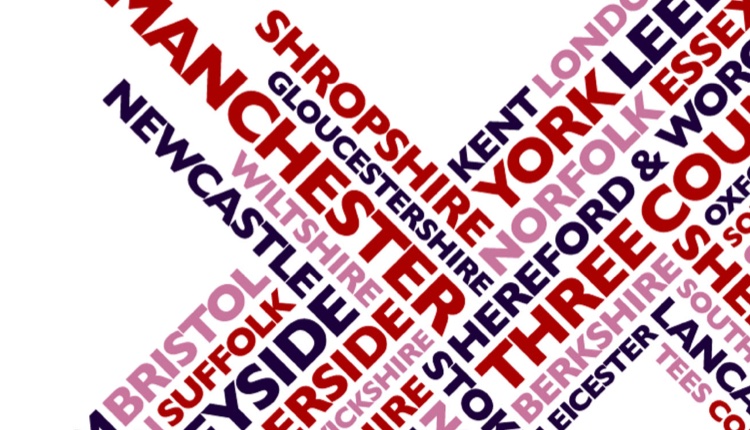 BBC local radio stations in England will lose 139 jobs as the network keeps the simplified schedules it created in March and adds a new all-England late show.
Helen Thomas held an all-staff virtual meeting on Thursday morning to communicate the changes with staff. She said the BBC needed to 'refresh, reinvent and reinvigorate' as a result of recent events.
She told staff the new schedules have brought 'a new clarity' to audiences across England with three, four hour shows in daytime and that there will also be restructuring in engineering and special features.
BBC England needs to save £25m operational costs before 2022. In total, 450 equivalent full-time roles across radio, TV and online in the nations and regions will be cut, from a staff of around 3,000.
Across BBC Local Radio programmes will be hosted by a single presenter – with no more double-headed shows. As well as the standardised shows 6-10am, 10am-2pm and 2-6pm seven days a week, there will be a new all-England Weekday and Weekend Late Show and shared regional programming between 18:00 and 22:00 on Sundays.
Unions say Band B (Journalist Co-ordinators) and Band C (Journalist) roles will be formally placed "at risk" of redundancy. Although Band D and above will not be "in scope", management anticipate interest at these grades through voluntary redundancy.
GNS, which provides national news content to BBC Local Radio, will be replaced by a new 'Central News Service' and move to Salford at some point in the future, resulting in a number of job losses.
Cuts are also being made in television and online news operations, and the BBC will continue to look at saving costs with its buildings portfolio. In regional TV, the evening news programmes will be presented by a single host rather than being double-headed.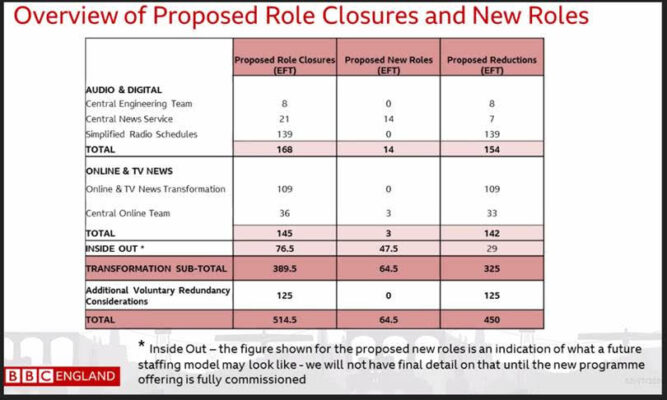 Helen Thomas, the Director of BBC England, said: "I'm proud people have turned to us for trusted news and information in huge numbers during COVID-19, proving the importance of our local and regional services. But those services were created more than 50 years ago, have changed very little and need significant reinvention. That has meant taking some difficult decisions.
"We are in the age of the Facebook community group and the WhatsApp neighbourhood chat. We must adapt to better reflect how people live their lives, how they get their news and what content they want.
"We're going to modernise our offer to audiences in England by making digital a central part of everything we do. We'll take forward lessons from COVID-19 that will make us more agile and more in touch with communities while also ensuring we're as efficient as we can be. I'm confident we can evolve our local and regional services while improving our impact and better serving our audiences."