Alfred celebrates 365 hyperlocal radio podcasts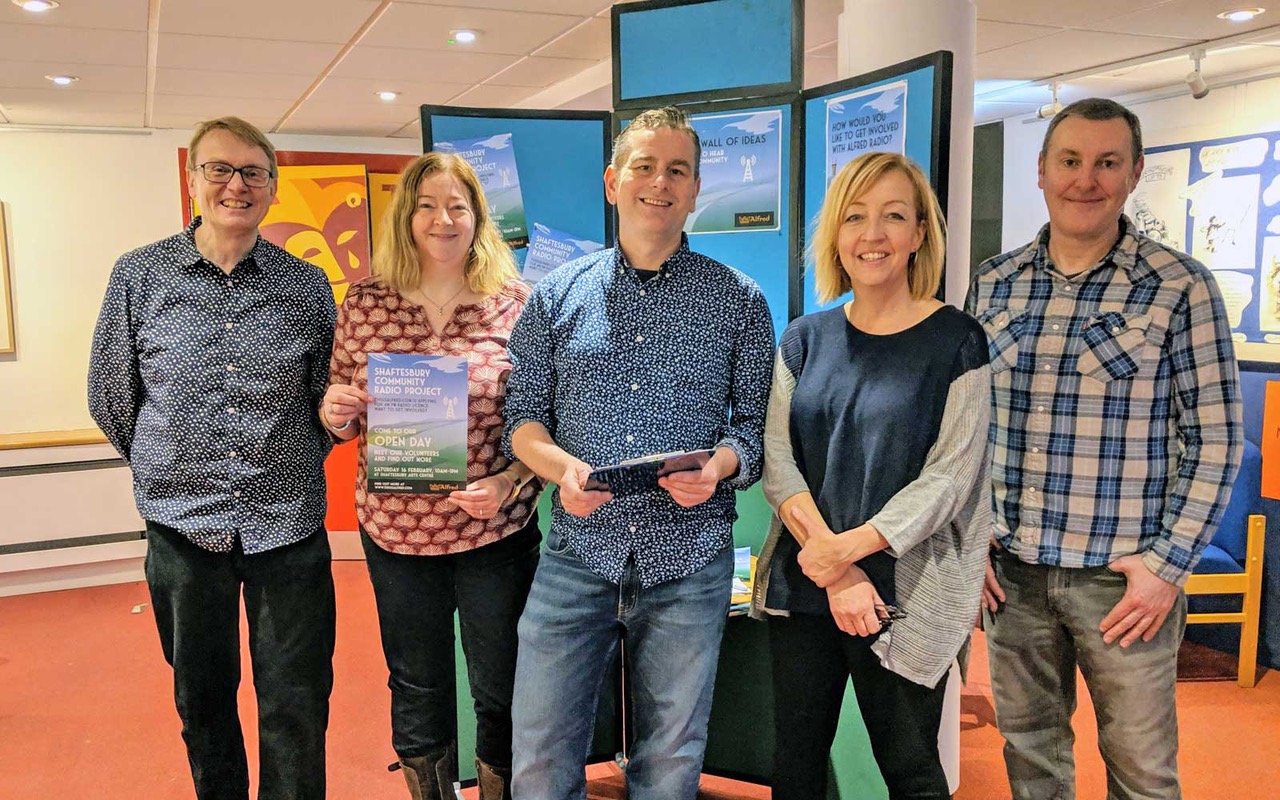 Shaftesbury's radio project is celebrating one year of its hyperlocal daily radio show/podcast as it gets ready to launch on FM this year.
Alfred, set up by Keri Jones, has been creating a daily programme for the town since 22nd March 2020 and won a community radio licence from Ofcom at the end of 2019.
The radio station will launch this year with an all-speech format, created by local volunteers, including the Alfred Daily.
Alfred had just started a volunteer training programme when the pandemic hit. The station's team responded to the crisis by launching the daily podcast for the 7,500 residents of Shaftesbury and the villages within a five-mile radius of the Dorset market town.
The Alfred Daily Radio Show has aired 1,900 interviews with members of the community during the last year.
"The pandemic spurred our team into action," founder Keri Jones told RadioToday, adding, "The lockdown meant we had to train volunteers and contributors using Zoom."
Keri says the programme generates calls and emails as listeners react to news items and features or respond to job ads and appeals for lost items. After an interview on Alfred, a new dentist wrote: 'We now feel that we are welcomed and integrated members of the Shaftesbury Community, and this is, in great part, from the support we have received from Alfred'.
The service has proved its value during the crisis and Shaftesbury Town Council even promoted The Alfred Daily with a door-to-door leaflet drop.
Last week, Alfred was the sole recipient of the Shaftesbury Civic Society's 'Rachel Caldwell Award'. The members voted for Alfred's nomination, stating: 'Their untiring efforts throughout this pandemic year have made a major contribution to keeping our community together and strong, and our spirits positive'. And last month, Shaftesbury Rotary Club awarded Alfred a 'Certificate of Appreciation' in recognition of, 'outstanding service to the community during the pandemic'.
Alfred's volunteers share stories from their own lives and the local community. The project gained the attention of Danish audio editing software company, Hindenburg. Alfred now uses Hindenburg software for all programme-making and production. Keri says his volunteers love it.
"Most of our team has never worked in radio, podcasts or audio editing. They rave about Hindenburg because it's intuitive and easy to use. And it helps them bring their creative ideas and stories to life. There's no way we could have achieved so much so quickly without their incredibly powerful but non-scary software."
In addition to The Alfred Daily programme, Alfred volunteers have launched two new weekly shows this month. A team of thirteen locals are working on a weekly local history broadcast 'Hilltop History' and seventeen residents are collaborating on the weekly 'North Dorset Nature show'.
Covid-19 has delayed the FM launch plans. Keri says Alfred remains committed to an FM service to serve residents who don't have internet access. But, he says, the pandemic has changed things.
"I can name five elderly locals who have been bought smart speakers by relatives so they can listen to Alfred and stay connected with the community. People refer to us as 'the radio' because we are doing what local radio should do, with the added benefit of being 'on-demand.'
FM will provide an additional outlet. It's nice to have another platform. But I doubt whether FM will be our main source of listening in the way I had anticipated when we submitted our application to Ofcom three years ago," he said.
Photo: Alfred Directors Kevin Harrison, Amber Harrison, Keri Jones, Karen Brazier and Andy Hargreaves.