Matt Chorley goes five days a week on Times Radio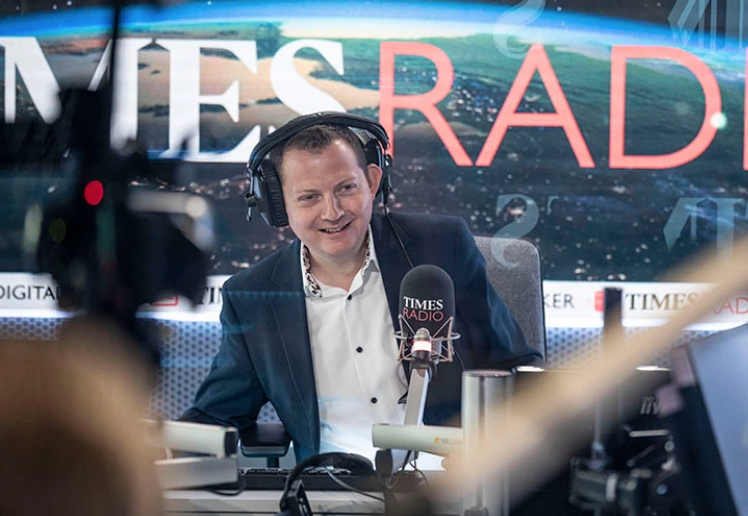 Matt Chorley is getting an extra show each week on Times Radio from next week.
He currently hosts the morning show Monday to Thursday, but will take over Friday's edition too.
Matt says: "A year ago I'd never been on the radio before. In a very strange 12 months it's been brilliant inviting listeners into the weird world of Westminster, and explaining how politics works – or doesn't.
"Now we can have 25 percent more fun by also spending Friday mornings poking politicians and mocking ministers."
Matt was part of the Times Radio lineup when it launched on 29 June last year and the station says he has built a loyal following for his expert analysis, incisive wit and innovative approach to making sense of life within the Westminster Bubble.
Meanwhile, the latest phase of above-the-line advertising for Times Radio – including TV and out of home – kicks off on Saturday.
The campaign is centred on giving words space and letting the stories do the talking to keep listeners well informed – as well as highlighting the heritage of The Times, with new slogans including "Hear all about it".
The creative showcases a range of Times Radio presenters in the studio including Aasmah Mir, Michael Portillo, Mariella Frostrup, John Pienaar, Giles Coren, Matt Chorley and Stig Abell.
It will run from Saturday 8 May to Friday 21 May.
Times Radio Programme Director, Tim Levell, said: "Listeners to Matt's show have had only one complaint: that it's not on every day of the week. I'm delighted to be able to cave into their demands and provide Matt Monday to Friday.
"His programme has been one of the hits of Times Radio and I look forward to more listeners discovering his show. As we kick off the next wave of TV and OOH advertising across the UK, we continue to build momentum for the station, with audience data tracking ahead of our expectations."