Day 2 at Radiodays Europe; Comedy, country music and new news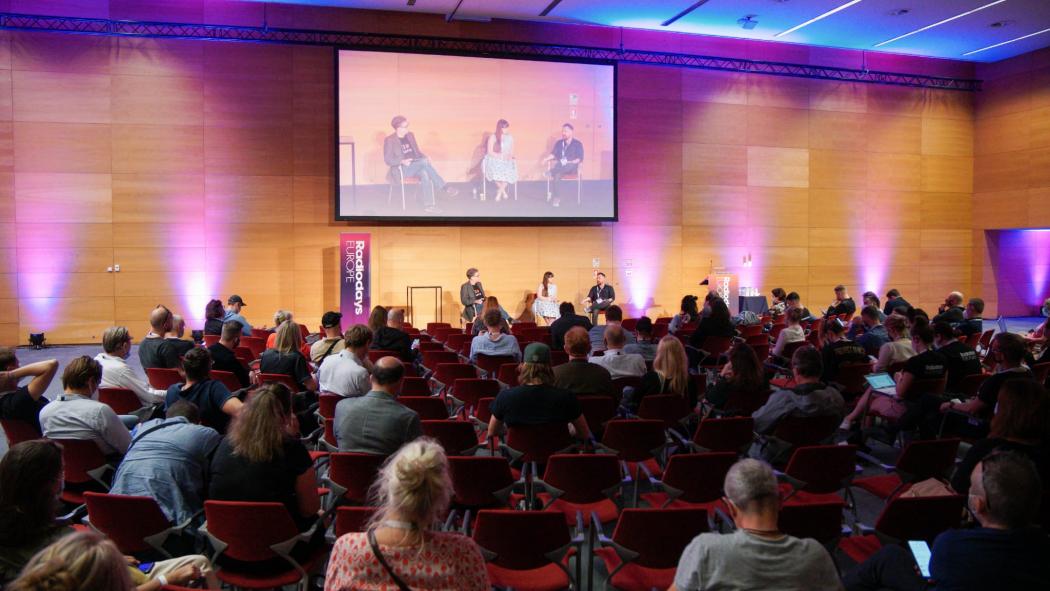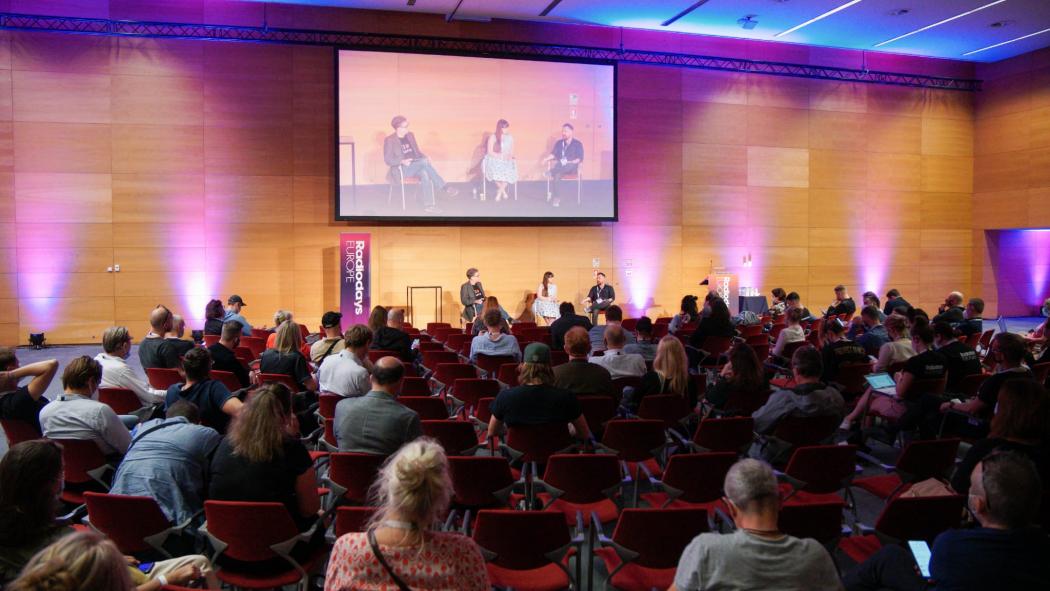 The final day of sessions at Radiodays Europe in Lisbon included the topics of serious comedy, country music, morning shows and what's new in news.
The location for Radiodays Europe 2022 was also announced as Malmö in Sweden.
Here are some of the highlights from sessions involving radio professionals from the UK.
"How much is talent and how much is work?"
BBC radio's Laura Grimshaw and Jon Holmes had some serious fun during their session at Radiodays Europe on Monday.
Laura, who produces Podcast Radio Hour & other fun things for BBC Radio 4 / 4 Extra was on stage with comedian and presenter Jon Holmes to talk about comedy on the radio.
Ideas emerge from any moment, sometimes when you are sleeping, sometimes even in the shower – according to Jon, the work of a comedian never really stops he says. Laura agrees, the work never really ends. You have to work hard to be successful, even with raw talented people, you only go far if you put in the hours.
Comedy is highly subjective and even if you work hard to make it in the business there will always be people who don't think you are funny and even people who don't like you – people take comedy as something global, but it can't be seen that way, rather in comedy clubs or in the radio, at the end of the day comedy is a personal matter.
Being such a delicate and flexible reality, sometimes making it happen might get hard, and that's why keeping a good relationship with producers and managers seems to be a fundamental key to avoid difficulties.
Can you use swear words in comedy radio? Swear words seem to be a constant debate, should you say it? Should you avoid it?
Well, overall, it depends on the audience and on the entertainment but just as Laura points out, swearing just needs to have context, it needs to be justified or at least to make a bit of sense. Obviously, radio also has the challenge that content needs to tread carefully – it can't be too 'filthy' – although if it serves a purpose you can push it in a subversive direction.
Jokes aren't limited by subjects, it's all about the depth of the joke, even if it creates discomfort to some people, ask yourself why you are doing it. Do you have a reason? Is it a well developed joke? Do you think it's funny?
Thanks to the good people of #RDE21 for asking us to talk some nonsense about radio comedy on a stage in Lisbon. Big up @nikgoodman for organising, @Martliss for hosting and @lorlyjane for turning up as well to try to make sure I didn't say anything inappropriate. pic.twitter.com/RUxzG45ul3

— Jon Holmes (@jonholmes1) October 11, 2021
What's new in news? The new formats of news broadcasting
In this session, the topic is about the way we consume daily news. It is constantly changing. In order to stand out and compete with the big names of reporting, these three projects are finding innovative ways to convey information:
Liam Thompson is the co-founder of the Smart Seven Podcast, a portable version of a radio show which consistently delivers relevant news straight to its audience's mobile phone. The concept is relatively simple: "The world served up in seven minutes". This formula is applied to all aspects of the podcast's production, providing an innovative take on news distribution: all programs are exactly 7 minutes and are published every day at 7 a.m. "It is easy to make podcasts but it is incredibly difficult to stand out. You need a clear idea", Thompson says.
"Le short", a podcast voiced and run by Davy Bailly for Radio Télévision Suisse, plays around with its content and delivery method. This news shot lasts about 3 to 4 minutes and is sent every morning by Whatsapp, giving listeners an overview of the news in a lighter tone. The podcast is recorded by Bailly outside, every morning, in order to capture ambient sounds, making it sound closer to a voice audio someone would receive from a friend.
"We needed to adapt that the world is younger and consume news less"- Steven Titherington
Steve Titherington, Senior Commissioning Editor of BBC, explained the idea behind their new project: BBC minute. It's a sound bit that can be consumed as a podcast or integrated into different radio broadcasts. It starts with music and delivers the news in a semi-casual tone. It was first used in a radio station in Johannesburg. From there, it's been picked up by stations all over the world.
Radio music formats: How can we stand out from the crowd?
Mark Voseen, Chris Stevens and Petra Piipari shared their thoughts and strategies about different music formats for radio in this session:
How do you market when there are so many music formats? That's what Chris Stevens founder of Chris Country, Mark Vossen CEO of NGroup and Petra Piipari Programme manager of Hitmix were here to answer.
Mark Voseen talked about strategy with a big focus on sustainability. NGroup has been carbon neutral since 2014 and achieves courageous sustainability goals. He hopes other radio stations will take suit. When he began NGroup radio was at the centre of the brand – now it is brands that includes on air and digital.
The programming has to reflect their values and they make business and creative decisions around it. Even when we create nostalgic programming it can still be fresh and exciting – it needs to be to capture your audience.
Petra Piipari says that passion is key in music programming. Music needs to resonate and it will create a passionate response in its audience. You need presenters that stand with your brand and can embody it. Another takeaway – don't forget about the people in small towns even if your radio comes out of the capital city.
Chris Stevens created Chris Country without a desire for it to have an audience, he just loved country but it turned out it was a niche that lots of people wanted. The station grew in an uncaptured market. Recently Bauer and Global announced their own country stations but Chris has kept his brand true and in the pandemic total listening went up by 45%. Working from home means specialist stations have the room to grow as people have a choice over what they listen to.
The word that kept coming up was passion. If your station has it then your listeners will too.
It's @chrisukstevens talking about his country station at @RadiodaysEurope – Chris is also a co-owner of TM, and looks after lots of our international clients. Find him at RadioDays if you'd like to chat #RDE21 pic.twitter.com/pIOXWB9O9n

— TM Studios (@TMstudios) October 11, 2021
The ultimate guides to morning show production
This session was presented by Dennis Clark, Vice President of Talent Development at iHeartMedia, Nik Goodman, Director at Bounce and Vincent Soulet, Executive Producer & Consultant at Cherie FM.
The session focused on how to create a successful Morning Show, and how it differs from other Radio formats.
"No two shows are the same" – Dennis Clark
Every show is singular but in every studio the basics match: You need a host, techs, managers and producers – You need to understand the show and guide people to do the jobs most needed to make it happen.
The role of a producer raises some debate: How important is it to have a producer on the show? The general opinion is clear: Producers are indispensable to an effective flow and well-executed ideas.
"Treat them well. Pay them more", said Nik Goodman with a smile when talking about producers
The main difference in morning show formats: The hosts. – How important is chemistry? It's key for a harmonised studio and to allow ideas to flow with no setbacks.
In the audience, as the questions emerged, Portuguese radio host Joana Cruz summarized it by saying she feels privileged to be "working with friends".
Hosts have to combine their lives into their shows, there is no way a morning show radio host can escape this combination – your life will be a part of your show when you work in the morning business.
Listener interaction. Is it a big deal?
Dennis Clark points this out with a strong emphasis on the impact of audience opinions. Nowadays interaction is key for the survival of shows where the audience gets to play an active role because that role might make or break the influence the shows have on listeners, the general opinion defines the path of the show.
"Don't lie to the audience at all" – Dennis Clark
"The most important judge is the listener" – Dennis Clark
Really enjoyed taking part in the Morning Show session with @1DennisClark and @Vincentsoulet today at @RadiodaysEurope. Hopefully we said some useful things!!#RDE21 pic.twitter.com/s2uCiHUpF9

— Nik Goodman (@nikgoodman) October 11, 2021
Podcasting – facts, figures and opinions coming from two people who share the same love for the audio
In this session, Tom Webster and Adam Bowie shared the latest facts and figures of the podcast industry.
Firstly, Adam Bowie, Business Development Manager at BBC World Service, went on stage to take the audience through the biggest trends in podcasting, from new formats to new revenue opportunities.
It's important to note that podcast research is quite limited, because different sources provide different numbers. Even then, Apple Podcasts seems to be the leading platform in podcasting; however, most people in the world use Android phones (67.1%).
There are over two million podcasts, with 23.3% podcast series active (new episodes last 90 days). This is a number that, according to Bowie, is growing fast. "What it really boils down to isn't the number, but the discovery issue", he explains. It's getting harder and harder for small podcasts to get visibility among the large amount of content being created in the audio world.
This issue is aggravated with the emergence of celebrity podcasts. On the one hand, celebrities broaden the appeal of podcasts and "they are every other part of culture popular, so why not podcasts?", says Bowie. However, this type of content sucks up the oxygen when podcast discovery remains limited and takes valuable funding from the pockets. "Unless you don't find something different, an idea that has not been explored yet, it's difficult to produce money and be efficient. You need to find your niche", Business Development Manager adds.
Shits in advertising, like moves from backed-in to dynamic advertising, along with the growth in subscriptions services, exclusivity and the consolidation of the industry are other updates in podcasting.
Tom Webster, from Edison Research, made a virtual experience in the session where he shared data from "Share of Ear", a study about the impact of the pandemic on audio consumption in the United States.
"During the pandemic, audio habits were disrupted enormously", he starts. However, the American perspective continues to be positive regarding the exponential growth of podcast consumption.
Webster showed the audience the time by which 50% of Americans 13+ have listened to any audio before, during and after Covid-19 disruptions. In 2019, they started listening to audio at 7:15; in 2020, this changed to 8:30; now, in 2021, it's at 7:45.
He also explained that 54% of US Latino monthly podcast listeners started listening to podcasts during the Covid-19; now, there was an increase in Spanish-speaking podcasts.
AM/FM Radio is the platform that is most used to listen to audio (75% in 2021).
The podcast consumption may have been impacted by the global pandemic; nonetheless, it still only occupies 6% of audio consumption in the United States.
"There's so much talent in our industry, when we pull together we're pretty unstoppable."

Our Head of Marketing @georgecbutler spoke at #RDE21 about the power of collaboration. pic.twitter.com/8Rgwc2UTyO

— Radiocentre (@Radiocentre) October 11, 2021
Credits for the writing in these articles – which can be seen in full along with all other sessions – on the Radiodays Europe website, include Francisco Sezinando, Rita Silva, Andreia Simão, Gonçalo Martins, Meg Long, Beatriz Valente and Artyom Laptev.